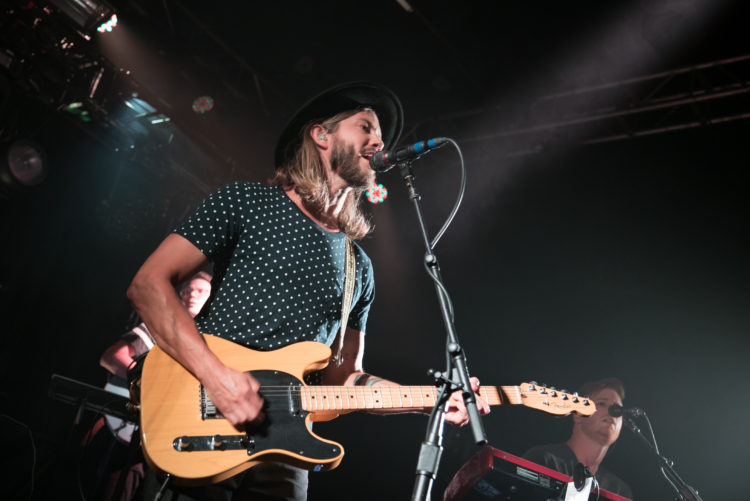 Moon Taxi – Dallas, TX – 9/21/17
Moon Taxi – Dallas, TX – 9/21/17
with Los Coast @ Granada Theater,
This was my second time seeing the tour de force that is a Moon Taxi concert. Formed in 2006 after fellow Alabamians Trevor Terndrup (guitar, vocals) and Tommy Putnam (bass) met Spencer Thompson (guitar), Tyler Ritter (drums), and Wes Bailey (keys) at Belmont University, Moon Taxi has had a successful run in the world of rock n' roll, having put out four studio albums and May's single "Two High." The first time I saw them was at Hangout Fest 2016, unfortunately missing half the show because of the long line to get in, and I was about 60 yards away from the stage. As good as that was, this was a much better show for me.
In all my time in Dallas, I had yet to go to Granada Theater, and it's really a shame. The venue is a comfortable and quaint  theater renovated from and old movie theater. It's large enough to hold a sizeable crowd but small enough to give everyone in attendance an intimate experience. The staff was friendly and relaxed, and overall I would say this is one of the best places to see a show in Dallas.
Los Coast, a quintet from Austin, TX, opened the show on that Thursday night. I had not heard of the band before then but hope to hear much more from them in the future. They have an upbeat, bluesy style of rock that plays perfectly in the heart of Texas. The band is led by Trey Privott, who has such a big voice for a man with a small frame. I mean, my Lord that guy can wail. He hopped around the stage barefoot, hitting every soulful note to fill the hall with smooth and joyful noise. I always love being overwhelmed by a great opening act, and Los Coast definitely knocked this out of the park. Keep an eye out for these guys because they won't be just opening for other bands long.
After the end of that jazzy performance the stage was set for the main act. I was in the very first row, just to the left of center, a perfect spot. The crowd was very enthusiastic and friendly – you could tell that nobody was trying to ruin anyone else's fun. The guys soon came out, blasting "Mercury" from their first album Cabaret. It's hard to pick out highlights of the concertbecause it just kept getting better and better. Their music has a sunny yet eerie (not in a bad, scary way) quality to it that pulls you in and holds you under. It's hard to compare them to any other band, because they're really they're own thing, which is awesome. I would say my favorite part was when Trevor Terndrup came to the edge of the stage right in front of me. He stepped on my fingers, which were on the stage, and looked down seeming very sorry about it. That's definitely the first time I've been happy and proud that someone stepped on me. I made eye contact with Trevor and Tommy a couple times, they seemed to like that I was very into the music, and I feel like we definitely made a connection. I thoroughly enjoyed every song they played; it's really hard to find a bad song by them. I ended up with a drum stick from Los Coast and a set list from Moon Taxi, so I would say this was a pretty successful show. If you ever have a chance to see either of these guys, don't miss it.
Set list:
Mercury, Change, Make Your Mind Up, Who's to Say, Suspicious, Sweet Dreams (by Eurythmics), Year Zero, Young Journey, Gunflower, Morocco, Run Right Back, Imagine (by John Lennon), River Water, Hotel California (by the Eagles),Moving to the City -> Drum solo, Two High, Red Hot Lights
Encore: White Room (by Cream) intro – > All Day All Night