2013 MIDWEST REVIEW SHOWCASE
| | | |
| --- | --- | --- |
| Volcano Choir and Sylvan Esso—The Vogue Theater—Indianapolis, IN—September 9, 2013 | Toad The Wet Sprocket - A PREVIEW for the 11/18 show at the Bluebird, Bloomington, IN | Beats Antique—The Vic—Chicago, IL—11/01/2013 |
| Preview: Atlas Genius with supporting acts Dale Earnhardt Jr Jr, and Family of the Year @ Bogart's Cincinnati, Ohio | Widespread Panic ~ Live at The Murat Theatre at Old National Centre ~Indianapolis, IN ~ September 29, 2013 | Ultraviolet Hippopotamus with Consider the Source—Bell's Brewery—Kalamazoo, MI—10/05/2013 |
| The Locked and Reloaded Tour 2013 – Miranda Lambert and Dierks Bentley ~ August 9, 2013 ~ Noblesville, IN at Klipsch Music Center | Edward Sharpe and the Magnetic Zeros ~ Iroquois Amphitheater in Louisville, KY ~ August 26th, 2013 | Grace Potter & The Nocturnals ~ Live at Buskirk-Chumley Theatre, Bloomington, IN ~ August 27, 2013 |
| "HEARTBREAKER TOUR" CAPTURES THE HEARTS OF INDIANAPOLIS on July 27th, 2013 | STS9 and Umphrey's McGee—The Palace Theatre—Louisville, KY—08/15/2013 | Umphrey's McGee/STS9-The Lawn at White River State Park-Indianapolis, IN 8/16/13 |
| Wiz Khalifa, A$AP Rocky, B.o.B, Trinidad James, Joey Bada$$, and more ~ Klipsch Music Center, Indianapolis, Indiana August 4, 2013 | The National with Daughter ~ August 4th, 2013 ~ Murat Theatre, Indianapolis, Indiana | Dr. Dog with opening band Houndmouth ~ The Rathskeller, Indianapolis, Indiana ~ August 1, 2013 |
| | Paul McCartney—Bankers Life Fieldhouse—Indianapolis, IN—07/14/2013--The Magical History Tour | |
| David Byrne & St. Vincent ~ Whitney Hall in Louisville, KY ~ July 2nd, 2013 | O.A.R.—The Lawn at White River State Park—Indianapolis, IN—06/29/2013 | String Cheese incident ~ Louisville Palace Theater ~ 7/14/13 |
| Dave Matthews Band--Klipsch Music Center—Noblesville, IN-- June 21, 2013 | | |
| Son Volt ~ June 8th, 2013 ~ Vogue Theater ~ Indianapolis, IN | Zac Brown Band / Blackberry Smoke / The Upright Willies—Klipsch Music Center—Noblesville, IN—06/09/2013 | Tom Petty and The Heartbreakers- Klipsch Music Center- Noblesville IN- 6/15/2013 |
| | | Kendrick Lamar: The Good Kid m.A.A.d. City World Tour—Farm Bureau Insurance The Lawn at White River —Indianapolis, IN—06/06/2013 |
| Dark Star Jubilee Preview ~ May 24, 25, & 26, 2013 ~ Thornville, OH | 17th Annual ALL GOOD Music Festival PREVIEW 2013 | |
| The Devil Makes Three—The Deluxe in the Old National Centre—Indianapolis, IN—04/25/2013 | Ultraviolet Hippopotamus—Bell's Brewery and Eccentric Café—Kalamazoo, MI—04/27/2013 | Simply Music, Simply Mushrooms Morel Festival—Bill Monroe Music Park—Bean Blossom, IN—April 19-20th, 2013 |
| Sound Tribe Sector Nine—Fillmore Theatre—Detroit, MI—04/13/2013 | Terrapin Flyer—The Mousetrap Bar and Grill—Indianapolis, IN—04/14/2013 | Widespread Panic—The Palace Theatre—Louisville, KY—04/16-17/2013 |
| Galactic with special guest David Shaw; Opener: The Nigel Hall Band—The Vogue—Indianapolis, IN—04/04/2013 | The Whipstitch Sallies / The Stampede String Band / James and the Drifters—The Vogue Theater—Indianapolis, IN—04/05/2013 | Jim James/ Cold Sparks ~ The Brown Theatre- Louisville, KY ~ 04/17/2013 |
| Todd Snider Live at The Vogue--Indianapolis, IN--March 14, 2013 | Slightly Stoopid—The Congress Theatre—Chicago, IL—03/09/2013 | Ultraviolet Hippopotamus—The Vogue—Indianapolis, IN—03/08/2013 |
| Tea Leaf Green Live at 20th Century Theatre ~ Cincinnati, OH ~ February 15, 2013 | Funky Junk, Glostik Willy, and The New Old Cavalry—The Vogue Theatre—Indianapolis, IN—03/01/2013 | Lindsey Stirling--Deluxe Old National Theatre--Indianapolis, IN—03/12/2013 |
| Lotus—Jake's—Bloomington, IN—02/06/2013 | | The Avett Brothers – The Embassy Theatre—Fort Wayne, IN—02/14/2013 |
| Dark Star Orchestra—The Vic—Chicago, IL—02/02/2013 | The Punch Brothers Live at The Brown Theatre ~ Louisville, KY ~ February 5, 2013 | Dark Star Orchestra—Buskirk-Chumley Theatre—Bloomington, IN—02/06/2013 |
| Grace Potter and The Nocturnals--The Egyptian Room--Indianapolis, IN-- 1/12/2013 | Future Rock--The Bluebird Bloomington, IN—01/17/2013 | |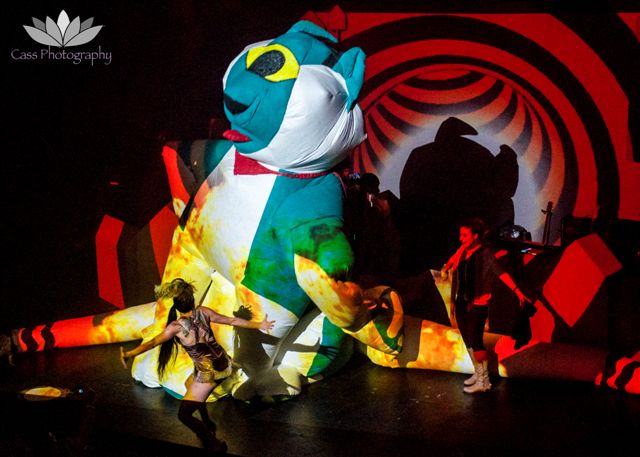 Beats Antique—The Vic—Chicago, IL—11/01/2013
Beats Antique on November 1st at the Vic, Chicago was unlike any show I have ever seen. Nestled in downtown Chicago, the Vic is a pretty historic venue to see a show. It has one balcony and a large dance floor. It was a perfect place to see such an amazing and eclectic show.
Beats Antique just dropped a new album called A Thousand Faces: Part One. This is the first of a two part album that has brought a new intensely tribal sound and a new light show that makes for a very impressive live show and a very interesting listening experience. The light show features literally a thousand faces of the people the band knows, as well as a fresh set of screens and a track from Primus' Les Claypool. The performance is meant to take the listener on a journey. Creators and musicians David Satori and Tommy Cappel, along with dancer, performer and belly dance extraordinaire, Zoe Jakes, make the perfect trio and an unforgettable live show.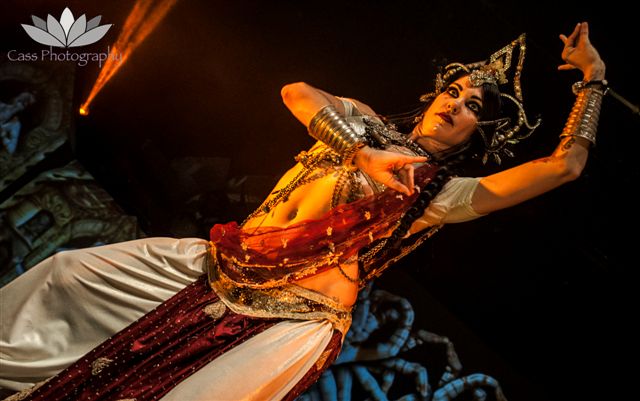 The show started with just Satori and Cappel on the stage. The lights were projected on a series of screens as the transcendental journey began, a tree radiated at the center of the stage and the tribal sounds began to lull the crowd. During the second song, dancer Zoe took the stage with an intricate costume reminiscent of a Buddhist monk. As she danced the light show mimicked her movements, the crowd was enticed and no one could turn their eyes from her beauty and delicate dance. I could see the passion in her eyes and feel the love that she had for the moment she was in as it radiated from her energetic dance.
As the show progressed, many dancers took the stage and told a story of far away lands and different styles of music, mainly eastern in influence. Soon the mood morphed, and the electronic, dubstep-esque, sounds that are familiar to Beats Antique fans began to surface. Zoe took the stage in a showgirl costume, and the game show started. They picked a volunteer from the crowd and the stage looked like a carnival. Suddenly a huge blow up Cyclops takes the stage, and the dirty electronic sounds rattled the theater. From what I could infer, at that moment we were entering the underworld. As we trolled the underworld, Zoe once again took the stage in a huge headdress made of antlers and a dress that was inflated. She slowly guided us back to the Earth, as her beauty flowed with her gown that glowed with blue and purple lights, and a white and black design flowed through the screens in the background.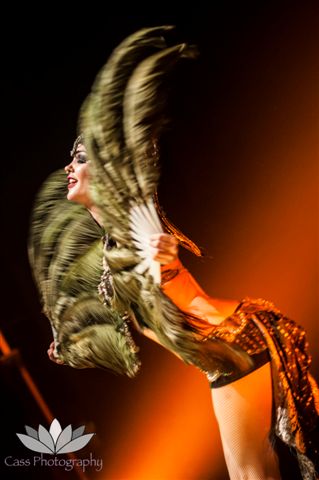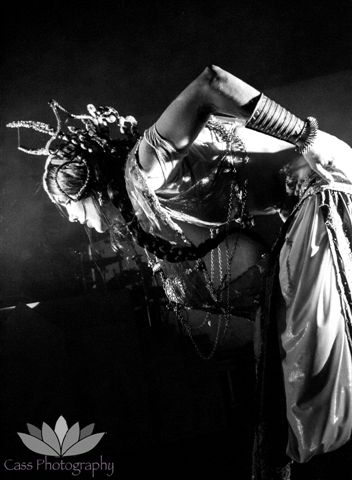 The performance was like none I have seen before. It was theatrical as well as musical. The night closed with the stage filled with belly dancers and Middle Eastern sounds. It was truly a unique and beautiful experience. To find more tour dates, listen to the album, and find out more about the band visit their website, www.beatsantique.com.
Written by: Cassidy Maley
Edited by: Rosemary A.W. Roberts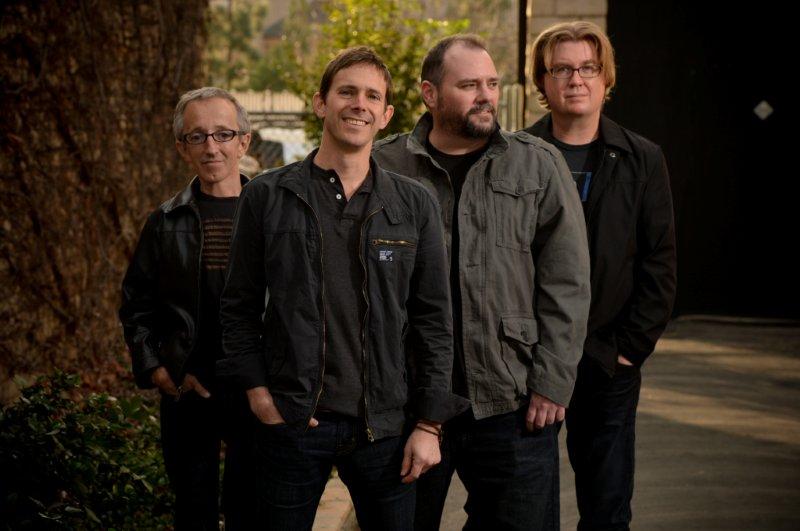 Toad the Wet Sprocket is finally back and will be in Bloomington, Indiana at the Bluebird on November 18th supporting their first album in 16years "New Constellation".
Since their break up in 1998, the band had played shows occasionally, but never released a new album during that stretch of time.
They recently returned back to the studio after they started a fan-funded campaign on Kickstarter. Their fans raised over $260K to help cover the production cost for the band to start working on the new album, which was official released on October 15th. Be sure to come out and enjoy the band live on their new tour.
Toad The Wet Sprocket
Facebook: https://www.facebook.com/toadthewetsprocketmusic
Twitter: https://twitter.com/ToadWetSprocket
Official Website: http://toadthewetsprocket.com/
Tickets still available: http://www.ticketfly.com/event/310823-toad-wet-sprocket-bloomington/
Show at The Bluebird 8:00 PM on Monday, November 18th, 2013
Written by: Tony Vasquez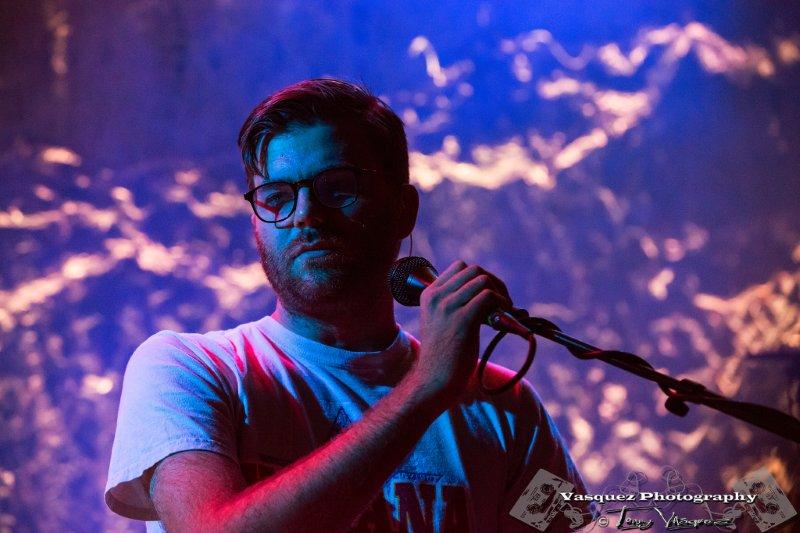 Volcano Choir and Sylvan Esso—The Vogue Theater—Indianapolis, IN—September 9, 2013
Written by: Brittany Vasquez
Edited by: Rosemary A.W. Roberts
Photos by: Tony Vasquez
It was a balmy Monday evening as a steady stream of beautiful people entered the Vogue Theater for a night of intricate electronica and rich, trancelike vocals. In a crowd of people ranging from their 20s to their 50s, there were an inordinate number of couples contributing to the even distribution of women and men. I overheard several people citing their love for Justin Vernon's band, Bon Iver, as being much of their reason for checking out his recent endeavor with Volcano Choir.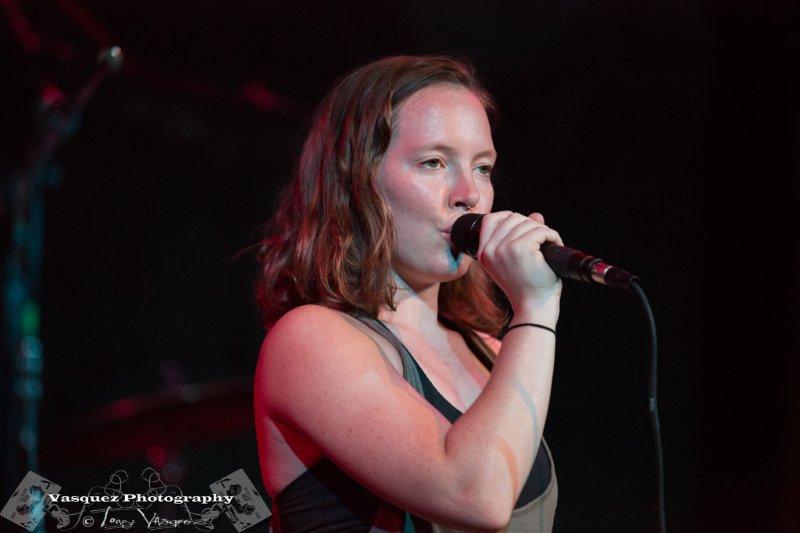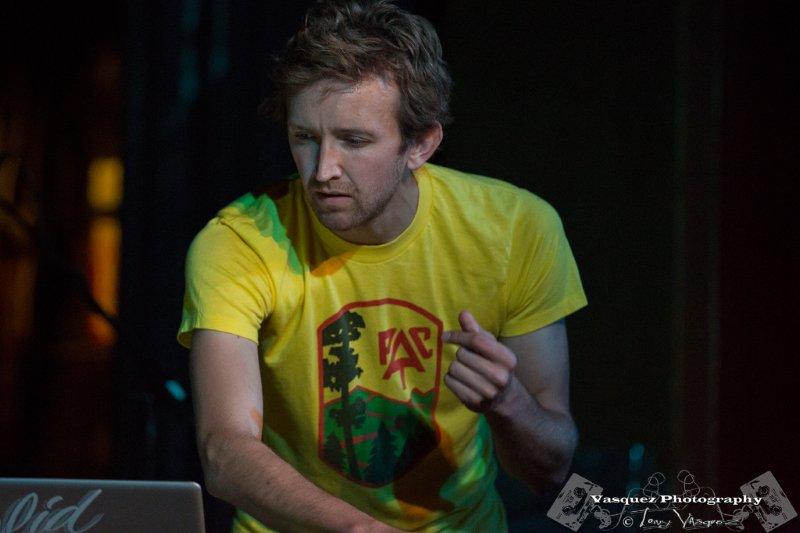 Sylvan Esso took the stage unassumingly. Comprised of electronic musician, Nick Sanborn, and vocalist, Amelia Meath, Sylvan Esso began their set with Amelia's satin, rhythmic vocals and Nick's delicious sound loops on "Hey Mami" and "Play it Right." As they got into their first track, Amelia began to dance in disjointed movements ranging from fluid to halting, all while balancing on giant platform heels. It didn't take long for the crowd around me to go from silent assessment to eager curiosity, looking up the band's information on their smart phones so they could be the first to tell their friends about this great new band they just saw.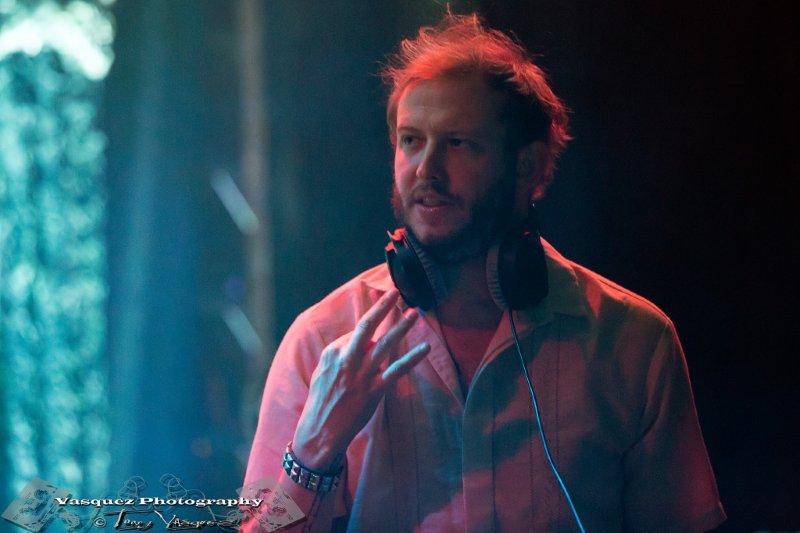 Volcano Choir came onstage a bit later with the group of seven arranging themselves carefully to avoid featuring any one person too prominently. This was in keeping with Justin Vernon's collaborative standard as Bon Iver. Vernon himself stood behind a podium/mixing station and never personally addressed the crowd, deferring instead to his band-mate to greet the audience and introduce the songs.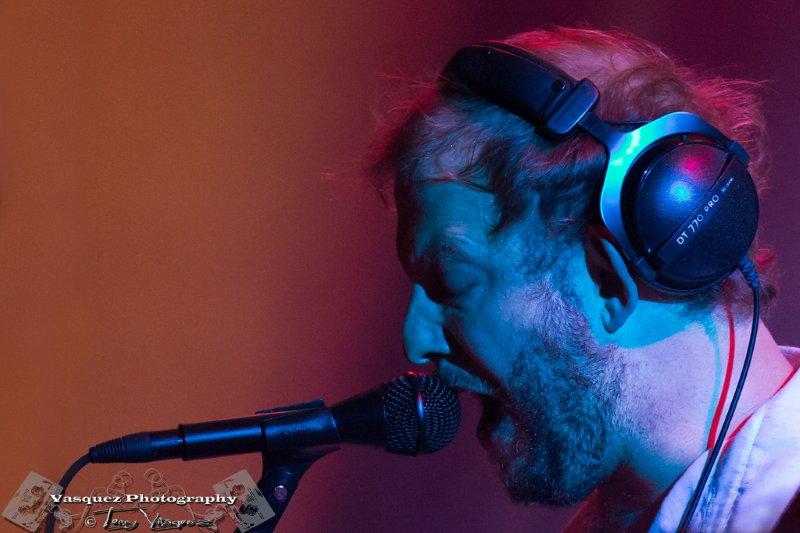 The set was a gorgeous union of soaring electronica and Vernon's ever-haunting vocals. They played the anthemic "Byegone," a song that could easily find its home in the climactic scene of an indie drama, from their album Repave. While Volcano Choir's music is certainly less personal than that of Bon Iver for Justin Vernon, there is still a deep sense of emotionalism about relationships and how one experiences the world. On another Repave track, "Dancepack," the repeated lyrics, "Take note, there's still a hole in your heart" hung in the air and engaged the crowd in a beautiful melancholy.
One unexpected treat came when Volcano Choir played "Woods" off of Bon Iver's EP, Blood Bank. Like an adult lullaby, the song speaks to the sad and lonely by first connecting to a somber mood and slowly building into a crescendo of soaring, hopeful vocals.
Stimulating and focused, moving and fun, it was a perfect evening of live music.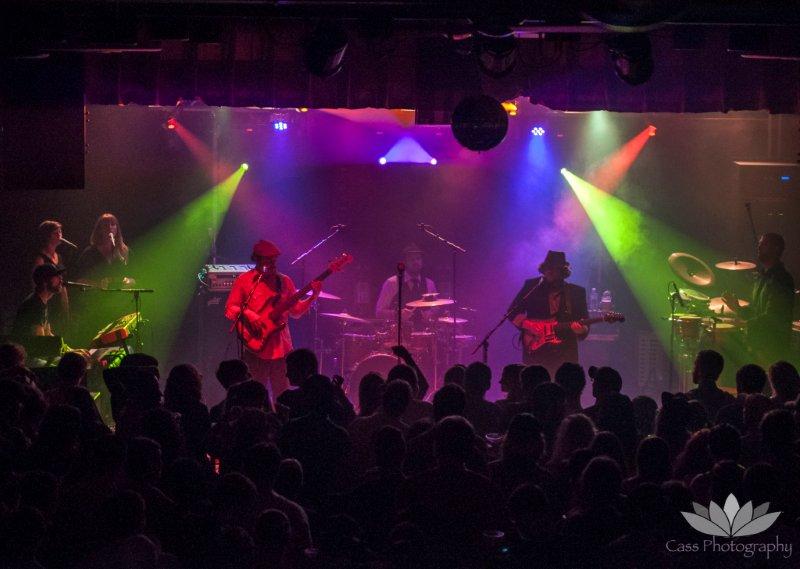 Ultraviolet Hippopotamus with Consider the Source—Bell's Brewery—Kalamazoo, MI—10/05/2013
On a rainy Saturday night, October 5th, Consider the Source and Ultraviolet Hippopotamus (UV Hippo) played at Bell's Brewery in Kalamazoo, Michigan for the new UV Hippo CD Release party. The new CD dropped earlier that week and is titled Translate. You can find more details on getting a copy of the newest CD on their website: www.uvhippomusic.com
Bell's Brewery is always a great place to see a show. They open up the back room where there is a large stage and dance floor area. Behind the dance floor is the bar with every unique Bell's beer creation on tap. If you have never experienced this place, love good beer, good people, and good music, I suggest you give it a try.
Consider the Source opened for UV Hippo that evening. I had never seen this band before, and I have to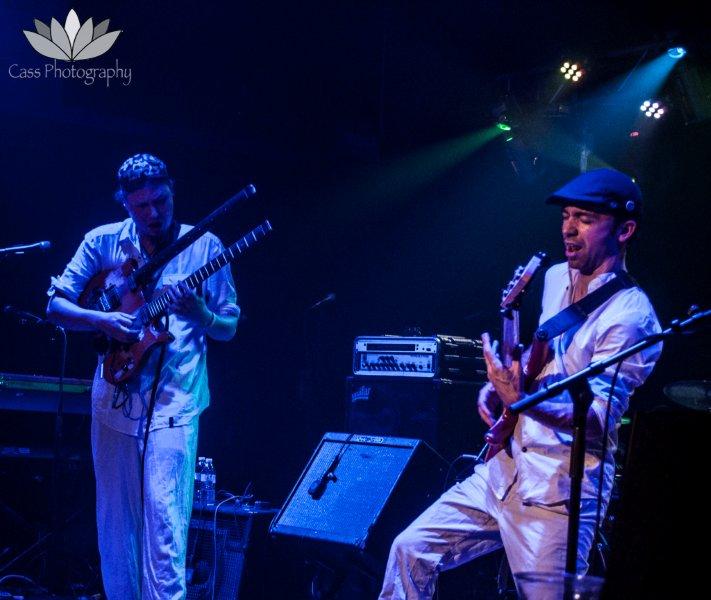 say they might become one of my newest favorites. The three piece band is from New York City, and they bring a very unique sound. Lead guitarist Gabriel Marin on the fretless double guitar brings much of the uniqueness to their sounds. The sounds he makes from the double guitar are like nothing I've ever heard before and create some sort of Middle-Eastern, tribal, trance, dance music; very complex and difficult to describe. They were a great band to start the night off right and I plan to see them again soon.
Ultraviolet Hippopotamus took the stage to a very enthusiastic crowd. Kalamazoo is their hometown, and is where all of their biggest fans are. I can't say enough about the kindness of the people who were at this show and live in this town. Kalamazoo has a great gathering of people that is as big of a reason to go see UV Hippo at Bell's as is their great music. The highlights of the UV Hippo set for me were "Tiny Eyes" into "Hey Tommy," two songs off the newest album that were accompanied by two female vocalists; this is a side of UV Hippo I had yet to see. The extra layer of the female voices brought out a newer, softer side of the Hippo Boys. Another one of my favorite moments was the song called "Medicine" about halfway through the set. This is one of my favorite Hippo songs, which they decided to jam on for at least ten minutes if not more. After that they went straight into "Ruben" and called up guest trumpet player, Terrance Massey. This is something new for UV Hippo as well; I have never seen them play with any sort of horn section, and I loved it. I like the new more complex sound that UV Hippo has developed with the newest album. They stay true to their roots, but show that they aren't afraid to do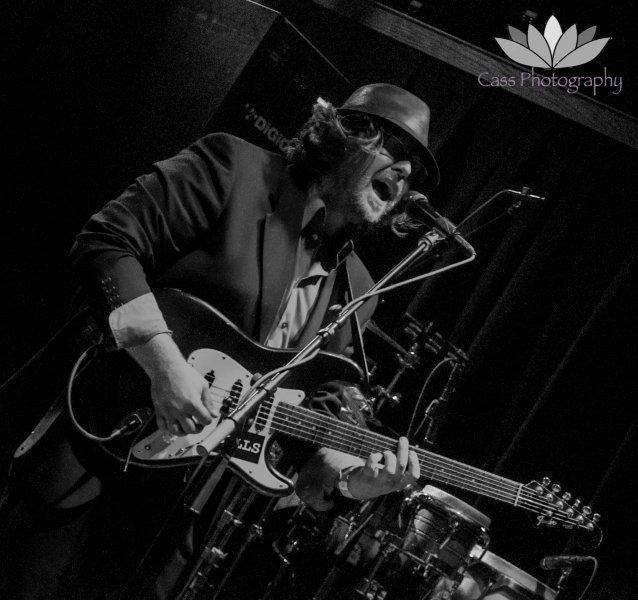 some experimenting with their sound.
All-in-all the rain didn't stop UV Hippo or any of their fans from having a great night. As I walked out of the venue, there were too many smiles to count. Maybe it was all the beer making everyone so warm and fuzzy, or maybe it was the great family atmosphere of the night, but I can say that rain or shine, I'd repeat that night again in a heart beat. Once again, check out UV Hippo's newest album for purchase on their website, www.uvhippomusic.com!
MORE PHOTOS HERE
Written & Photos by: Cassidy Maley
Edited by: Rosemary A.W. Roberts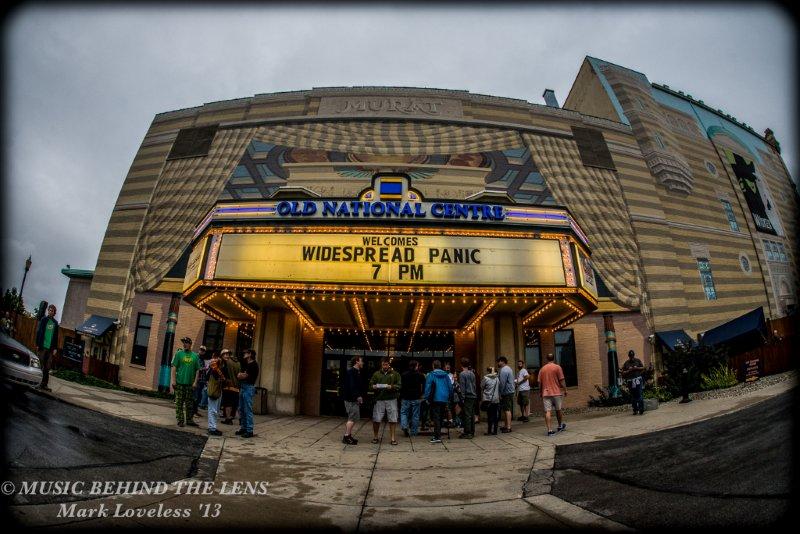 Widespread Panic ~ Live at The Murat Theatre at Old National Centre
Indianapolis, IN ~ September 29, 2013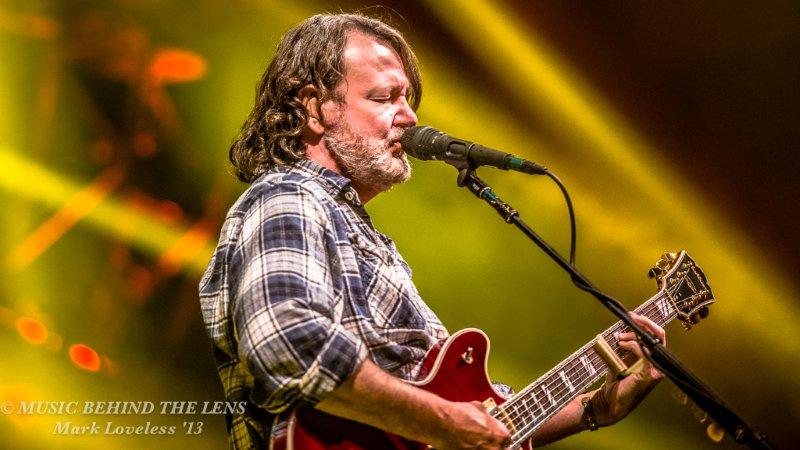 Widespread Panic brings a swagger type attitude with them each and every night they hit the stage. They are not necessarily cocky, but they make sure the Jam Band nation knows that they are relevant revelers, as capable of "havin' a good time here today" as they always have been. Although John Bell does not like the term "jam band" he is well aware that is what they are. Each night they bring free spirit mind-blowing jams with astonishing light shows that allow fans to let loose from their daily routines. Sunday night in Indianapolis, Indiana was no different.
Fans swayed. Couples danced. Some even floated. Arms rose. Fans hooted and hollered. Drinks were toasted. The fortunate fans in the balconies or back rows of a 2013 Widespread Panic show get the heightened experience of Paul Hoffman's multicolor laser beams that cover the venue walls. Widespread graced their presence by jamming some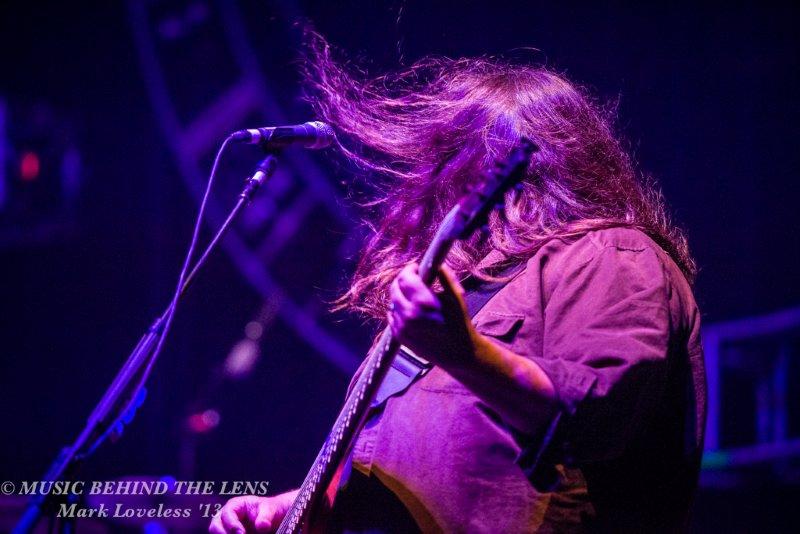 of the most well-known classic tunes such as "Heroes" from the album Ain't Life Grand. The band would continue playing fan favorites such as "C.Brown" and "Hatfield," a song about Charles Hatfield who called himself a "moisture accelerator." The band would also jam to the Talking Heads tune, "Papa Legba." Widespread Panic is not like some jam bands who tend to use lyrics merely as a vehicle to get to a jam; there is meaning behind their songs. This band is sometimes like a history lesson taught through music. The band would finish the night out by playing a hot second set that opened with "Ain't Life Grand," and had highlights of "Chilly Water > Contentment Blues > Bowlegged Woman," and "Pilgrims".
Do not underestimate the talents of each member of this band, from Jimmy Herring's astonishing electric guitar skills to the technical keyboards from John "JoJo" Hermann; the thumping bass riffs of Dave Schools along with southern twang from John Bell's voice; and the double-team rhythms of drummer Todd Nance and percussionist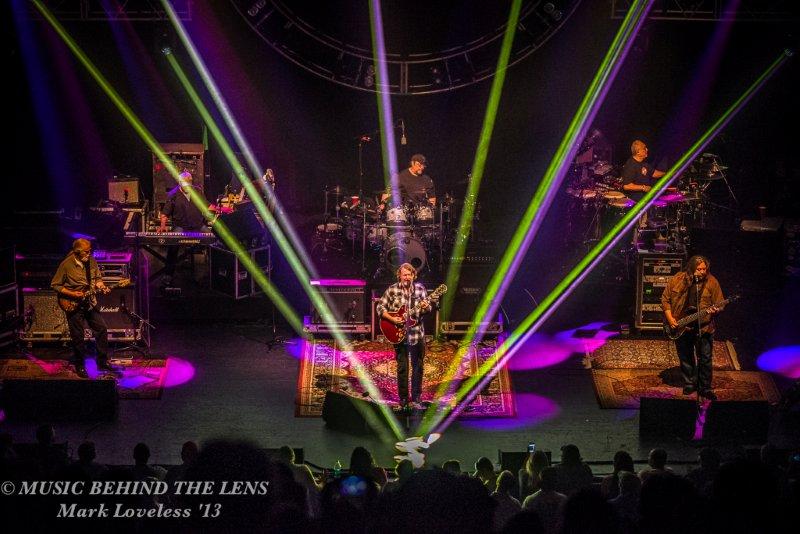 Domingo "Sunny" Ortiz. One knows a band is complete when they can jam for 8 to 10 minutes on stage, communicating with one another by the sounds of their music, working together to produce something amazing. Widespread Panic is definitely providing fans with a complete package, keeping them constantly coming back for more.
MORE PHOTOS HERE
Written & Photos By: Mark Loveless
Edited By: Rosemary A.W. Roberts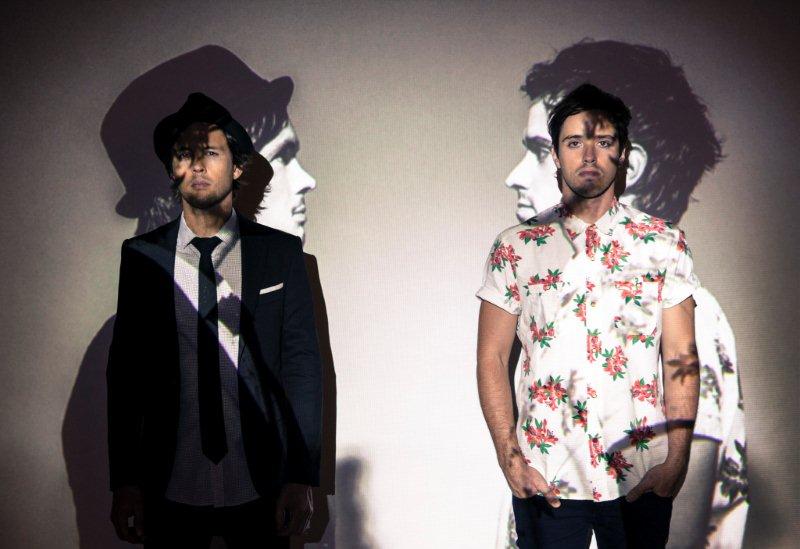 Preview: Atlas Genius with supporting acts Dale Earnhardt Jr Jr, and Family of the Year @ Bogart's Cincinnati, Ohio
Australia indie pop rock band Atlas Genius came onto the American music scene two years ago with a massive wave of buzz and popularity with their hit song "Trojans." Their poppy hooks and fabulous lyrics are will get stuck in your head. Be sure to check out their recent television performance of "If So" on CONAN.
Also appearing will be Detroit based Dale Earnardt Jr Jr, known for their single "If You Didn't See Me [Then You Weren't On The Dancefloor]," and Los Angeles- based indie band Family of the Year, recently gaining notoriety with their hit "Hero."
Atlas Genius
Facebook: https://www.facebook.com/AtlasGenius
Twitter: https://twitter.com/atlasgenius
Exclusive Track "Centred On You (St. Lucia Remix)": http://snd.sc/16xNGee
Show at 7:00pm Tuesday, September 24, 2013
Support act Dale Earnhardt Jr Jr and Family of the Year
By Tony Vasquez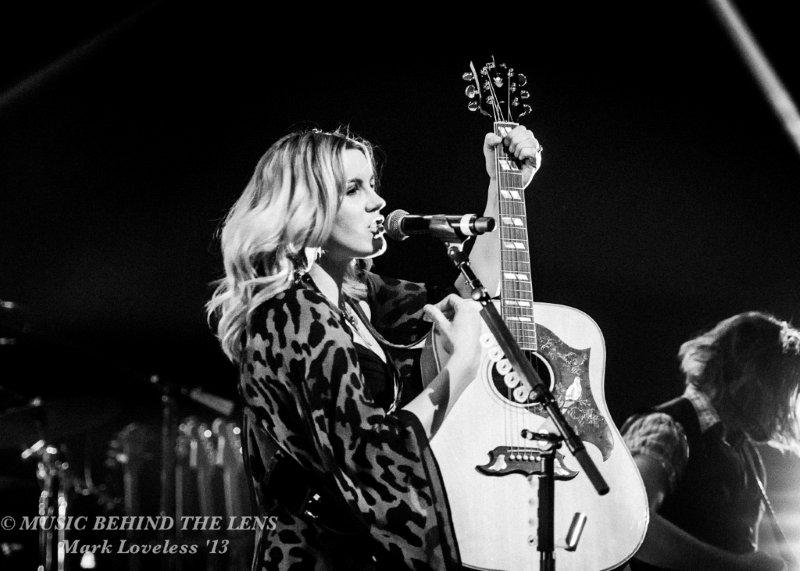 Grace Potter & The Nocturnals ~ Live at Buskirk-Chumley Theatre, Bloomington, IN ~ August 27, 2013
As Grace Potter approached the crowd of the Buskirk-Chumley Theatre Tuesday night August 27th, fans were sitting back in their cozy little chairs. Grace made a point to get the energy flowing real fast in the small historic theatre as she asked the crowd to rise out of their seats. Grace made it well known quickly that she is not your average short skirt folk singer.
Grace and The Nocturnals opened the night with raw energy in "Here's to the Meantime" followed by a Tom Petty classic, "Mary Jane's Last Dance." The band would continue to embrace some of their musical influences as they played more classic numbers like Hank Williams, "Devil's Train" and The Animals', "The House of the Rising Sun." "The House of The Rising Sun" sparked the crowd even more and practically blew the roof off the historical theatre. By this time of the night the crowd had eased their way into the aisle way for some foot stomping, hip shaking and arms swaying dance off. The Nocturnals would close the first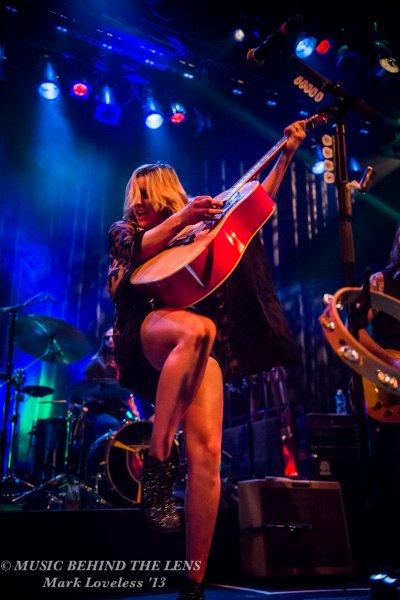 set with a sexual force in "Paris Oh La La" from the days of Grace Potter & The Nocturnals album.
The Nocturnals would close the night out with getting loud and rowdy in "Nothing but Water I" straight into "Sweet Hands." Grace and her band mates never underestimate what they are capable of on stage. The band is for real, raw, and full of energy and continues to make people leave completely speechless!
Written and Photos By: Mark Loveless
Edited By: Rosemary A.W. Roberts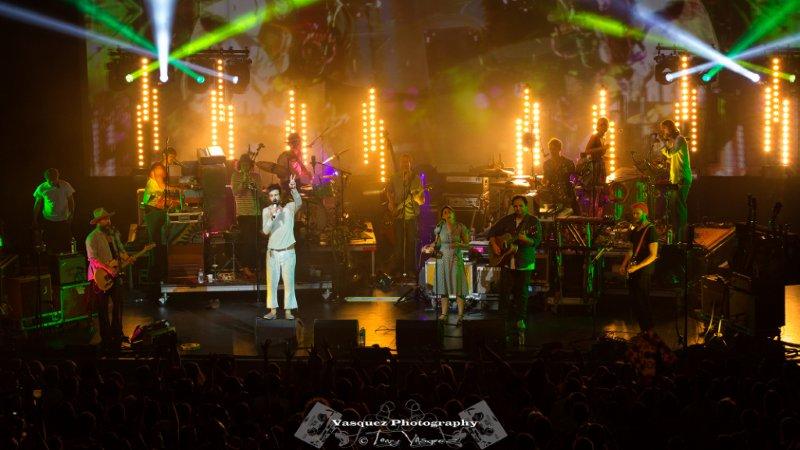 Edward Sharpe and the Magnetic Zeros ~ Iroquois Amphitheater in Louisville, KY ~ August 26th, 2013
Written by Brittany Vasquez
Edited by Rosemary A.W. Roberts
Photos by Tony Vasquez
Link to images: http://smu.gs/17udiHh
It was a steamy evening at the Iroquois Amphitheater in Louisville, KY before Edward Sharpe and the Magnetic Zeros packed the stage with their 12-member troop. Fans arrived at Iroquois Park early for the GA show and filled the seats of the gorgeous brick and wood-beam amphitheater. Between the band's typical fan base and sponsorship by Louisville's independent radio station, WFPK, the crowd was a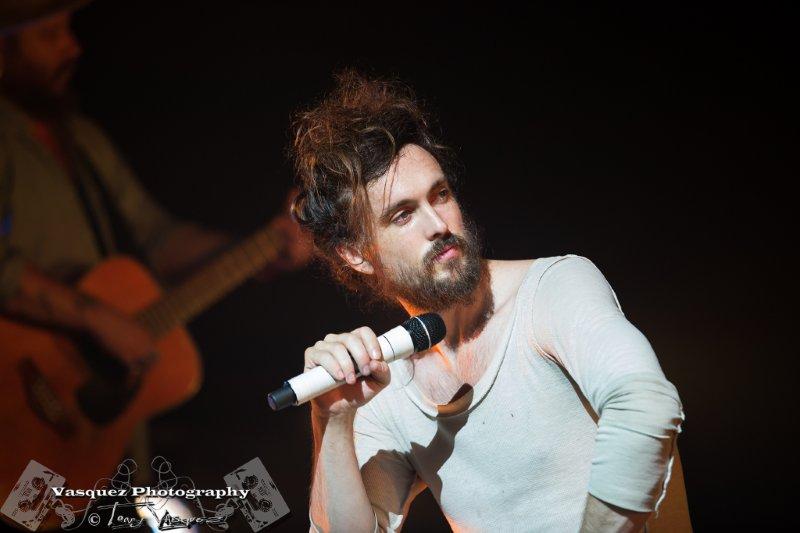 delightfully eclectic group of people. They were a vision of brightly colored and earth-toned clothing, retirees and college students, couples and friends, flowered headdresses, and several girls in cropped hairstyles similar to that formerly worn by band member, Jade Castrinos. The stage was a riot of instruments and splashes of color. It looked like a movie set for The Muppets' Dr. Teeth and the Electric Mayhem ready to play for an audience of PBS viewers.
The band came on stage and began their psychedelic folk set with "Man on Fire" from their 2012 album Here. Fans cheered to hear the familiar song, though front man Alex Ebert commented as the song began that he was nervous. He seemed less energetic than usual with his voice sounding a bit hoarse and looking rather road-weary. He took his wireless microphone into the crowd to sing and dance with the fans, as though he needed to plug in and charge his battery and they were his outlet. The band went right into "That's What's Up" followed by "I Don't Wanna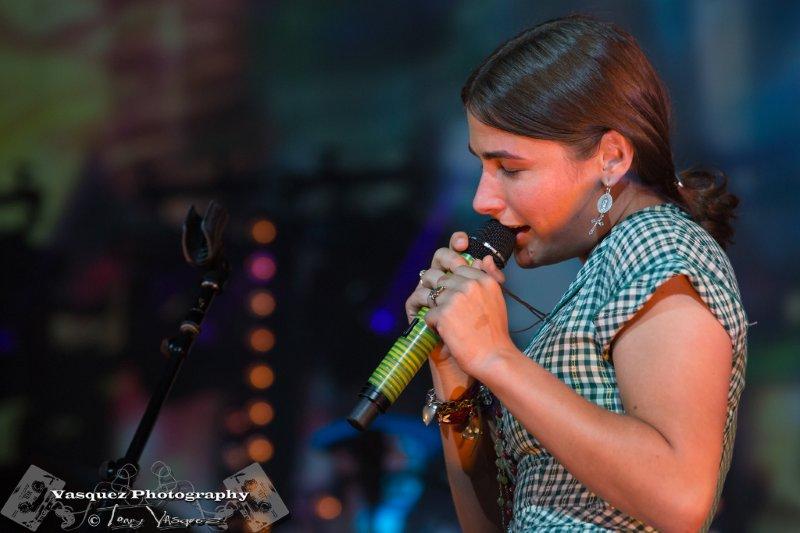 Pray." After the third song, Ebert addressed the crowd, letting them know that he was exhausted and stating, "I know that's not what you want to hear, and I know somebody's already Tweeting about it."
They played several tracks off of their newly released album Edward Sharpe and the Magnetic Zeros while audience members sang along and danced in the aisles. During one song, a giant paper banner made by fans stretched the whole width of the audience and was passed back all the way to the back rows of the amphitheater. Ebert commented that it was a beautiful sign, and his stage energy noticeably increased. It seemed that for all that the band continuously gives to its fans, the fans were able to give a bit back this time. Ebert plunged back into the crowd on fan-favorite "Janglin'", and he spoke about how he wished "we were all on an island together with no cell phones," a verbal expression of Ebert's and the b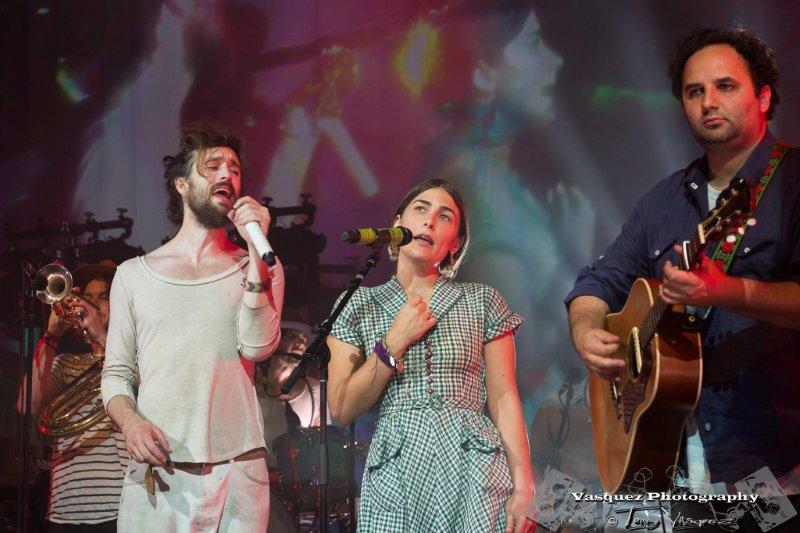 and's example of "living in the moment." As he danced and sang with his fans, wore their hats and sunglasses, and held their hands, his spirits were uplifted. When he took the stage again, he and the band played "Dear Believer," a song he said they "don't usually play, but this is a weird-ass show anyway." Ebert sang the track with only an acoustic guitar for accompaniment, and when it was finished he took a breath and stated "Thanks, that was really special. I didn't expect that." It was a beautiful moment of artist and fans truly communing through music.
The band continued playing into the night with a renewed vigor and sense of purpose, and everyone felt so appreciative to have been there. I know I did.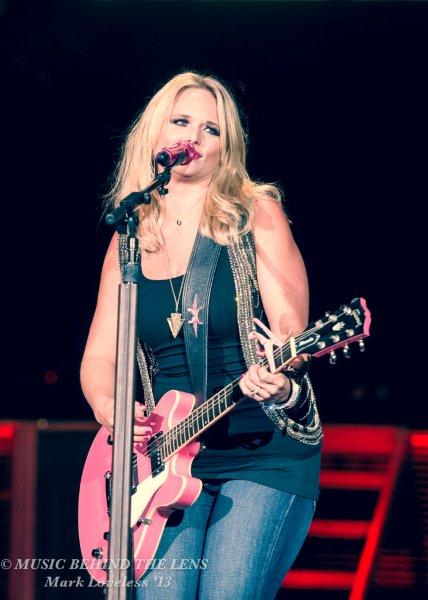 The Locked and Reloaded Tour 2013 – Miranda Lambert and Dierks Bentley ~ August 9, 2013 ~ Noblesville, IN at Klipsch Music Center
Country music has always been the heart and soul of the Midwest and there was no mistaking that last evening at The Locked and Reloaded Tour featuring Miranda Lambert and Dierks Bentley. The tour name sure fits these two rising country stars.
Dierks Bentley is a Phoenix-bred badass that makes his stage presence in a jean jacket and trucker hat. Bentley, a headliner himself, got the crowd locked into rowdiness real quick as he ran across the stage like a punk rocker with an acoustic guitar. Miranda Lambert is no longer the outsider in country music, as she has become a crowd favorite. However, Lambert still remains as the Nashville outlaw with a wild-girl-gone-bad image that made her famous. Lambert reloads the crowd as soon as she walks on stage while not carrying a shotgun but an electric guitar instead, with her band gracing by her side.
Despite cool temperature, Bentley warmed the night up from the start as he opened with "Am I the Only One." Bentley turned the runway stage into the red carpet as women practically threw themselves onto the stage. Bentley made his presence rapidly as he ran across stage like Johnny Ramone. The band continued to play crowd favorites "5-1-5-0," "Feel That Fire'" and "Sideways." Bentley also played an up-tempo track off his upcoming album Riser called "I Hold On," a song about love, faith and family. Dierks did a tremendous job locking in the attention of the crowd just in time for Lambert to reload with some of her crowd favorites.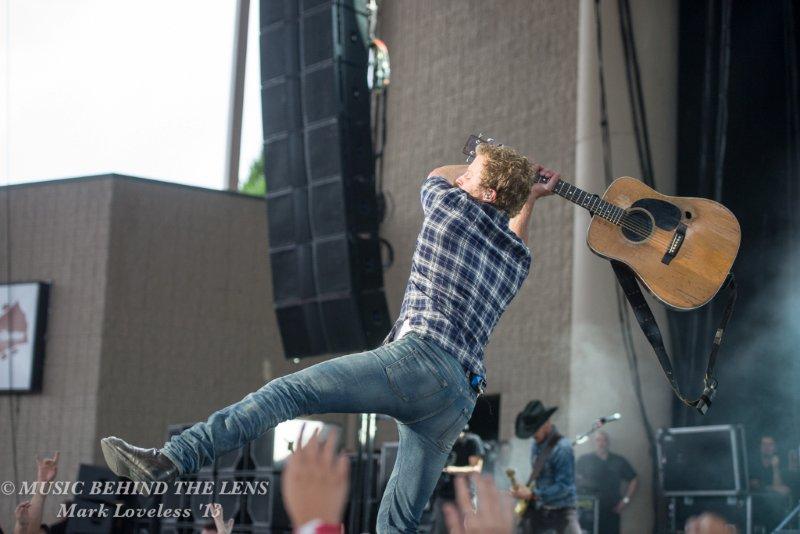 As the popular bad girl took stage the fans turned paparazzi with cell phones snapping any possible photo they could get. Lambert did not hesitate at all getting the night rollin' as she opened with an up tempo crowd favorite, "Fastest Girl in Town." She slung and wailed on her pink electric guitar like Slash keeping her presence known. Lambert would continue her night by playing crowd favorites such as "Gunpowder and Lead, "Baggage Claim" and "Kerosene." Lambert and her band really gathered the crowd's attention as they played a classic Beatles tune, "Get Back."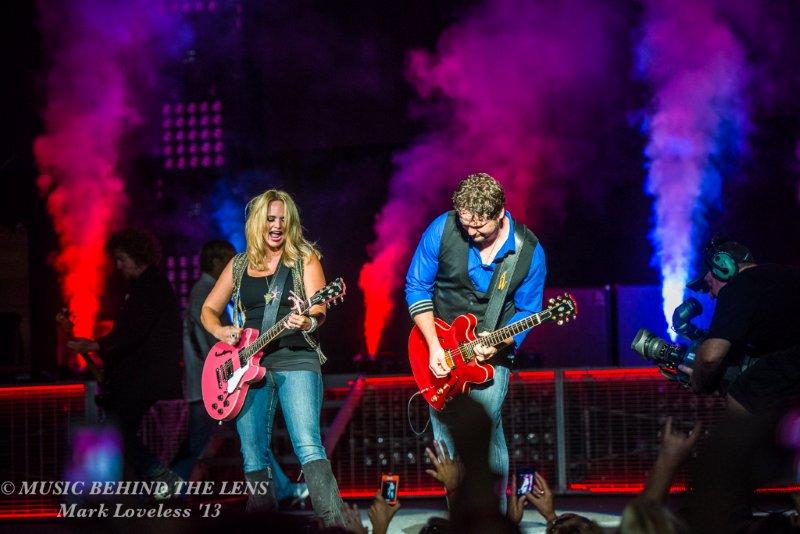 The Locked and Reloaded Tour really set the theme for both of these artists really well. Both artists have the wild-badass image that got the crowd's attention from start to end. The moment you thought their sets were ending, both would reload and come back around getting the crowd pumped up even more. Bentley and Lambert are and should be household favorites in the country music scene. Neither one should be underestimated with their image and music lyrics.
FULL PHOTO GALLERY HERE
Written & Photos By: Mark Loveless
Edited By: Rosemary A.W. Roberts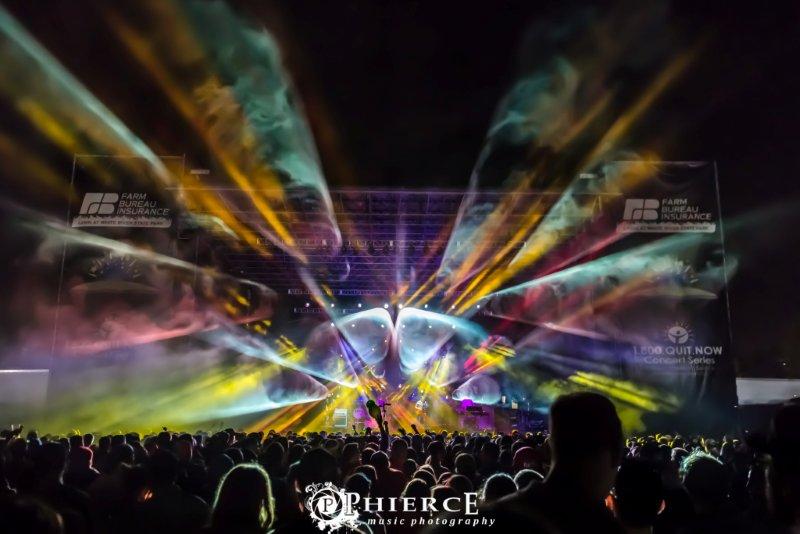 Umphrey's McGee/STS9-The Lawn at White River State Park-Indianapolis, IN 8/16/13
The Phreaks came out the night of August 16th, 2013 in Indianapolis, Indiana to The Lawn at White River State Park. Both STS9 and Umphrey's McGee showed the Midwest some love early in their tour together. The weather was perfect and between each band's setlist and lights, the crowd could not have got a better show. With it only being the second date on their tour everyone was still fresh, raging proper, and ready to melt faces.
STS9 opened the night and did what they do best, bringing their organic instrumental craft with a showcase of their electronica skills creating an early evening dance party. The light boards they brought on stage during their set made for a conversation piece and great eye candy even when the sun was just beginning to think to go down. Just as STS9 came out to jam the crowd came early to match in their intensity, though the crowd was steady throughout the venue during the first half of their set from beginning to end; everyone was frolicking the entire time.
By the time Umphrey's McGee came on stage the venue was at max capacity. When the lights kicked on and "Believe the Lie" belted out of Bayliss's mouth, the hometown crowd instantly got turned on and let the band know they were ready for whatever the band had in store for them. The South Bend, Indiana boys brought the sauce in the August night and the "Hurt Bird Bath" was a nice taste of Umphrey's past reinforcing what the fans already knew. "Cemetery Walk I & 2" was a crunchy mid set choice that had the Umph hand signs being thrown up through out the crowd. The unexpected event of the night came at the end during the encore. Dave Murphy and David Phipps both from STS9 joined Umphrey's for a spectacular cover of Pink Floyds "Another Brick in the Wall (Part 1)".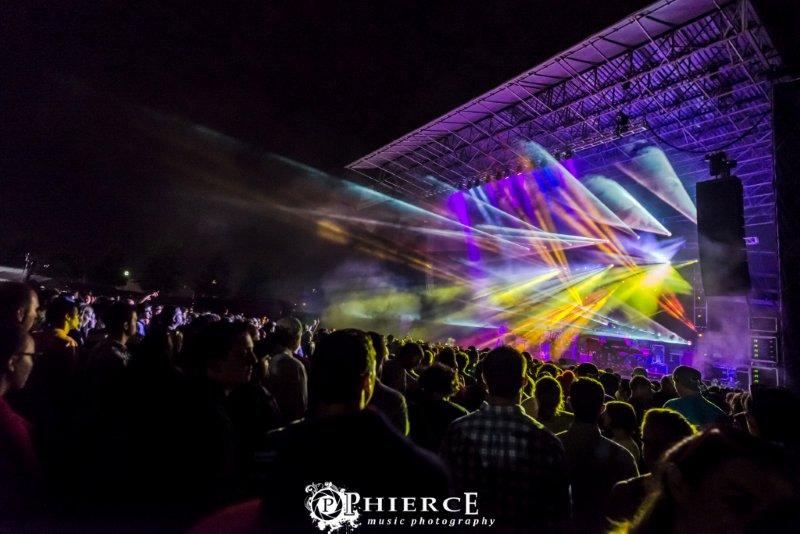 It is an Indiana summer tradition to catch the hoosier boys that is Umphrey's McGee when they come to town. It was great overhearing conversations of their fans of 15 years reminiscing of their earlier years and how far they have come. The boys came to Indy and showed that they are the torchbearer's and are hard to beat in this day and age. From their lights to their spot on lyrics, they mean business and did not disappoint at the lawn. Sure it is amazing seeing how far they have come in 15 years, but what is truly amazing is what the future will hold for this solid and hard working band.
Written by: Tyler Muir
Photos by: Keith Griner
Edited by: Rosemary A.W. Roberts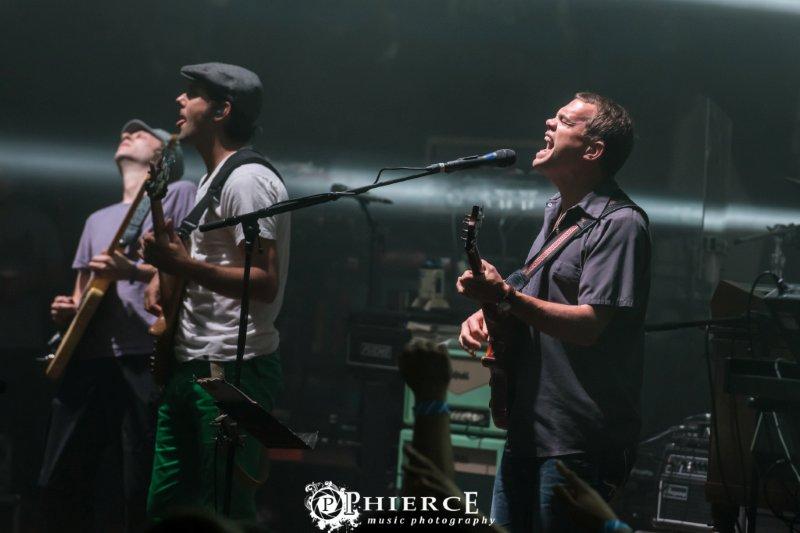 STS9 and Umphrey's McGee—The Palace Theatre—Louisville, KY—08/15/2013
On Thursday night, August 15th, 2013 Umphrey's McGee and Sound Tribe Sector 9 (STS9) visited the Louisville Palace Theatre, Louisville KY. As the night began you could see a crowd of wonderful individuals gather and get pumped up about going in to see the show. While everyone waited to get in and find their seats you could just feel the excitement building. When you walk into the beautiful Palace Theatre the sculptures on the ceilings and walls are magnificent, and the lighting made it appear like you were outside with the dark blue sky. The show started off with Umphrey's McGee taking the stage. They set the mood with "Push the Pig" and then embarked on a very heavy body-moving set. They also took on The Police's "Miss Gradenko" and that really got the crowd roaring and moving in magical ways. Umphrey's kept the groove rolling with many more such as "Der Bluten Kat", "Puppet String", "Triple Wide", and many more. The set for Umphrey's was coming to a close with the song "1348" and the crowd rumbled and roared for more. The spectacular lighting made the set even more wonderful and made everyone want to dance even harder. With all the happiness and excitement going on it left you ready for more. Walking around during the set break you could tell Umphrey's did an amazing job, with all the smiling faces and people still dancing around and spreading joy. The time came for STS9 to perform and everyone was already raging. As STS9 took the stage everything lit up and the music started with "Ramone & Emiglio." The fantastic high-energy set led on to "Moon Socket", "1..2..3", "...And Some Are Angels", & "Blu Mood". The visual array led by lighting designer Saxton Waller was exactly what was expected, absolutely amazing. When you looked to your left you could see folks dancing, with blissful demeanors, and that image was mirrored when you looked to the right. The crowd's dancing never stopped, and mine sure didn't either. As they played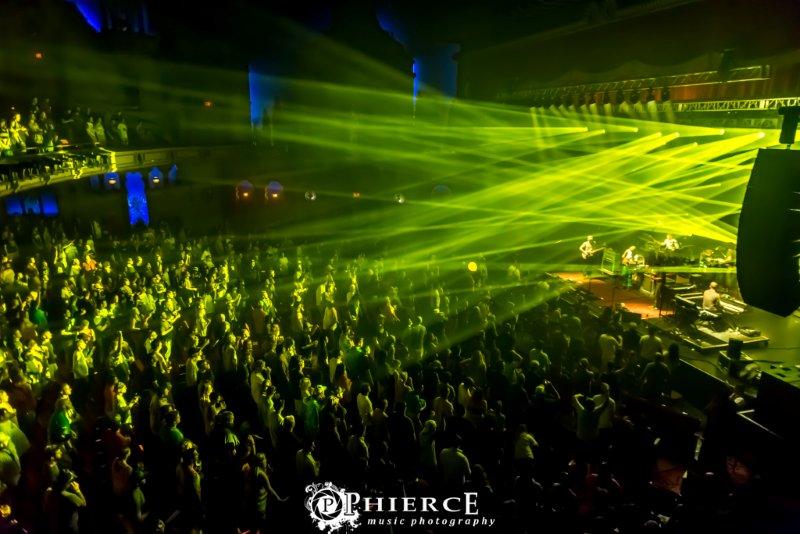 their last song "Arigato, Kabuki" everyone cheered. When STS9 left the stage, the crowd raged for more. Stomping their feet, clapping, and screaming, STS9 returned to the stage for an amazing encore. They played "Sympathy For The Devil" and "When The Dust Settles" and the crowd was beyond ecstatic as Jake Cinninger from Umphrey's joined them on-stage. As hips, feet, arms and hair whipped around it was more than joyful to see that all in attendance really enjoyed the show.
Written by: Halley Charllies
Photos by: Keith Griner
Edited by: Rosemary A.W. Roberts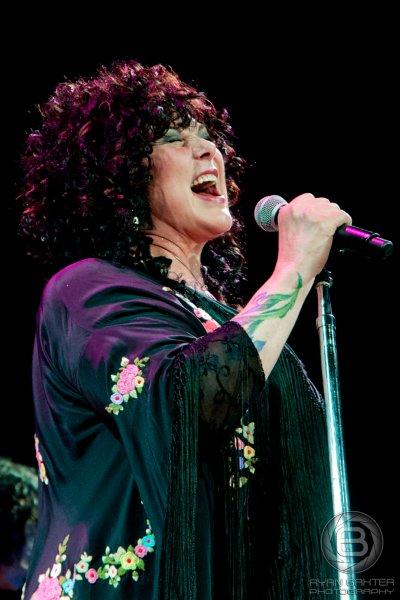 "HEARTBREAKER TOUR" CAPTURES THE HEARTS OF INDIANAPOLIS on July 27th, 2013
The rain didn't dampen the fans' enthusiasm at Klipsch Music Center on Tuesday night as they made their way in to witness one of the greatest concerts I have had the pleasure of seeing, and I am sure many will agree. The "HEARTBREAKER TOUR" included the most fascinating women of rock history, Ann & Nancy Wilson, who front the legendary band Heart, along with Jason Bonham's Led Zeppelin Experience.
It all came to fruition when 2013 Rock and Roll Hall of Fame inductees Ann and Nancy Wilson first met Jason Bonham, son of late Led Zeppelin drummer, John Bonham, when they performed "Stairway To Heaven" together at the Kennedy Center Honors tribute to Led Zeppelin in December 2012. With over 6 million views of the performance on YouTube, it was decided to take the show on the road.
The show kicked off with Jason Bonham's Led Zeppelin Experience commemorating his father's legacy with a slideshow behind them of John Bonham. Led Zeppelin is undoubtedly one of the most innovative, influential bands in music history laying the foundation for many to follow. Jason Bonham's Led Zeppelin Experience does the original Led Zeppelin justice. Concert-goers were amazed at how well the band creates the Zeppelin "vibe" pouring out the hits "Rock and Roll", "Black Dog", "When the Levee Breaks" and more with an encore performance of "Whole Lotta Love". Vocalist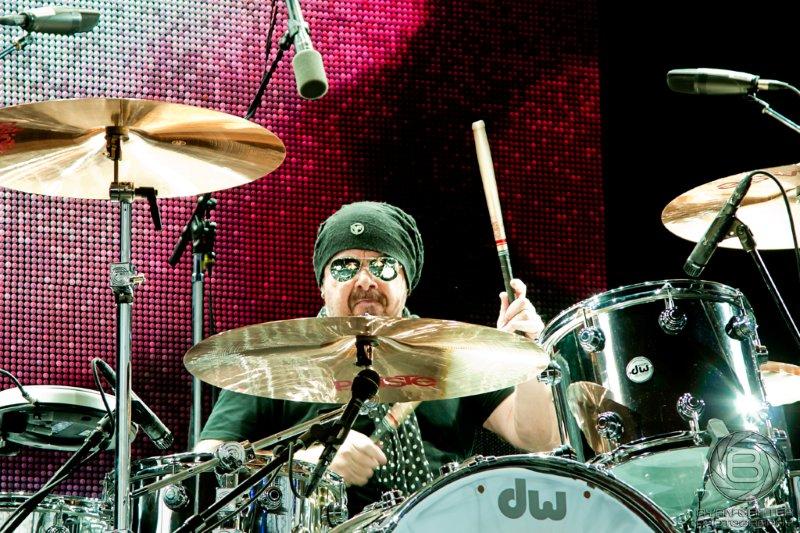 James Dylan did a dead on Robert Plant, with Bonham in command of the band during the entire performance from behind his drum kit.
As the sun went down over Klipsch, headlining act Heart took the stage with an eccentric light show. After 4 decades of touring, Ann Wilson steps out on stage dressed from head to toe in black and opens up with their signature song "Barracuda" with her powerful voice radiating while her sister Nancy Wilson played out the guitar riffs. With the crowd singing along, they went on to perform their hits "What About Love?", "Magic Man", "Crazy On You" and "These Dreams". With her long blonde hair blowing, Nancy took center stage and performed a solo rendition of Elton John's "I Need You To Turn To".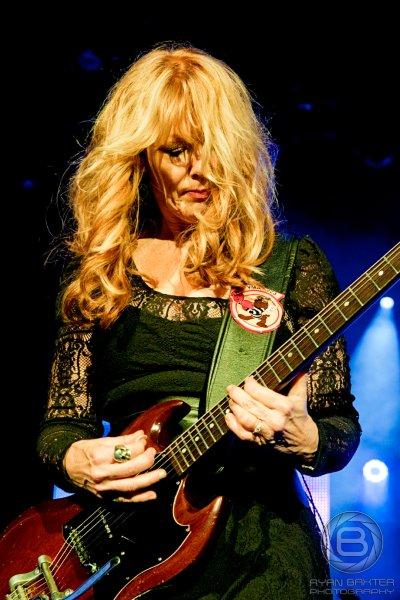 As Jason Bonham made his way back to the stage to join the ladies, the crowd was wowed by 30 minutes of nothing but Zeppelin tunes, starting out with "The Song Remains The Same". As the duo of the Wilson sisters and Bonham slipped into "Kashmir", fans were simply in amazement at the harmony this carried; some were even brought to tears. To close out the night was a stunning performance of the classic "Stairway To Heaven" with Ann's vocals owning the song, hitting every note without flaw.
In conclusion, this tour is an experience that fans will remember for a lifetime. Ann and Nancy Wilson, arguably two of the most influential women in rock and roll history, still have "Heart".
Written by:
Dana Franklin
RBaxter Photos
Edited by: Rosemary A. W. Roberts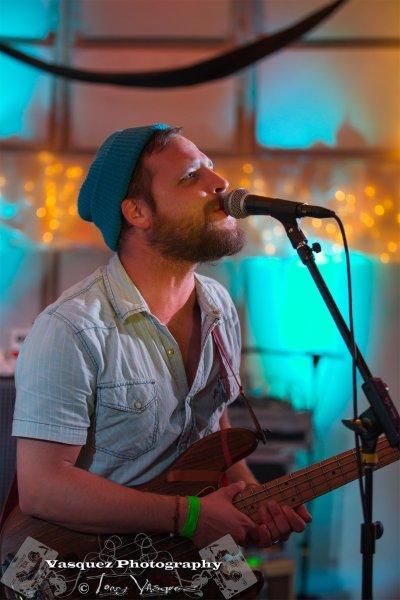 Dr. Dog with opening band Houndmouth ~ The Rathskeller, Indianapolis, Indiana ~ August 1, 2013
It was a perfect summer evening at The Rathskeller Biergarten for a laid back night of great music. This historic 19th century Athenaeum building tucked away in the heart of downtown Indianapolis, Indiana provided a beautiful setting for the sold out Dr. Dog and Houndmouth concert.
The young opening band Houndmouth from New Albany, Indiana, a town which neighbors Louisville, Kentucky, has quickly formed a passionate Americana sound. The set list featured material from their recently released album From the Hills Below the City. The song writing on the new album is straight forward and offers an enjoyable blend of vocal harmonies between guitarists/vocalist Matt Myers, keyboard/vocalist Katie Toupin, Bassist/vocalist Zak Appleby, and drummer/vocalist Shane Cody. The band seamlessly switched lead vocals between Matt and Katie during their set. It was easy to see how Houndmouth's live performances have made them crowd favorites on the festival circuit. If you have a chance to catch them perform live make sure you don't miss them.
Before Dr. Dog came onto stage, one could hear conversations about how they were the best "unknown band" around. The Philly based band is known for their raspy harmonies and great live performances, which are filled with energy and charm. Tonight was no exception with Scott McMicken and Toby Leaman sharing lead vocals over the course of the evening.
With a deep catalogue of songs to pull from, the show was a sampling of tracks from the latest release Be The Void with such tracks as "These Days," "How Long Must I Wait," "Vampire," and "Lonesome". Some other notable tracks from the night were "Ark," "From," and "Heart It Races" an Architecture In Helsinki cover which was a crowd favorite. They also played "The Breeze," which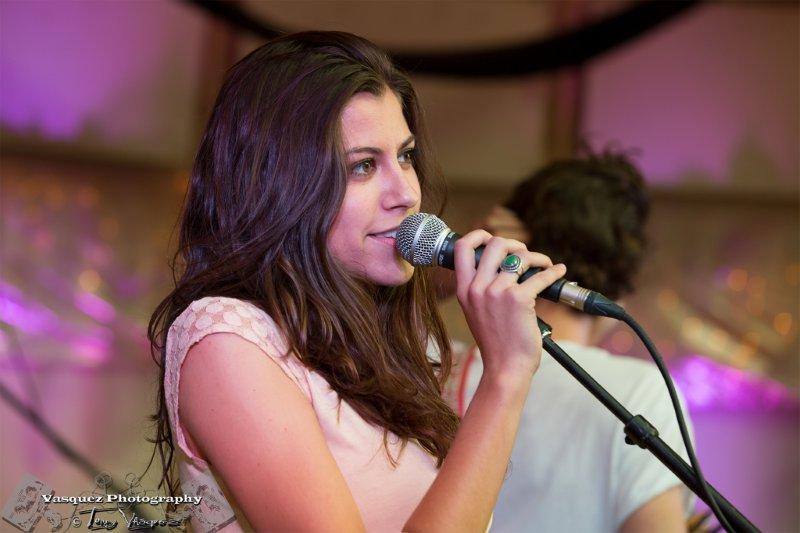 the band joked before playing "no matter how many times we play this we still screw it up." The band ended the fun filled night with "Jackie Wants Black Eye" with the crowd singing along to the lines "And we're all in it together now, As we all fall apart;" one could really feel the connection between the band and the packed-in crowd.
Gallery links: Houndmouth: http://smu.gs/11z68Rv Dr. Dog: http://smu.gs/19ByK1o
Written by: Tony Vasquez
Edited by: Rosemary A.W. Roberts
Photos by: Tony Vasquez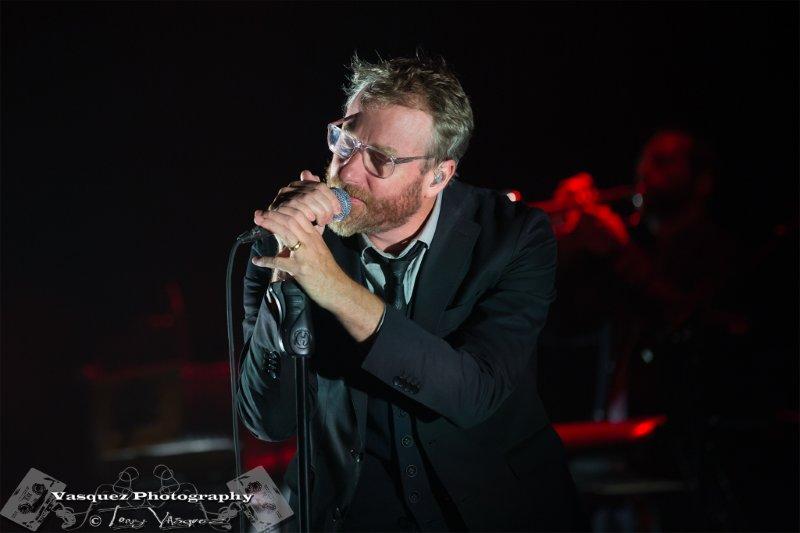 The National with Daughter ~ August 4th, 2013 ~ Murat Theatre, Indianapolis, Indiana
The National graced Indianapolis with an August 4th show at the Murat Theatre. In a word, it was inspiring. The energy in the crowd was palpable all the way up to the back rows of the balcony, where some audience members stayed on their feet throughout the show, dancing and playing air guitar. The rest of the crowd appeared riveted, their full attention glued to the stage.
With his scholarly appearance and intellectual song writing, frontman Matt Berninger wouldn't seem out of place instructing an English class, but to see him pacing onstage between songs and roaring some of his more earnest lyrics lends a violent and magnetic contrast to his stage presence. The band's maturity and creative intelligence bleed through in their lush melodies and lyrics of deep human emotionalism and unpretentious sociopolitical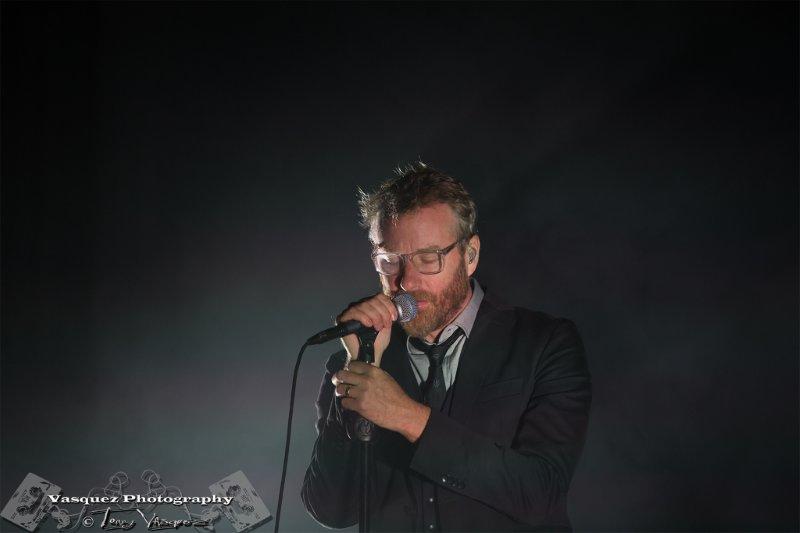 commentary. Their songs often build like a storm. Sweet instrumentation and Berninger's monotone voice are like a steady rain, lulling and rhythmic. Then they intensify into a thundering frenzy of horns, cymbals, and belted-out vocals.
The National played a perfect selection of songs from their catalogue including several tracks from their newest album Trouble Will Find Me. They played "Don't Swallow the Cap," "Pink Rabbits," and "I Need My Girl" from the new album and many of their standard crowd favorites including "Secret Meeting," "Squallor Victoria," "Conversation 16," "Fake Empire," and "Baby We'll Be Fine." Their encore set was brilliant with Berninger plunging far into the crowd on "Mr. November" and ending with a gorgeous acoustic medley sing along to "Terrible Love"/"Vanderlyle Crybaby Geeks," the whole crowd singing at the top of their lungs on the repeated lyrics "All the very best of us, String ourselves up for love."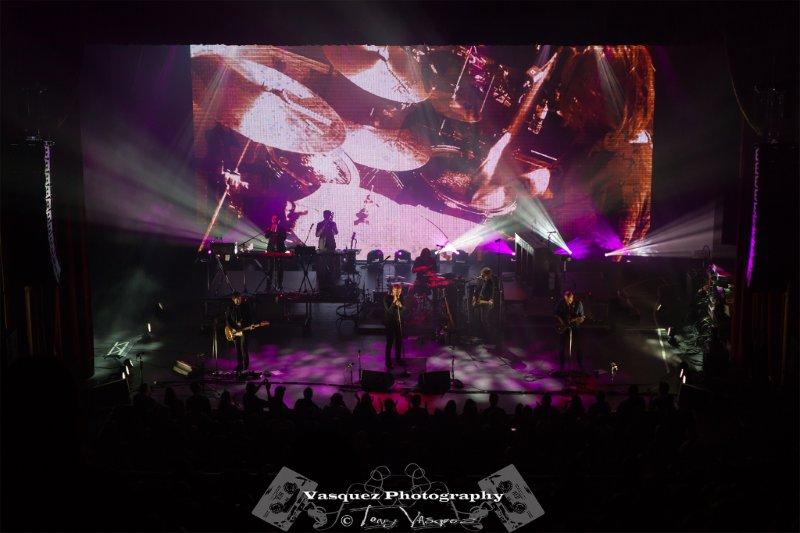 This show was one that I not only saw but felt. With goose-bumps on my arms and emotion stirring in my core, I left the Murat Theatre with a spectacular music buzz.
London-based Daughter opened the evening with a well-received set of moody indie folk. Their sound is one of rich sonic ambience with sweet guitar reverb and soft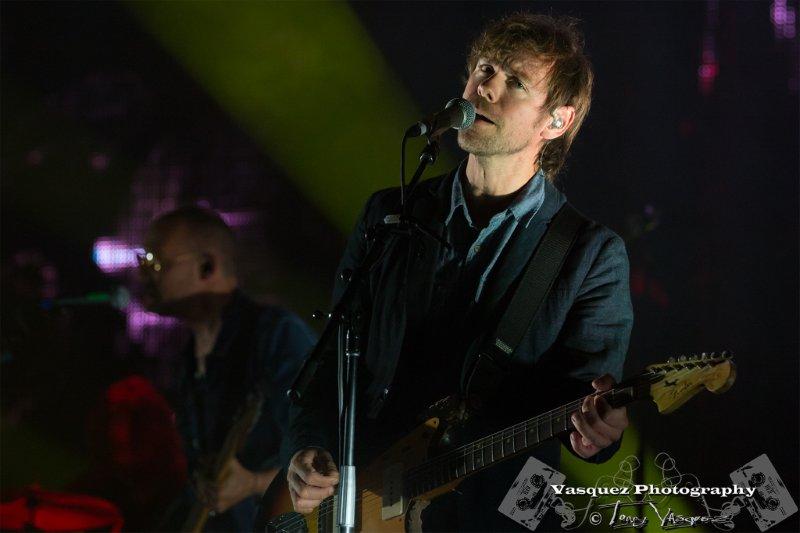 vocalization from lead singer Elena Tonra. The vocals smack a bit of Leslie Feist with an electronic sound that hints toward Sigur Rόs. They played their track "Youth" off their debut album If You Leave as well as their song "Home." Their set was laced with sweet banter suggesting the band's excitement and nervousness over opening for The National, and one affirming moment when a member of the crowd gushed that the band members "are all so attractive." Daughter's set was a refreshing way to begin the evening, and I'll be looking for them on future tours.
Written by Brittany Vasquez
Edited by Rosemary A.W. Roberts
Photos by Tony Vasquez
Gallery Links: http://jamsplus.smugmug.com/TonyVasquezPhotography/The-National/31002998_9xTpXw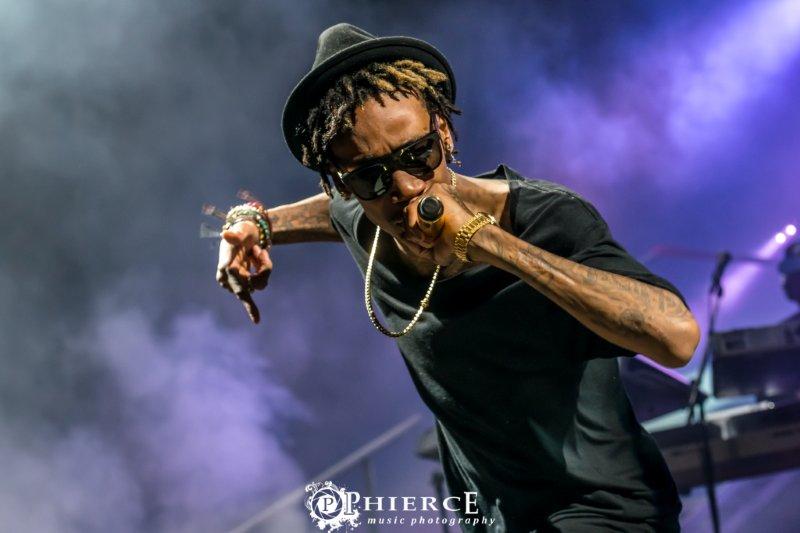 Wiz Khalifa, A$AP Rocky, B.o.B, Trinidad James, Joey Bada$$, and more ~ Klipsch Music Center, Indianapolis, Indiana August 4, 2013
Under the Influence of Music Tour
Once arriving to the venue, on stage was Nicholas Williams, better known as Trinidad James. He comes out rockin' the afro with a stage presence you would expect from a headliner. His hit "All Gold Everything" peaked at number 6 on the Billboard US Rap charts, and on this night it was presented with a rock and roll feel and sound that worked very well. I personally hope James is around for a long time, he is energetic and entertaining.
Next up is B.o.B. This rapper might be the most underrated performer on this tour as he has been nominated and won major awards for his work. He played to the crowd well, coming off stage to "smoke" once and running out into the lawn area for a few minutes, the fans loved every second. He even signed and gave away a pair of shoes to a girl in the front row. After a few break dance moves and a great overall performance he gave way to the next act.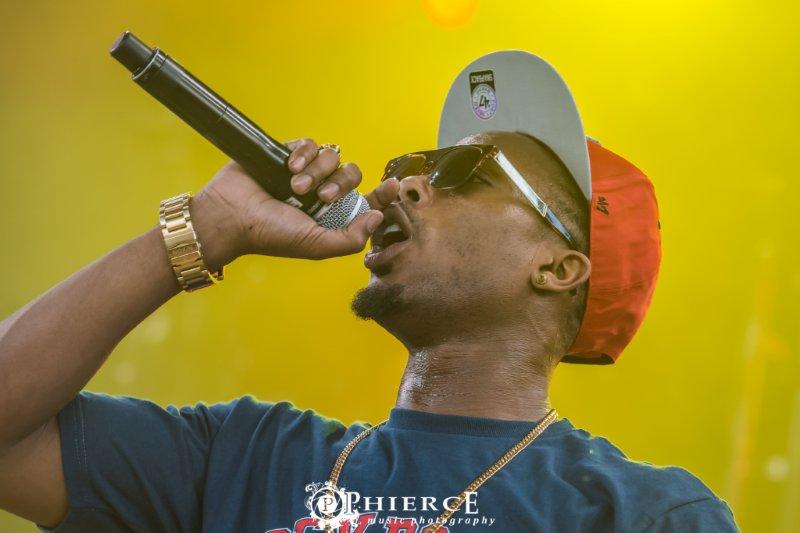 Harlem native A$AP Rocky and his full band came on stage to thrill us next. Known in some circles as Lord Flacko, he makes it clear that all he wants to do this night is entertain us, smoke, and take somebody's girlfriend home. Rapper Joey Bada$$ joined him on stage for a performance of "Wild for the Night" that ignited the crowd just before he broke into "F%#@in Problems". The end of his set displayed a humble A$AP, saying "it don't matter if you're black, white, red, or yellow, we're all fans and we're all purple people."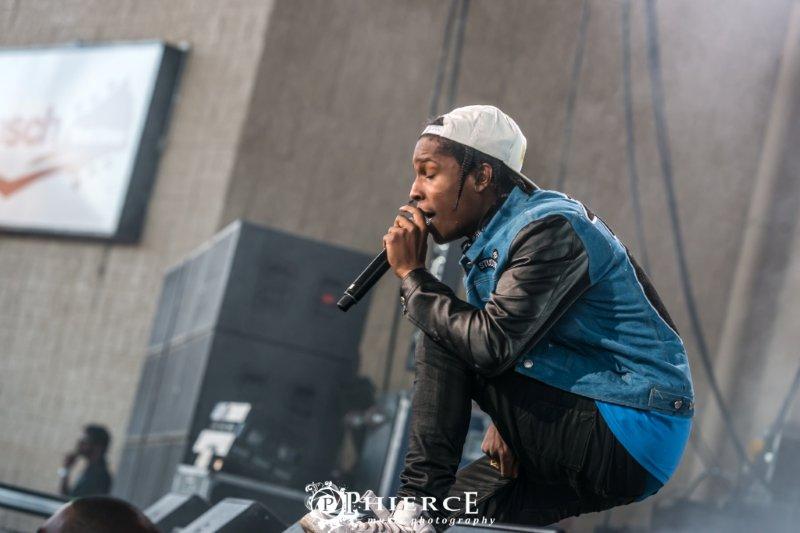 The headliner is Wiz Khalifa. Cameron Jibril Thomaz was born in North Dakota and hails from Pittsburgh. He is a commercial rapper, and begins his act with a Converse shoe ad on the big screen. His proclamation is "if it ain't money, don't know what the topic is". The light show is amazing and at times he resembles a rock god rather than a rapper. His love of marijuana is no secret and the crowd seems to love that about him. He starts the show with his hit "Work Hard, Play Hard", summing up his dedication to spending all the cash he works so hard to earn. He slows it down for the next hit "Remember You" as he teases the ladies in the front row. Throughout the show he boasts his hits such as "Roll Up", "On My Level", and "Let It Go". He ends his set with a very extended version of "Black and Yellow", his biggest hit so far, and the fans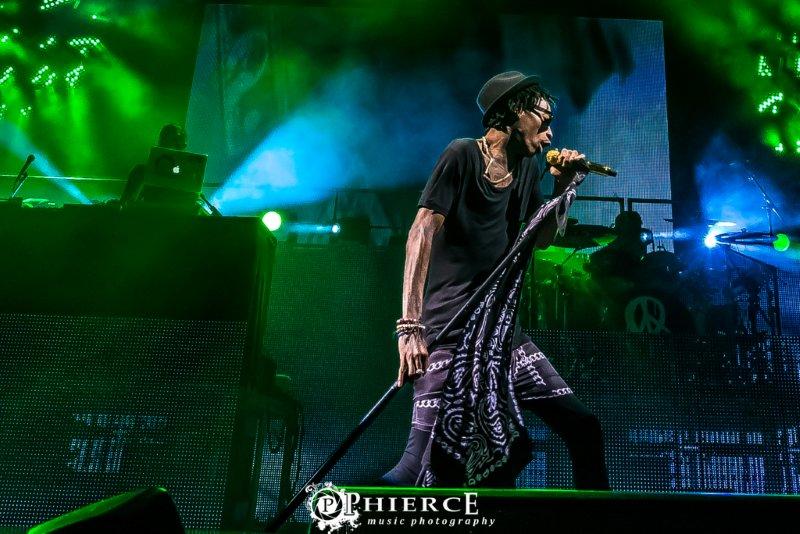 stuck around until the very last note.
One might think that with the lasers & lights that they had walked into a dance party put on by one of the nation's largest DJ acts. But, what was exhibited on this night was each performer's ability to perform with the microphone in hand and with the right mix of beats. Everything came together to deliver above one's expectations, and when the speakers went silent fans were enthusiastically sent home.
Written by: Rob Seaman
Photos by :Keith Griner
Edited by: Rosemary A.W. Roberts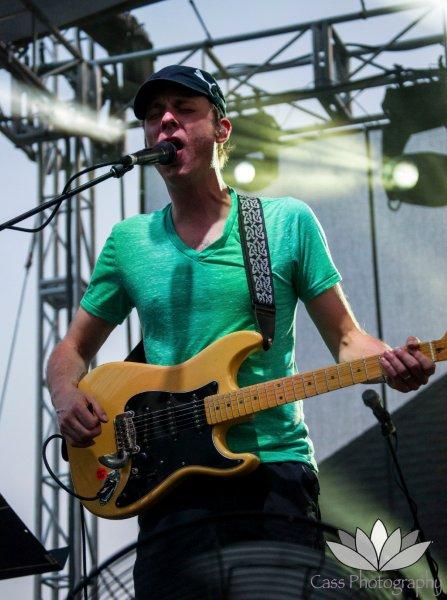 Umphrey's McGee—CEFCU Center State—Peoria, IL—07/07/2013
On July 7th, 2013 Umphrey's McGee made a stop in Peoria, IL at the unique concert venue the CEFCU Center stage at the Landing. This venue is a large spacious venue with a lawn set underneath a large bridge. This Sunday show was much smaller than I expected for being so close to their stomping grounds of Chicago, and so near the site of their biggest festival Summer Camp.
For me, this was an especially memorable show. It was my 50th show, and I still can't believe that I had the honor of photographing and reviewing this show. The band came on right at 7pm with no opener. They started out with a new jam, which the band refers to as a "Jimmy Stewart" that they've been playing recently called "Drink my Drank." This up-tempo rock based song is something I predict to see on the next album. Also in the first set, they played one of my personal favorites from back in the early days of Umphrey's McGee, "Anchor Drops". The lyrics "Breath Easy, the less you have to offer the less you have to lose. Think Slowly, the more you have invested the more you have to claim. Dream Focused, as often as you've wandered you've carried too much weight," are some of my very favorite words from singer Brendan Bayliss.
For the last two songs of the first set, Umphrey's invited renowned guitar player Stanley Jordan to the stage for "Great American" from the album The Bottom Half and "Fame," the familiar David Bowie song. Stanley Jordan is a well known musician from Chicago that plays a very unique style of guitar called touch guitar. Instead of strumming the guitar to create different notes, Stanley in effect plucks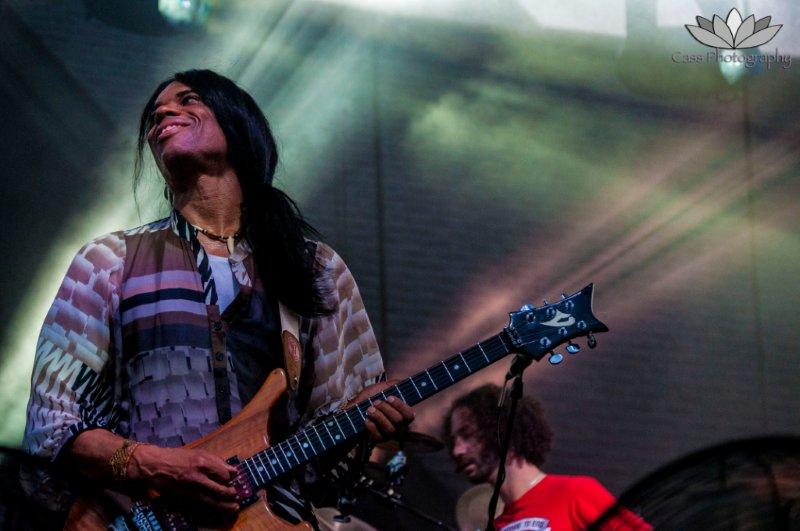 and taps out each note on the neck of the guitar, creating a unique style and sound. Stanley Jordan's style fit in perfectly with guitarist Jake Cinninger's rock and shred style, as they launched into solo after solo, closing the first set.
Second set proceeded in typical Umphrey's McGee style. They opened with an unfinished "Bridgeless" and even threw in a little Snoop Dog tease during "Utopian Fir." It was the three song encore that was something special to me. They started out with a "Resolution" with the recognizable melody from "Norwegian Wood" by the Beatles delicately woven into the rock and roll riffs. I am always amazed by the diversity of this band as they go from song to song without skipping a beat. They closed the set with "Africa" by Toto. This was my first time seeing this song performed live, and I have to admit, I was impressed and thrilled to see them pull this song out of their bag of tricks. According to allthingsumphreys.com (their stats and set lists website where you can find just about any information about the band that you need) this was the only the 56th time they had performed this song in all of their years of touring. It was a very special way to end my 50th show and I cannot wait to see what they have in store for the late summer tour with STS9.
Set List:

Set 1: Drink My Drank > Push the Pig, JaJunk > Anchor Drops, Kabump > 2nd Self, Great American[1], Fame[1]

Set 2: Bridgeless[2] > Get In The Van, Much Obliged[1] > Lenny[1], Utopian Fir[3], Rocker Part 2[2] > JaJunk

Encore: Resolution[4], Soul Food II > Africa

[1] with Stanley Jordan on guitar [2] unfinished [3] with Ain't No Fun (If the Homies Can't Have None) (Snoop Dogg) jam [4] with Norwegian Wood (The Beatles) jam
Written & Photos by: Cassidy Maley
Edited by: Rosemary A.W. Roberts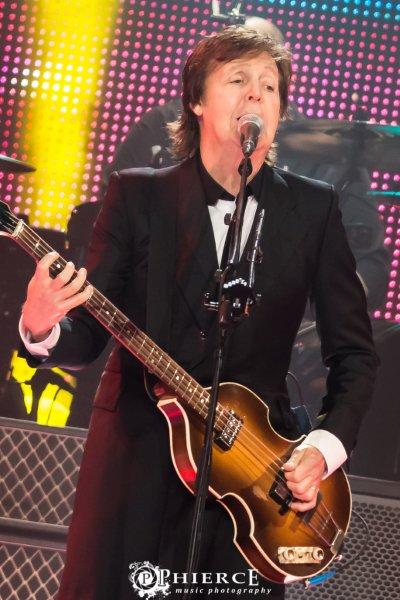 Paul McCartney—Bankers Life Fieldhouse—Indianapolis, IN—07/14/2013--The Magical History Tour
On Sunday, July 14th, 2013, Paul McCartney took the stage to a roaring ovation in front of a sold out crowd at Bankers Life Fieldhouse, in Indianapolis. McCartney, one of the most iconic and influential musicians in the history of music, lived up to his reputation for being the perfect showman. For almost three full hours, the fans were treated to a 38 song setlist that was laden with hit after hit. The classic "Eight Days A Week" kicked things off, a song which had never been played live until the current McCartney tour. This live debut was followed by the Wings classic "Junior's Farm", before quickly slipping back to the Beatles era for a quite memorable performance of "All My Loving." The hits never ceased, and every song's performance was just as appealing as the next. Two other un-performed Beatles classics off of the Sgt. Pepper's Lonely Hearts Club Band album, "Being for the Benefit of Mr. Kite," and "Lovely Rita" were personal favorites of mine, both were just breathtaking.
In addition to the stellar performances of all the classic tunes, the fans were treated to a mind blowing visual show giving each song a wonderful aesthetic of charm. From the arena shaking pyrotechnics on "Live and Let Die," to the projection screen mind trip on "Helter Skelter" I was completely floored with the production on display. Other notable highlights included "Something," "Band On The Run," and "Lady Madonna". The crowd even participated as backup singers as Sir Paul led quite an orchestrated sing along, with the highly recognized Na-na-na-na's at the end of "Hey Jude." Every tune had something else to offer, and as a fan you couldn't help but be magnetized by the experience.
McCartney's sense of humor and personable charm also shined, as his quite concrete storytelling drew all ears, and personal moments spanning throughout his musical career became quite the added bonus. Stories about Jimi Hendrix and about meeting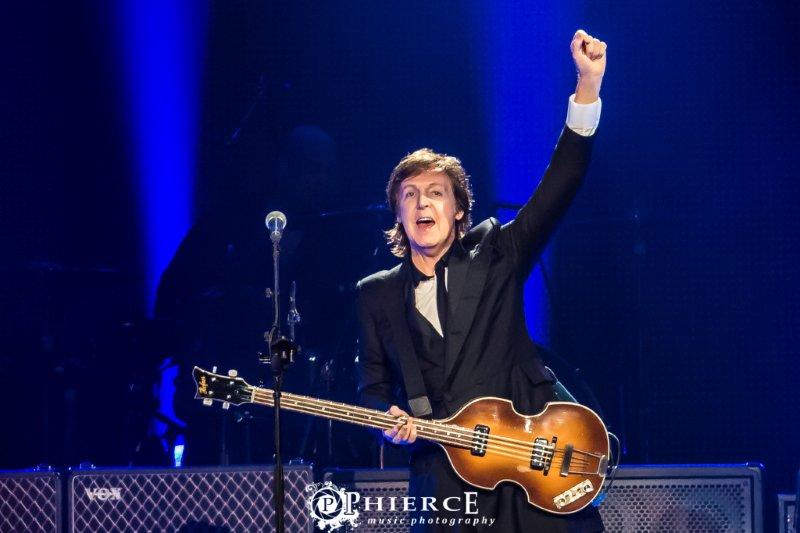 the Russian government led us on a 'magical history tour'. McCartney was flamboyant but accessible, because he made you feel as though you were right on stage with him, singing those great songs of yesterday. McCartney delivered in Indianapolis, and if he comes back I might have to go for round 2. I could honestly say, this was quite possibly my favorite concert that I've ever attended. I'm still in awe of how a 71 year old could have so much energy, and deliver such an incredible performance. I guess that's why he is considered one of the best in the history of music. I wouldn't or shouldn't have expected anything less.
Written by: Ty Goodwin
Photos by: Keith Griner
Edited by: Rosemary A.W. Roberts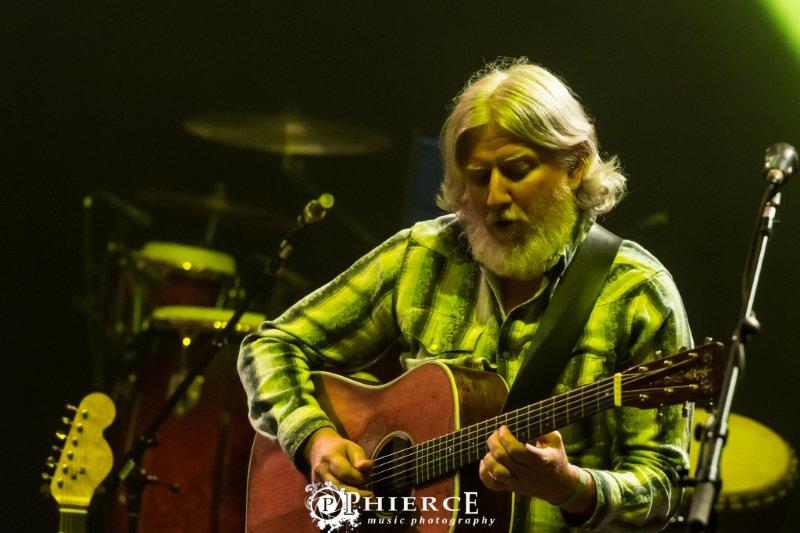 String Cheese incident ~ Louisville Palace Theater ~ 7/14/13
Cheese came pouring out of the doors of the Palace Theatre in Louisville, KY. It revitalized an army of sunburnt smiling fans who walked across town to witness the late night spectacle to Forecastle Music Festival, and no one was disappointed. When String Cheese Incident began with the heavy hitter opener, "Howard", it set the mood and everyone was ready to get down on their good foot for the evening. The energy persisted into the second song and it came with an umbrella straw on a tropical breeze because "Can't Wait Another Day" transported the Palace to a beach on the Ohio river. Staying consistent with the vibe the jams were poignant and powerful, which carried us into a bluegrass favorite "Orange Blossom Special". The train whistle at the onset of the song begins on Michael Kang's violin; this gives me goose bumps every time I hear it, because you know something special is coming behind that train. Cheese felt like keeping it classy and grassy so they covered Gordon Lightfoot's "Cold on My Shoulder" which made Bill Nershi and the traditionalist fans ecstatic. "Sometimes A River" was a pure display of the band's ability because they traded off the lead many times and it felt seamless. Then to add a cherry to the top of that song they transitioned into "Bam!" Kyle Hollingsworth killed this in all of its bass and drum glory. Then they surprised the crowd with a sweet transition into "Minor Swing"; the two songs really worked well together.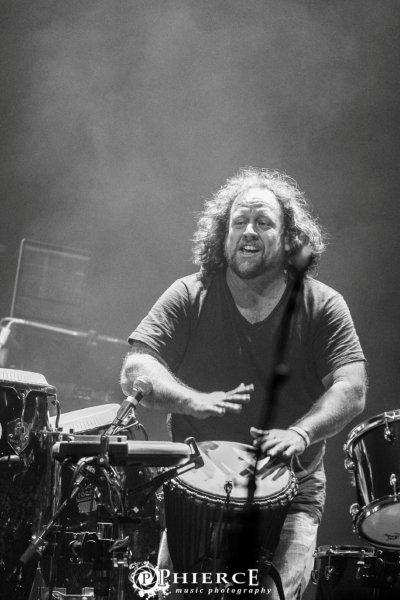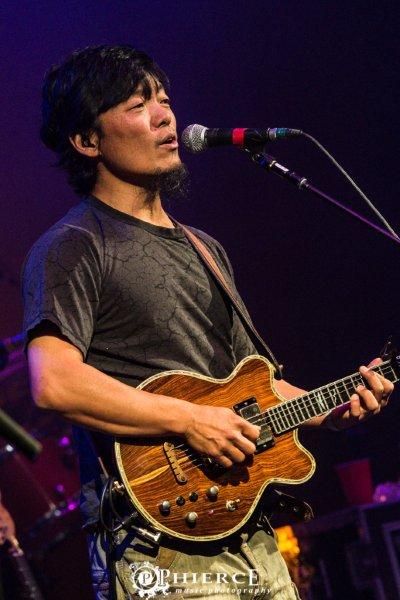 "Just one Story" was a roller coaster of a good time. The musicians have to love playing this song because they each get a chance to demonstrate their talents. The next song was their chance to rest for a second and slow the tempo down as they played "Hotel Window". Kyle wanted to take everyone to church early that Sunday morning, as he played on the organ. "Impressions" jammed and was like a trance with a guitar resounding through a dream, and then Kyle started talking with his keyboards' vocal sampling effects. "Colliding" is another one of those songs that Cheese plays that makes me want to be outside and laying in the sun. The crowd caved into the bounce for this song and even the security guards were moving. The last song of the set was "Restless Wind", and it seemed fitting to play one more song with bluegrass roots in it to keep a good balance to the set. The band left the stage to the dismay of the crowd who were hoping for a 4 am curfew. They instead encored with a Led Zeppelin cover of "Ramble On" which rocked and had me anticipating Robert Plant coming out with them since he was scheduled to play at Forecastle as well; alas, it didn't happen.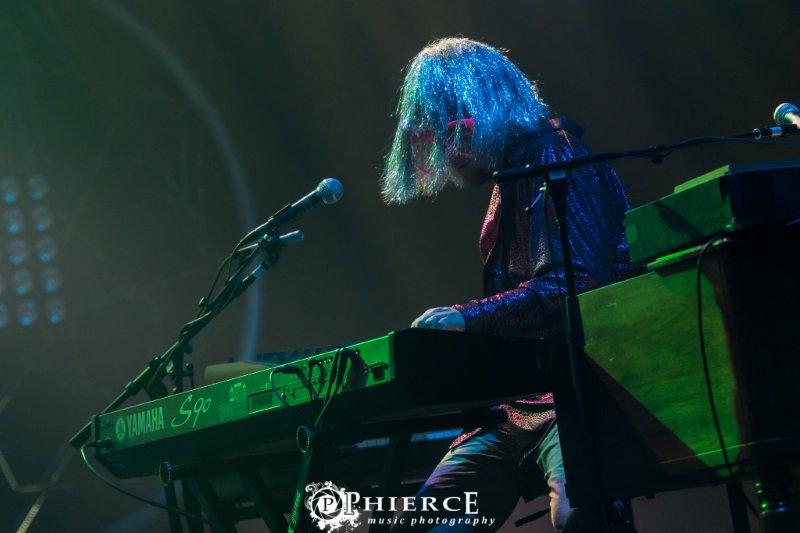 The show was a sweet way to end the night and a great way to get out of the heat and into the fire. The crowd was in it to win it and the band did not disappoint. They came out of the gates hard and fast with the "Howard" and didn't take their foot off the gas until they played "Cold on my Shoulder". The rest of the show was an intense roller coaster of fun transitions and their signature mixture of bluegrass and rock to coalesce into one hell of a dance party.
Written By: Charles Jeffery
Edited By: Rosemary A.W. Roberts
Photos By: Keith Griner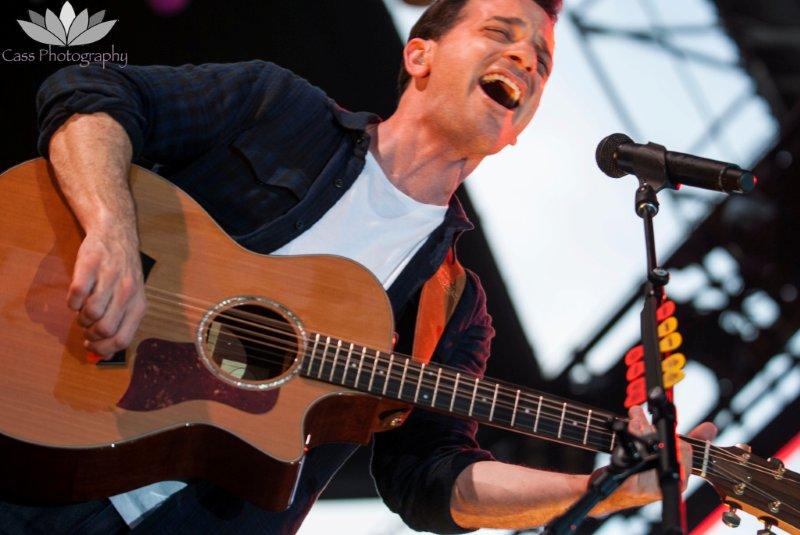 O.A.R.—The Lawn at White River State Park—Indianapolis, IN—06/29/2013
On June 29, 2013, Of A Revolution, better known as O.A.R., made their yearly appearance at The Lawn at White River State Park in downtown Indianapolis, Indiana. It had been an unusually cool and rainy summer day, but as the evening slowly crept up, the rain clouds began to clear and made for a nice concert during a beautiful sunset.
O.A.R is a fairly well-known band in the Mid-West; although they hail from Maryland, they always find time to make a yearly stop at the White River State Park. O.A.R has five core members, but this show was special because they had a three-piece horn section sitting in with them. O.A.R. is known for their energetic stage presence and catchy songs. All eight members were dancing on stage, and feeding off of the energy of the crowd. After two opening bands, O.A.R went on to play a 24 song set. It was a long, pleasant night of music for everyone. They opened with the popular song "Taking on the World Today," featuring Evan Oberla on trombone and Jon Lampley on trumpet, and a power packed sax solo from band member Jerry DePizzo. They went on to play several of their popular tunes, mixed with teases from other well known songs. The song "Destination" had a "Fire on the Mountain" by the Grateful Dead tease woven in with the original melody. O.A.R. closed the night with a three song encore, and at the end they brought up members from the opening bands for the song "Live and Let Die," closing the night with a family style jam.
Set list:*Taking On the World Today, Untitled, Destination, Living In The End, 52-50, Heaven, Dinner Last Night, Hey Girl, Night Shift, I Will Find You, About An Hour Ago, Whatever Happened, Shattered (Turn The Car Around), Wonderful Day, Tragedy In Waiting, About Mr. Brown, Toy Store, That Was A Crazy Game Of Poker, This Town, Black Rock, Peace;

Encore: Love And Memories, Get Away, Live And Let Die
Written by: Cassidy Maley
Edited by: Rosemary A.W. Roberts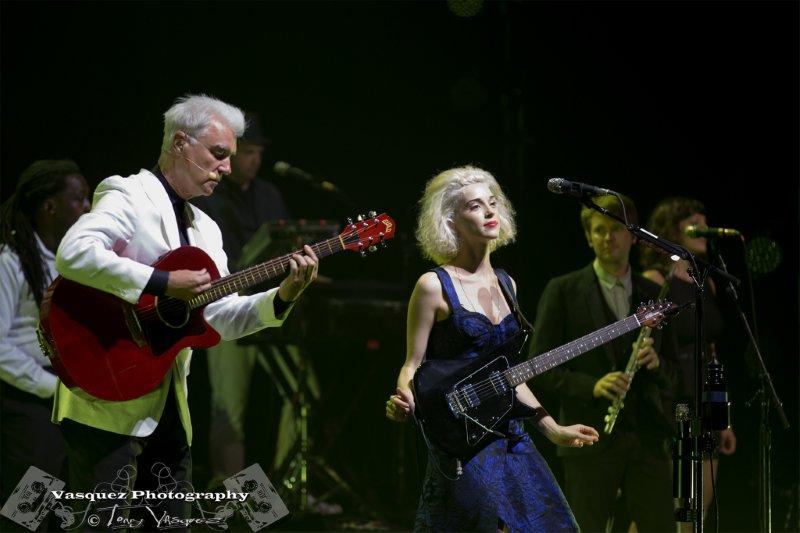 David Byrne & St. Vincent ~ Whitney Hall in Louisville, KY ~ July 2nd, 2013
I knew I was in for a special performance given the professional and artistic reputation of David Byrne, former lead member of the Talking Heads, and having seen Annie Clark's, a.k.a. St. Vincent's, shows before; but I was still blown away by their brilliant set at Whitney Hall in Louisville, KY. They opened the night with the horn-heavy "Who," the opening track from the collaborative album Love This Giant.
The set list was a healthy mix of St. Vincent's material including "Marrow," "Cheerleader," and "Northern Lights" along with tracks from the new album and a scattering of Byrne tunes which included "This Must Be The Place (Naive Melody)," "Burning Down The House," and "The Party / Road To Nowhere." They shared the stage throughout the night with Byrne hanging back at times and almost showcasing St. Vincent.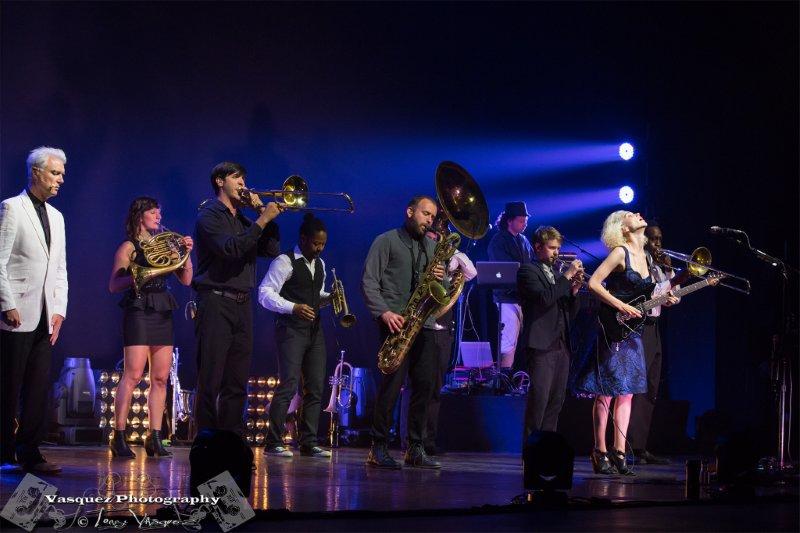 The night was a mix of choreographed steps, theatrics, and a tight brass section that accompanied both singers' distinctly different vocals. Byrne's quirky and whimsical dance moves were mirrored by St. Vincent and the backing band on several dance routines. Byrne's innate charisma combined perfectly with St. Vincent's unique electric guitar playing.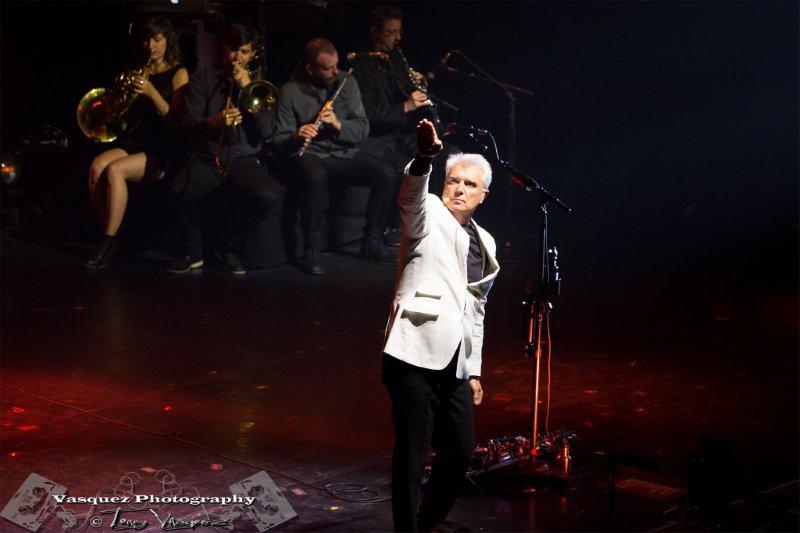 Byrne introduced "Outside Of Space & Time" by dedicating it to the Higgs boson particle. This particular song showcased the full, rich sound of The Brass Tactic. The encores and longer breaks in the music were handled with true stage theatrics, with the stage dimming while the musicians got into their positions for the next song.
St. Vincent shared the story of when she first discovered Byrne's music. When she was very young she watched the film Revenge of the Nerds and heard "Burning Down The House" for the first time. She spoke of how it moved and resonated with her and was one of the first moments of music inspiration she remembers. Though the two artists are from different eras, their year on the road together has made their stage chemistry gel into a sleek and polished performance.
Setlist: Who, Weekend In The Dust, Save Me From What I Want, Strange Overtones, I Am An Ape, Marrow, This Must Be The Place (Naive Melody), The Forest Awakes, Optimist, Like Humans Do, Lightning, Lazarus, Cheerleader, Lazy, I Should Watch TV, Northern Lights, The One Who Broke Your Heart, Outside Of Space & Time

Encore:
Cruel, Burning Down The House

Encore 2:
The Party, Road To Nowhere
Written & Photos by: Tony Vasquez
Edited by: Rosemary A.W. Roberts
Gallery: http://jamsplus.smugmug.com/TonyVasquezPhotography/David-Byrne/30338550_MnQfwZ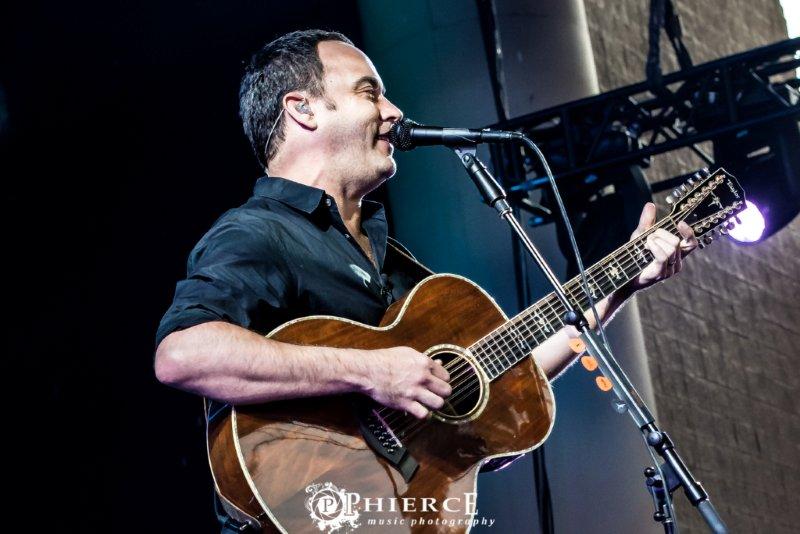 Dave Matthews Band--Klipsch Music Center—Noblesville, IN-- June 21, 2013
The last time I saw Dave Matthews Band in Indianapolis was 2009 when it rained and poured, but Dave came out on stage and gave his audience the show of their dreams anyways. On Friday, June 21 at Klipsch Music Center, dark clouds appeared to possibly be rolling in for another rainy show but instead we got lucky and beautiful weather delighted the night.
DMB is the only two-night run at Klipsch Music Center this summer and the campgrounds were bustled with rowdy day drinkers ready to make summer memories. The true DMB fans had their tickets ready for action both nights.
I now feel bad for ever saying I am going to see "Dave Matthews" without saying the "Band" at the end. Seeing them up close and live, it is clear how in-tune this seven-piece band is with one another. The layers of sounds are so well harmonized together. You can feel the energy of the music control the crowd.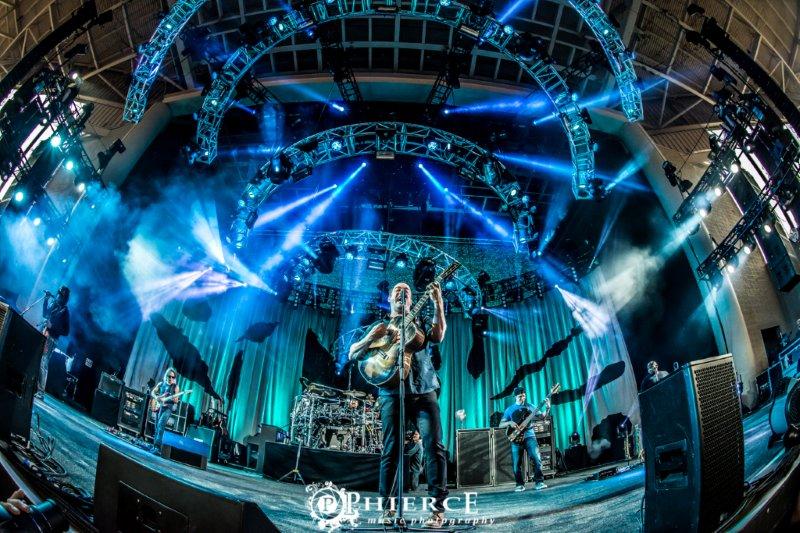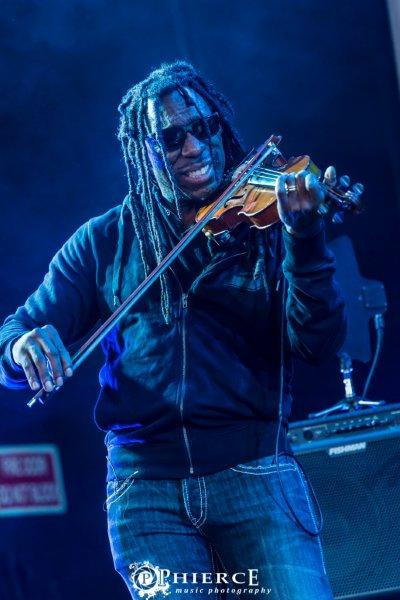 I was pleased when halfway through the set, I turned to my friend and said, "I wish he would play 'Crash Into Me.'" Then after an instrument switch out, he began singing what is probably one of the most elegant sex songs made. I was ecstatic because there was the chance he would play it Saturday instead. (Although Saturday's set list included "Crush," my other DMB favorite).
My favorite instrument solo was Rashawn Ross on the trumpet after the song "Squirm." Dave jammed on the guitar and then Ross belted back and reminded me that trumpets are beautiful instruments too.
The encore brought "Sister," "The Best of What's Around," and finally ended with "Ants Marching." Being one of those bands with tour followers, they had an entire choir from the audience as his back-up singers. Everyone knew when to fist pump in synchronicity and everyone sang along in bliss all night.
Written by: Lacy Bursick
Photos by: Keith Griner - MORE PHOTOS HERE
Edited by: Rosemary A.W. Roberts

Tom Petty and The Heartbreakers- Klipsch Music Center- Noblesville IN- 6/15/2013
Tom Petty and The Heartbreakers brought their countless hits to a record setting crowd at Klipsch Music Center June 15, 2013. Promoting their new album titled Mojo, and promising a good time right out the gates, the boys made sure not to skip a beat from 1978 to 2013. It has to be a great feeling to have teenagers and folks even older than you belting out your lyrics at the top of their lungs decades after writing them, and it has to be an even better feeling when the same folks even belt out the new stuff.
Opening the night with the Byrds classic "So You Want To Be A Rock'n Roll Star" let everyone brace themselves for what was in store. Throughout the night Tom let the crowd know how much he loved playing in Indiana; after the first shout out leading into "Mary Jane's Last Dance" you could not help but believe him. Tom showcased his new album early in the set with "Good Enough". The lawn was meant for a Petty concert, strangers hugging each other out of pure joy and the most epic lighters-in-air moment courtesy of "Free Fallin".
Tom Petty gave almost a sermon in between songs with one of the best one-liners being "If you miss the 70s and 80s, it is okay", which led into "Listen To Her Heart". The fans that were in the audience could not help but leave feeling like Tom Petty and the Heartbreakers touched all the bases before heading home, even touching the Traveling Wilburys album with their version of "Tweeter and the Monkey Man". For the skeptic in the audience who was looking for one out of left field, the boys brought to the plate a special rendition of "Melinda", with "Learning to Fly" allowing everyone to have one arm around the person next to them and the other arm with their lighter in the air.
The sun provided the perfect weather and the moon the perfect backdrop. The set ended with Tom telling you that it is all right to not live your life like a "Refugee". When Tom and the boys came out for the encore the half moon that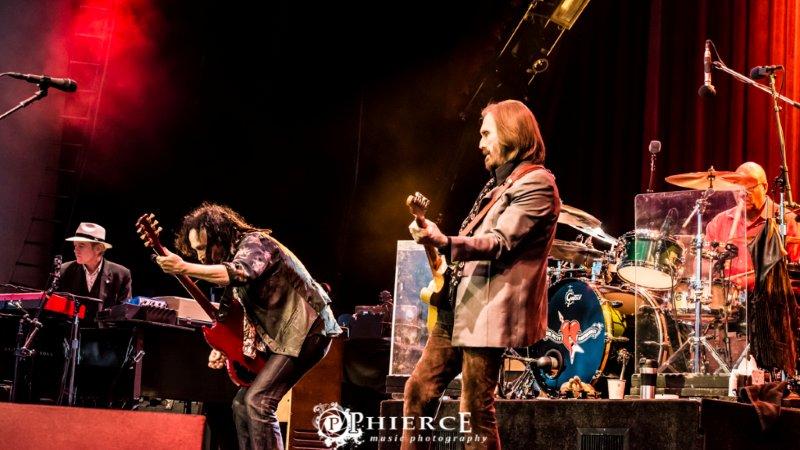 hung since the sun went down must have gotten the cue because not a cloud was in the sky until the first few chords of "Don't Come Around Here No More"; as if it was scripted, away went the moon. Legendary rockers Tom Petty and The Heartbreakers provided an incredible evening of music, with time to revel in the past, enjoy the present, and look ahead to a bright future.
Written By: Tyler Muir
Photos By Keith Griner ~ MORE PHOTOS HERE
Edited By: Rosemary A.W. Roberts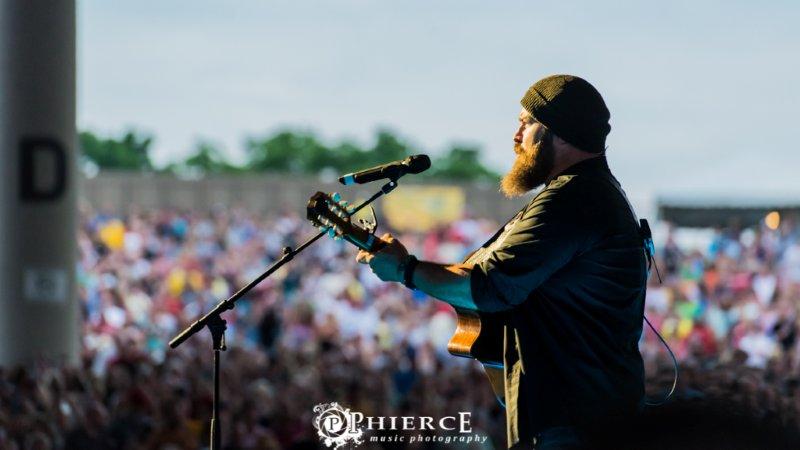 Zac Brown Band / Blackberry Smoke / The Upright Willies—Klipsch Music Center—Noblesville, IN—06/09/2013
The forecast called for a chance of rain Sunday June 9th, 2013, but it did not seem to bother anyone who showed up at the Klipsch Music Center that day. From the time the gates opened, The Upright Willies had everyone in ear shot dancing to their favorite classic songs from pop culture; "Wagon Wheel" seemed to be one song they covered that had everyone feeling the groove. Spirits were high the entire night and anticipation was building for the evening's main event.
The music venue was completely packed, and you could tell everyone was there to have a good time. So many smiles and friendly faces abounded, you would have thought many of these folks were having the best day of their lives. The lawn and pavillion areas were both full, along with all the concession areas. It was great seeing such a diverse crowd, and they were all sharing in that universal thing we call fun.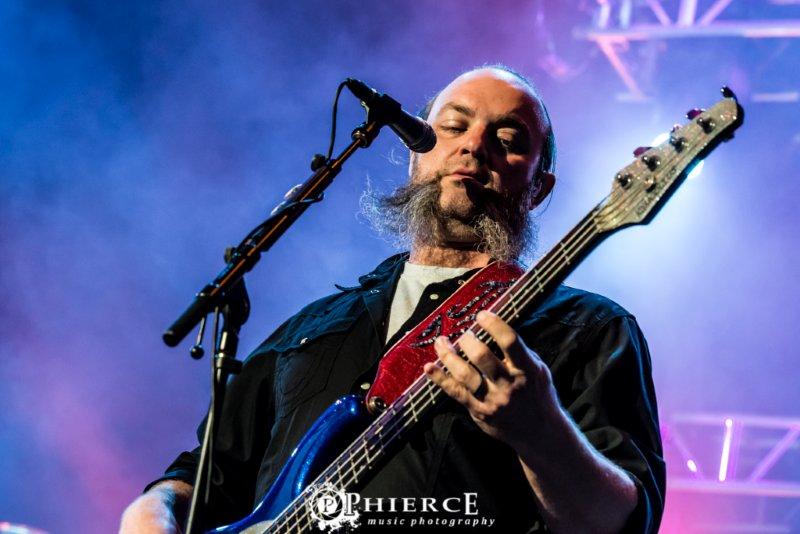 While the Upright Willies were playing a small stage up by the gates to keep the crowd happy, Blackberry Smoke was the first band to take the main stage. Promoting their newest album The Whippoorwill, Blackberry Smoke came out to represent. If you have not heard the album, please check it out; it is solid from start to finish, which is rare in today's music industry. My favorite song off the new album is "Sleeping Dog", and when they lead into the Allman Brothers Band classic "Midnight Rider" in the middle of it, I was in heaven. One song off their album that sticks with me the most is "One Horse Town", and I was happy they played it so well that night. Although they've been together since 2000, Blackberry Smoke's stage presence evokes the feeling that they have been around for decades, and their lyrics are insightful. The woman sitting next to me had brought her friend and granddaughter, who was so little that she stood on her chair to see. Security saw this and actually had the heart to let her stand closer to the stage where she had perfect viewing: this story sums up all the awesome vibes I experienced this night.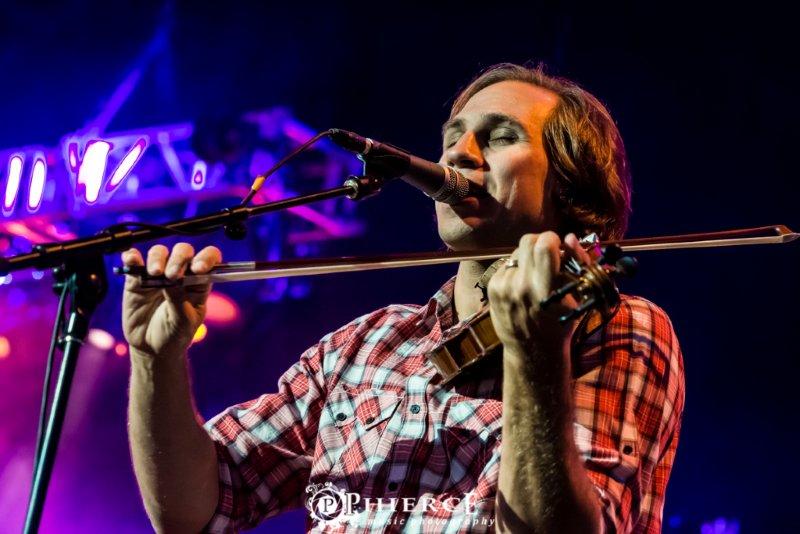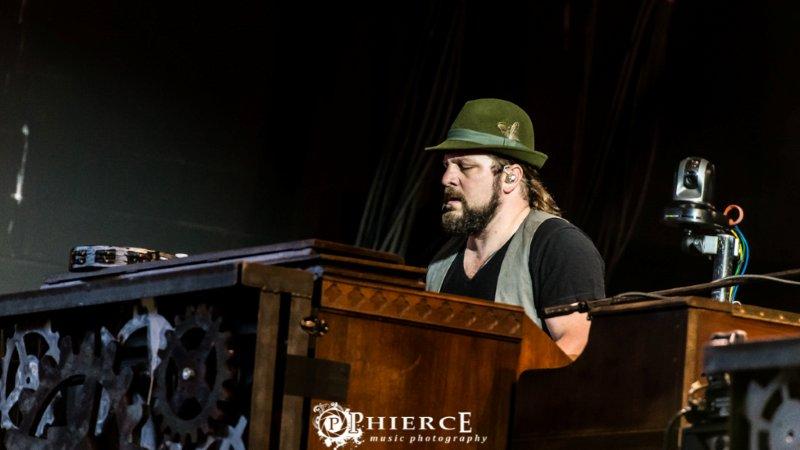 After a short intermission the great Zac Brown Band took the stage. If you do not know much about them please do some research; Zac Brown has his own charity which, in my opinion, is genuinely one of the best in the country. CampSouthernGround.org is what initially gave me respect for the man and he puts a lot of hard work into it. Of course, the countless hit songs this band creates are what bring so many people to their concerts. The lighthearted flavor of songs like "Jump Right In" and "A Different Kind of Fine" is balanced by the beautiful vocal harmonies in songs like "As She's Walking Away" and "Natural Disaster". Zac Brown Band is not only great in the studio, but these guys also know how to perform a fantastic live show, and it's often the covers that cause people to almost jump out of their skin. The Noblesville show featured Van Morrison's "Into The Mystic", Dave Matthews Band's "Ants Marching", and acoustic versions of Steve Young's "Seven Bridges Road" and David Gray's "Babylon". Later on in the encore, Led Zeppelin's "Kashmir" had everyone giving high fives to strangers all around, while The Charlie Daniels' Band's "The Devil Went Down To Georgia" caused everyone to do the do-si-do all while having boot stomping fun. Family truly seems to be a theme Zac Brown portrays, and it made me feel good to be part of such a family environment that night.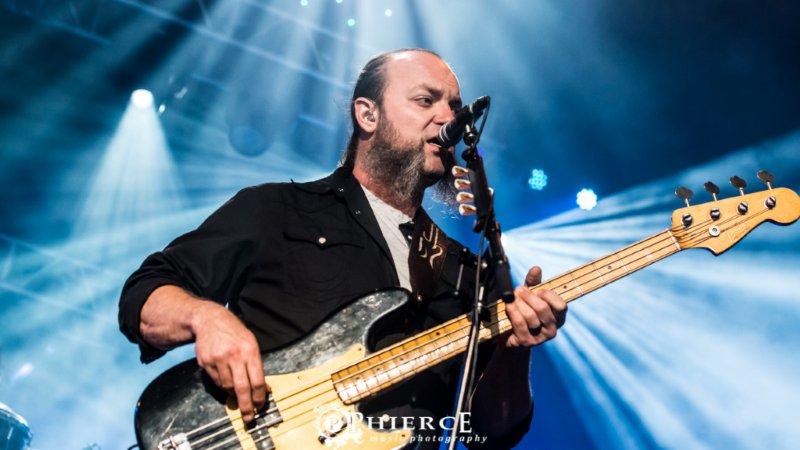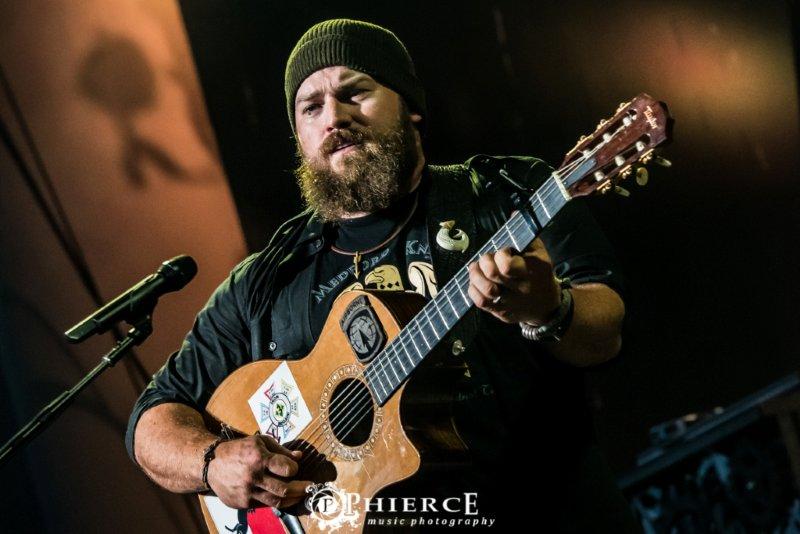 Written By: Tyler Muir
Photos By: Keith Griner - MORE PHOTOS HERE
Edited By: Rosemary A.W. Roberts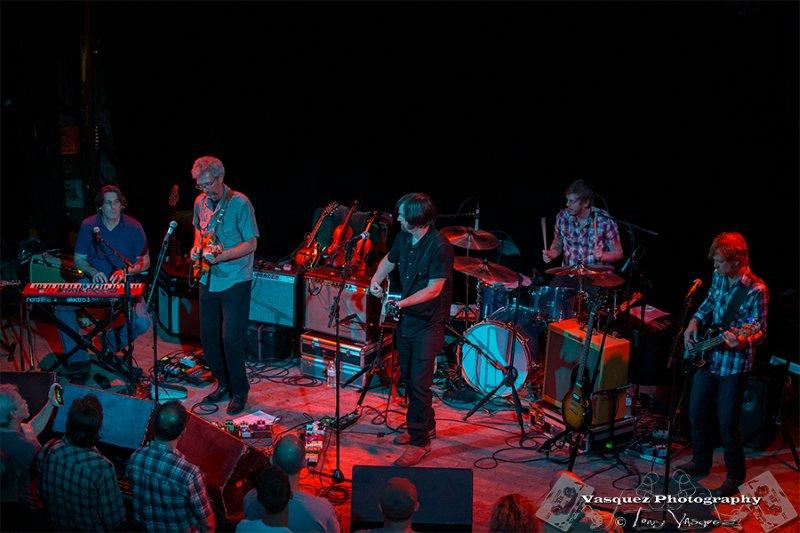 Son Volt ~ June 8th, 2013 ~ Vogue Theater ~ Indianapolis, IN
It was a beautiful, warm evening for a concert at the Vogue Theater Saturday night. Alt-country veterans, Son Volt, drew their decades-earned gathering of loyal fans and filled the theater with the strains of honky-tonk. Having earned the reputation of an uncompromising purist from his days co-leading the band Uncle Tupelo, Jay Farrar held true to a classic country style. Farrar's trademark somber voice was coupled with a black and brown acoustic guitar, black Western-style shirt, and black jeans paying homage to the tradition of Johnny Cash. Son Volt's newest album, Honky Tonk, evokes the nostalgia of Western watering holes with lyrics steeped in working-class struggles and lost love. They played several songs off of Honky Tonk and their fiercely loyal fans stood in the front rows and sang along. The crowd was a mix of cowboys as tall as pine trees in Western wear and indie music fans wearing dark-rimmed eyeglasses and alternative band t-shirts. I spoke with one fan who had seen the band the night before in Chicago and would see them again in a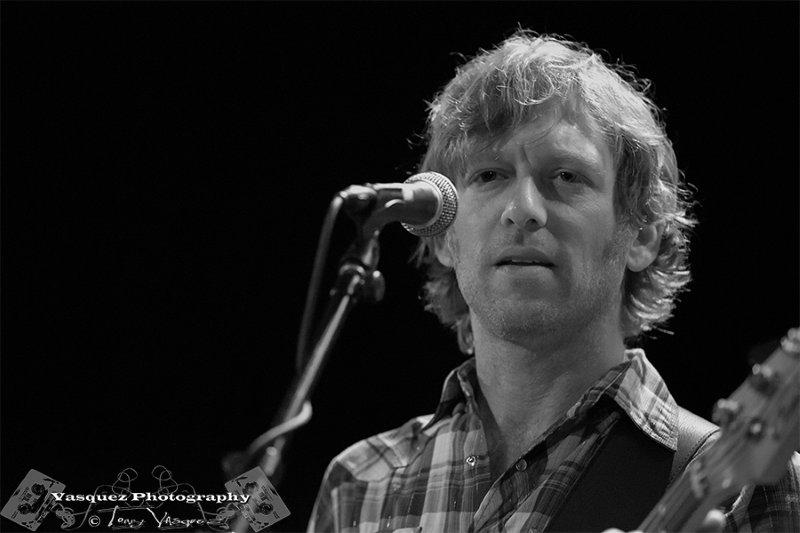 couple of days. He has been following Jay Farrar since he co-led the alt-country band Uncle Tupelo in the late 90s with Jeff Tweedy (now the front man of the band Wilco.) Like an estranged spouse wins friends in a divorce, Jay Farrar won this fan's loyalty for the decades that followed Uncle Tupelo's break up. "I hate Jeff Tweedy," the fan told me with much satisfaction, "Just wait, Jay is really gonna rock it later on."
The opening band, Colonel Ford, consisted of the members of Son Volt without Farrar. They played several honky tonk covers including Willie Nelson's "Whiskey River Take My Mind" and Gordon Lightfoot's "That's What You Get for Loving Me." The band's energy and smiles made it evident that they were having a good time. Colonel Ford is touring currently, and crowds of country fans will hear their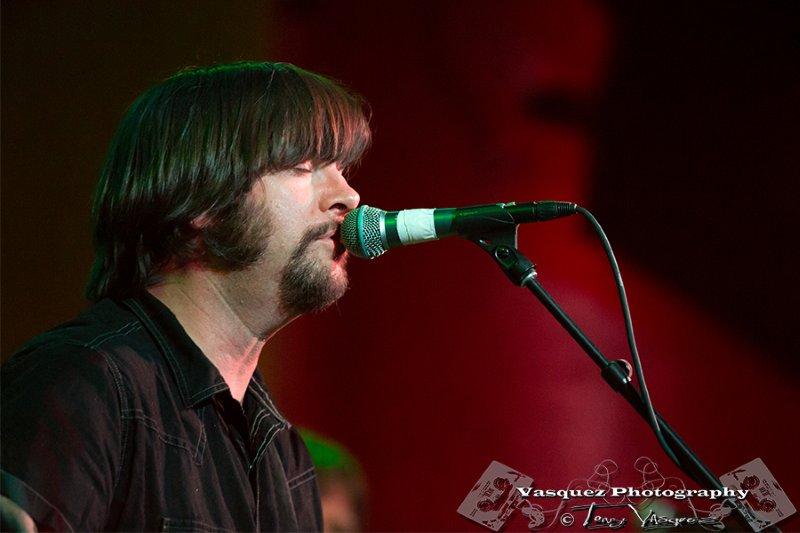 greeting line, "It's honkey tonk time."
Gallery Link here: http://jamsplus.smugmug.com/TonyVasquezPhotography/Son-Volt/29929135_ZxJ6FW
Written by: Brittany Vasquez
Edited by: Rosemary A.W. Roberts
Photos: Tony Vasquez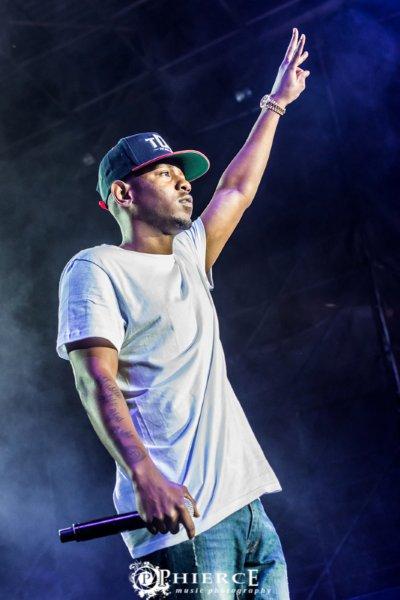 Kendrick Lamar: The Good Kid m.A.A.d. City World Tour—Farm Bureau Insurance The Lawn at White River —Indianapolis, IN—06/06/2013
The Good Kid, m.A.A.d City World Tour came into Indianapolis and brought some hype with them on Thursday June 6, 2013. This evening started its flow off right with Jay Rock, Ab Soul, and Schoolboy Q, before the headliner Kendrick Lamar came out to perform. These guys were definitely ready to have fun and prove a point. Big beats and loud speakers and about 1700 listening fans gave these guys a chance to spread their music to the dancing and singing crowd. You could hear different styles of music from hip hop, r & b, and gangsta rap with a west coast style and sound. These artists took advantage of their time on stage and got the crowd very involved along the way. The artists all speak to their fans by different lyrics which include life experiences, guns, government, women, alcohol, politics, and growing up in the ghetto. As the night went on, the crowd kept growing, getting louder and more enthusiastic as performance after performance kept getting them closer to seeing Kendrick. Explosions of screams, claps and whistles poured out as Kendrick came onto stage. Kendrick started his performance off with three big hits including, "Westside, Right On Time," "Poetic Justice," and "F#%@ing Problems." The kicker about Kendrick Lamar's performance is that he was the show. It was just Kendrick and his microphone besides the DJ. His performance was very energetic and thrilling, a must see show for the hip hop lovers.
Written By: Jordan Lord
Photos By: Keith Griner
Edited By: Rosemary A.W. Roberts


The 17th annual All Good Music Festival and Campout promises to bring the best touring groups all together with no overlapping sets on the beautiful grounds of Legend Valley in Thornville, Ohio the weekend of July 18-21, 2013. It is only the second year that All Good will have been held in the Legend Valley, and last year did not disappoint. Expect to see all the i's dotted and t's crossed just like it was last year, and with this year's line up being even better than last year's, you will not be able to help but get excited. One of the biggest complaints about larger music festivals such as All Good is that the stages are too far apart; but at All Good they solve this problem by having both of their stages next to each other and have each band on the line up staggered, so you don't have to miss a single show.
If you are not much of a campsite cook do not worry, because All Good has you covered. Every style of food can be had at All Good, and even if you are a vegan or vegetarian you can find delicious food that will give you energy to rage proper. Be sure to take a stroll around the entire campground that is All Good at least once while you are there; you never know what is around the corner, and it is a great way to stumble across memories you will be talking about months after the festival is over.
With Buckeye Lake just down the road from Legend Valley, you cannot help but think about all the awesome Grateful Dead shows that have taken place in the area over the years when the good ole Grateful Dead toured. Last year Bob Weir brought Bruce Hornsby on stage with him along with Branford Marsalis, to belt out Grateful Dead tunes many of us had never heard played in that style. Meanwhile, Phil Lesh and Friends came out the same night and played the tunes the way Phil thinks they ought to be played. This year however, Furthur will be taking the stage to show us all how amazing Grateful Dead music is when Bob and Phil are playing together. Expect to not only hear Furthur play at this year's All Good, but be ready to feel it deep down in your soul.
All Good has one of the most solid line-ups of any music festival taking place this festival season; there is not one band that you should miss. John Butler Trio is definitely one band you do not want to miss; they have not toured the U.S. in a while and if you have not heard of them you are in for a treat. Yonder Mountain String Band, Grace Potter, Leftover Salmon, Trevor Hall, The Reverend Peyton's Big Damn Band, The Revivalists, Fruition, Giant Panda Guerilla Dub Squad: these are just a few of the bands you'll be pleased to see at All Good; and even those I have not listed are bands you should check out on your favorite social media. Please check out all the bands that are playing All Good 2013 www.allgoodfestival.com , and if you attend there will be no excuse why you had to miss anyone on this year's stellar line up; I hope to see you all out in the fields of Ohio in July!
Written By: Tyler Muir
Edited By: Rosemary A.W. Roberts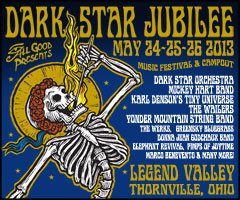 Dark Star Jubilee Preview ~ May 24, 25, & 26, 2013 ~ Thornville, OH
If you are looking for something fun, beautiful, and unique to do over Memorial Day weekend, you should take a look at Dark Star Jubilee. This three-day music and arts festival May 24, 25, and 26 out at Legend Valley in Thornville, Ohio is sure to be one of the must see festivals of Summer 2013. Dark Star Jubilee is by far one of the most family friendly, respectful, and loving festivals. The venue, Legend Valley, has been the site of many music festivals such as Hookahville and All-Good. There are two stages and a VIP stage set at the bottom of a hill covered in old pine trees. Music never overlaps at this festival, so you will never be forced to miss a single set of music! Camping at this festival, unlike the larger ones, is pretty much open. You are welcome to camp as close or as far from the stage as you like and you can also camp by your car. There will be tons of food vendors in the valley, whether you like Disco Pizza, or some healthier vegetarian options, there will be something there for you. There will also be your typical shakedown goods vendor tents where you can buy all the sparkly jewelry and clothes that you could want. Oh, and of course, there will be music, tons of it!

The headlining band is Dark Star Orchestra, one of the most popular Grateful Dead cover bands. They play Grateful Dead shows in their entirety, every now and again throwing in an original set list. They attract a wide range of people, from your weathered Dead-heads, to young groups of friends, to parents brining their kids to their first music festival. It is a smaller festival, but I couldn't be convinced to miss three nights of Dark Star Orchestra. That's right, three nights, two sets each of our favorite Grateful Dead tunes, played by the most well-known cover band to date. Not only does DSO bring with them a great family, they also have one of the best light shows in town that they project on the biggest tie-dye tapestry you've ever seen. It is not something I suggest missing.
If you're worried that there won't be variety at a Grateful Dead festival, you are wrong! There are tons of other great bands playing such as the Mickey Hart Band, featuring Mickey Hart, one of the drummers for the Grateful Dead; Yonder Mountain String Band, playing some of the most down-home bluegrass you can find; and The Wailers, the original band that played with Bob Marley, to bring some old-school Reggae jams into the mix. But wait, there's more! Other bands featured at the festival are The Werks, Greensky Bluegrass, Melvin Seals, Donna Jean Godchaux Band, Rumpke Mountain Boys, The Ark Band, Pimps of Joytime, Karl Denson's Tiny Universe, and so many more that I don't have room to mention! I'm not psychic, but I am calling some collaboration performances on stage! This weekend is sure to bring you all the variety you love: string pickin' blue grass, classic tunes from the Grateful Dead, and soulful Reggae; and don't forget, the music never overlaps so you will be able to see every set!
Also, for all of you broke hippies, Dark Star Jubilee is one of the most affordable festivals this summer. Right now tickets are only $119 for three nights of music and camping. At the gate you will only pay about $30 dollars more, and they also have a volunteer program; if you would like to work for your ticket you better sign up now!
So if you are looking for a place where "the sky is yellow and the sun is blue" and "strangers stop strangers just to shake their hands", then come on and meet me at the jubilee.
For ticketing, volunteering, and full line up visit: http://www.darkstarjubilee.com/home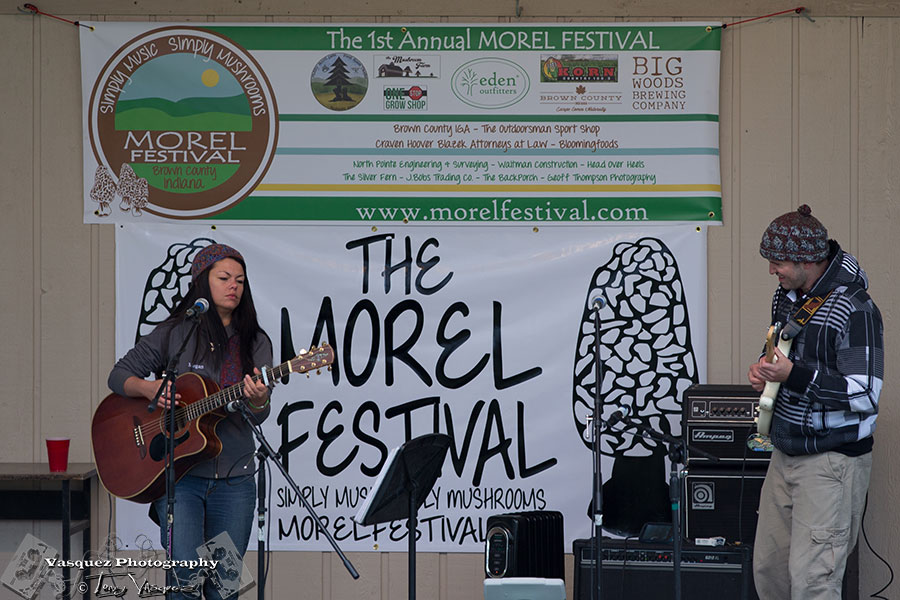 Simply Music, Simply Mushrooms Morel Festival—Bill Monroe Music Park—Bean Blossom, IN—April 19-20th, 2013
The First Annual Simply Music, Simply Mushrooms Morel Festival took place at the Bill Monroe Music Park in the beautiful Brown County hills of Bean Blossom, IN. Many festival goers camped on the park's wooded campgrounds and walked to the stage and vendors from their tents and campers. This translated to an audience of families sitting in camp chairs with their coolers of beer and their dogs next to them. The rural setting and traditional folk and bluegrass music drew an eclectic crowd of artists, hippies, and country folk, all of whom seemed to know how to have a good time. The festival included instructional presentations on how and where to find morel mushrooms and offered guided mushroom hunts for festival goers. There was no shortage of down-to-earth, truly friendly people to talk to around the stage, many of whom would offer to have you sit
in one of their camp chairs or use their extra blanket to keep warm. Such a welcoming environment provided the perfect backdrop for this quaint festival.
Friday, April 19, 2013
Early in the afternoon local singer/songwriter Megan Maudlin and accompanist Alex Wnek played several original songs, some with a political bent, and others in a standard folk style. The set also included some well-chosen covers including one Ani DiFranco cover and a Cox Brothers song written by the late Neil Cox, a Brown County native, called "It's Hard to Say Goodbye." Maudlin's performance represented the true community nature of folk music with her original social commentaries and paid homage to the folk/bluegrass greats who preceded her.
The young Haley Jonay played a solo set with her lovely voice and acoustic guitar. She covered many old favorites from Dolly Parton's "Jolene" to June Carter Cash's "Ring of Fire." She also did a Cox Brothers' cover, "Take Me When I'm Gone," building the anticipation for their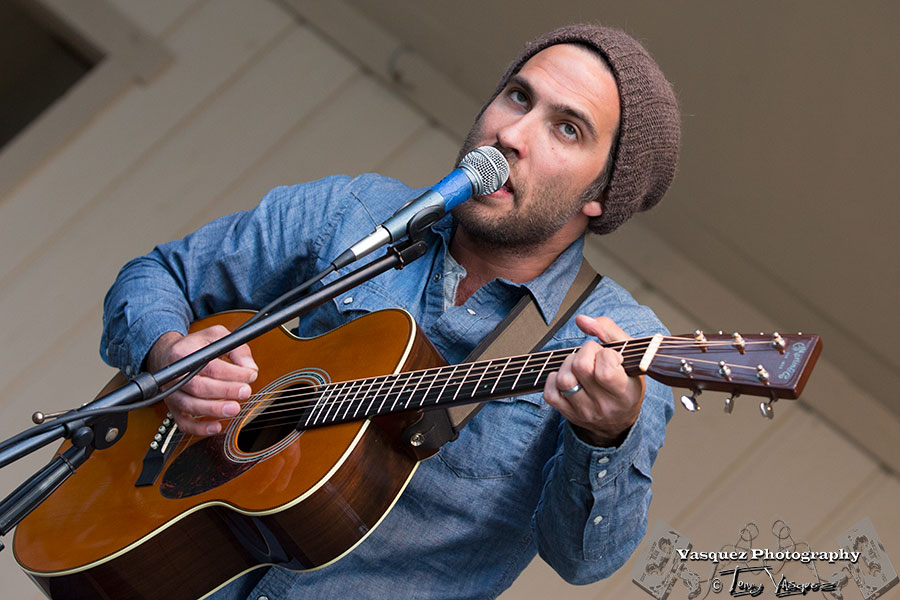 headlining performance the following night. This set was a perfect example of a new generation mobilizing the folk tradition.
Hamilton Creek took the stage Friday evening with a set full of brightly-toned, straightforward bluegrass songs. Each member's finger work revealed no sign of the chill that had the audience bundled up in blankets and huddled around fire-pits. Each member played with great skill as naturally as they would walk or breathe. They covered the bluegrass standard "Kentucky Girl" with rollicking banjo-picking and a fun walking baseline. Hamilton Creek also covered Bill Monroe's "Scotland," a fiddle-heavy foot-stomper, in recognition of his namesake stage on which they played. Another cover I was delighted to hear was Leadbelly's "Take This Hammer." This folk standard has been covered by revered artists from Odetta to Johnny Cash to the Beatles, and Hamilton Creek delivered it with wonderful harmonies and fantastic energy. One final tune of note was John Prine's "Speed of the Sound of Loneliness." The band did the song its due justice with sweet, melancholy vocals paired with strong instrumentation. Any true fan of bluegrass music should not miss an opportunity to see Hamilton Creek.
While not listed on the official schedule, Dave Simpson took the stage with only his voice and his acoustic guitar to offer the crowd while they waited for the next scheduled performer. It was such a nice treat to hear this young man sing. He performed with a warmth and simplicity that made a real connection with the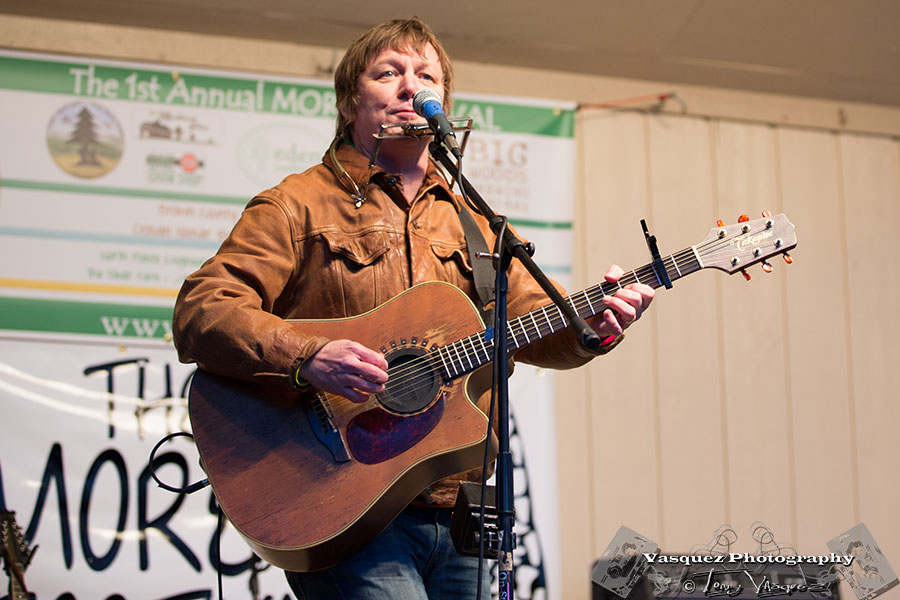 listeners. Among the handful of folk songs he performed was an original song written by his friend Alex called "Fuzzy Peach," a song about a warm, sunny day. Simpson sang this song to the crowd, offering it as a remedy for the cold, cloudy evening. It did the trick for me. The next time I know Dave Simpson will be playing nearby, I will be sure to catch him.
Next up was Landon Keller. There is a lot to be said for this performer whose style and talent approach those of alternative folk greats like Amos Lee and Ray LaMontagne. Keller's vocal tones are smooth and bold then move to a slight growl when the spirit of the song calls for it. The beginning of Keller's set included a gorgeous rendition of Ray LaMontagne's "Jolene." It takes a true artist to capture all the gut-wrenching passion of this song, and Keller delivered every bit of it. He continued with a series of his own songs including a political piece called "Soldier Boy" and a sweet song about balancing being a father and musician called "Oh Hallie & The Big Blue Sky." Another of his originals, "Firecracker," was an anecdotal piece about "playing in bars and promiscuous women." The crowd's response to the set earned an encore song, and Keller introduced it as a Grammy-winning song "which is cool because not a lot of cool songs win Grammys." Keller then played an unplugged cover of Gnarls Barkley's "Crazy." Keller's set grabbed my attention from the beginning and didn't let go until he left the stage.
The headliner for Friday night was the contemporary folk musician Chicago Farmer, aka Cody Diekhoff. Festival organizer, Randy LaVere, introduced this working man's singer/songwriter as comparable to the great John Prine. Chicago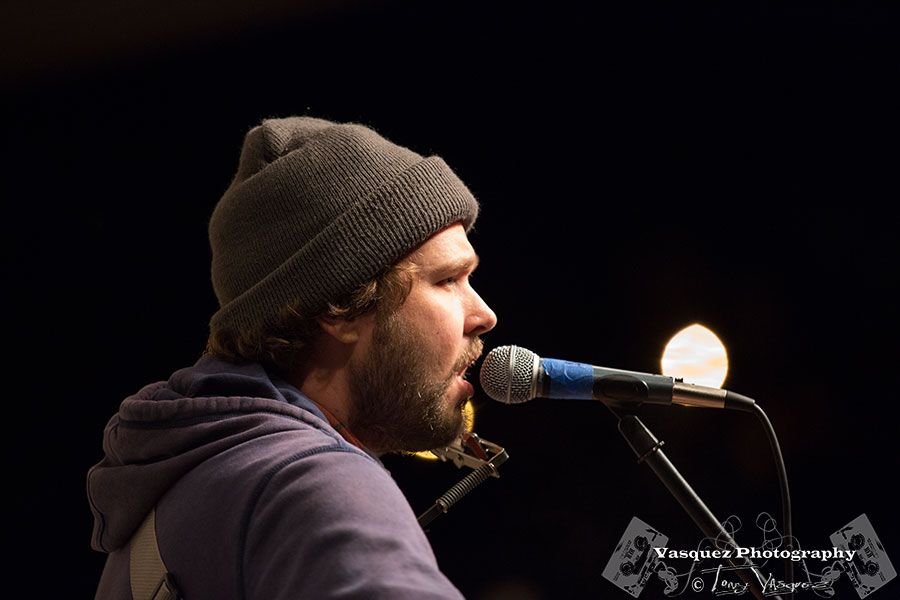 Farmer's songs were informed by his small town experiences in central Illinois and his transition to the urban challenges of living in Chicago, a theme highlighted by his "People n' Places." His set was punctuated by sharp wit and refreshing candor. After performing his original composition about a small town with a disproportionate number of law enforcement, "26 Cops," he quipped that it was, "a folk singer's right to stretch the truth a little." Chicago Farmer's set also included his "Assembly Line Blues," a song that followed in the true folk traditions of Woody Guthrie and Bob Dylan, speaking to the experiences of an industrial worker. For all of those hearty souls who stuck it out through the damp cold to the end of Friday night's schedule, Chicago Farmer was the treat that made it all worth it.
Saturday, April 20, 2013
Lexi Len Minnich was first to take the stage, kicking off Saturday's festivities. With the morning chill still in the air, Lexi and her band fought to keep their stringed instruments in tune and their fingers from freezing, but they seemed to warm up as the set progressed. Lexi's classic country voice was complemented well by the nostalgic twang of the Dobro-style guitar. Minnich covered several classic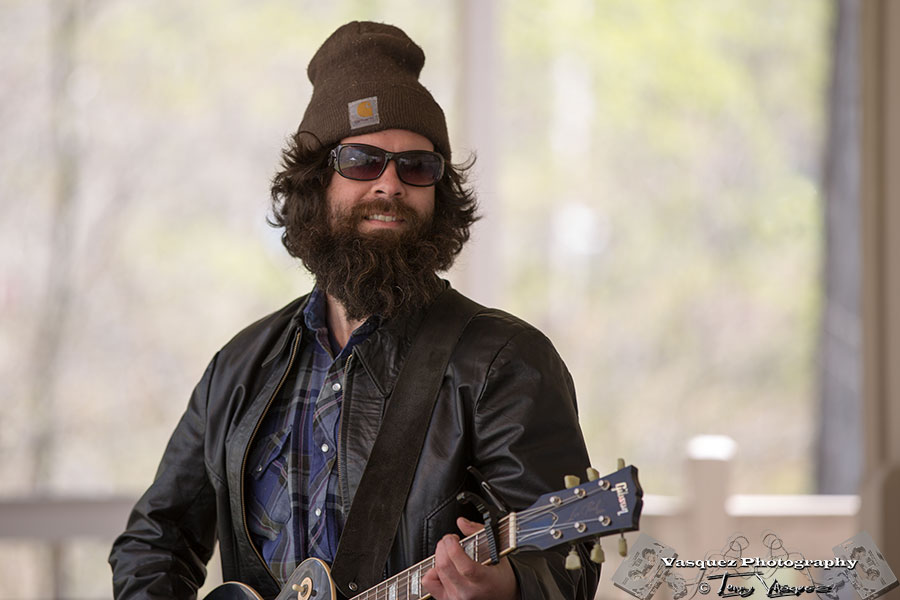 country songs and pleased the crowd with a straight up rendition of The Rolling Stones' "Dead Flowers." It was a great set to start the day.
Next up was the Stampede String Band. The sun began to warm the crowd on the stage lawn, and this trio heated up the stage with a powerhouse of energy. With the members playing banjo, mandolin, and a harmonica/kick drum combo, these guys rocked the park and had the crowd grinnin' and tappin' their toes. They played several original tunes including a piece called "Just a Man" and one of their early songs "Old Darlene." Stampede's songs varied from upbeat to whisky-soaked and worthy of comparison to the likes of The Felice Brothers. In one of the many audience-engaging moments, one member of the band admired the "hillbilly smoke machines" in reference to the fire pits lined up across the front of the stage. Stampede String Band set a cheerful tone for the rest of what turned out to be a beautiful day.
The Whipstitch Sallies is an emerging band with a growing and loyal fan-base. Having been featured on Garrison Keillor's Prairie Home Companion, the four ladies in the band have been gaining increasing and well-deserved popularity. Their crowd engagement Saturday was undeniable, with lead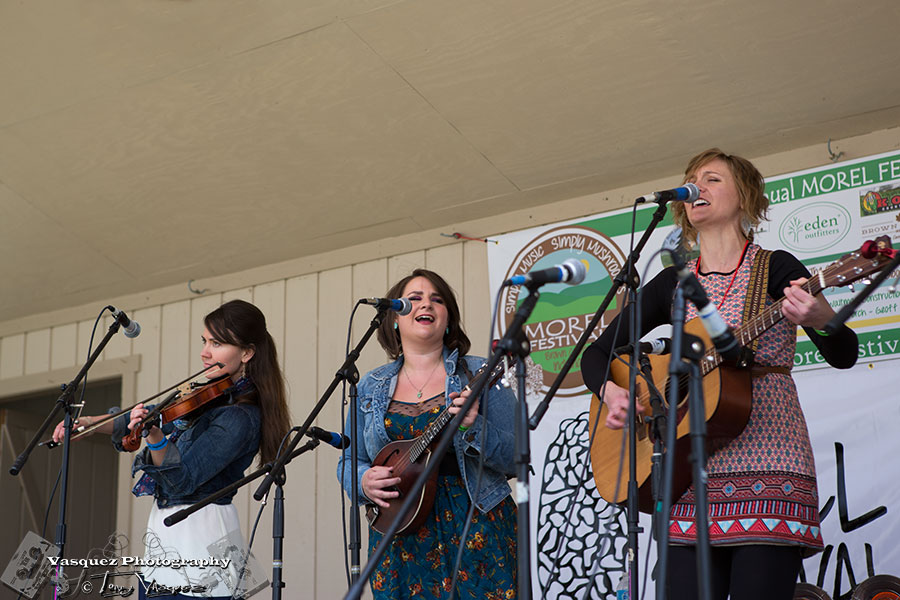 singer, Allie Burbrink, quoting Thoreau and the bands lively sound check sparking rhythmic clapping from the crowd. The Whipstitch Sallies played a great cover of "Rye Whiskey" complete with upright bass slaps and peppy harmonies. Burbrink then introduced an original song called "Jolene" by explaining that she couldn't cover Dolly Parton's song of the same name since her mother wouldn't like her to sing a song about "pining for a man who's cheatin' on me." Her song's lyrics instead ask the question, "What good is a man who puts a good woman down?" With Burbrink on banjo, Kat Erikson on upright bass, Sam Roberts on mandolin, and Katie Burke on fiddle, the band plays in tight unison with the stage presence of seasoned performers. The Whipstitch Sallies' fan-proclaimed "riot grass" was a crowd favorite of the day, and they had me trying to decide if they were more adorable or more badass.
Next up was Old Truck Revival. This trio rocked their strings with steady toe-tapping rhythms, and they performed a set full of original songs with great regional appeal. They began their set with a song called "Putnamville Quarry" and followed it up with "Don't Follow Me," a song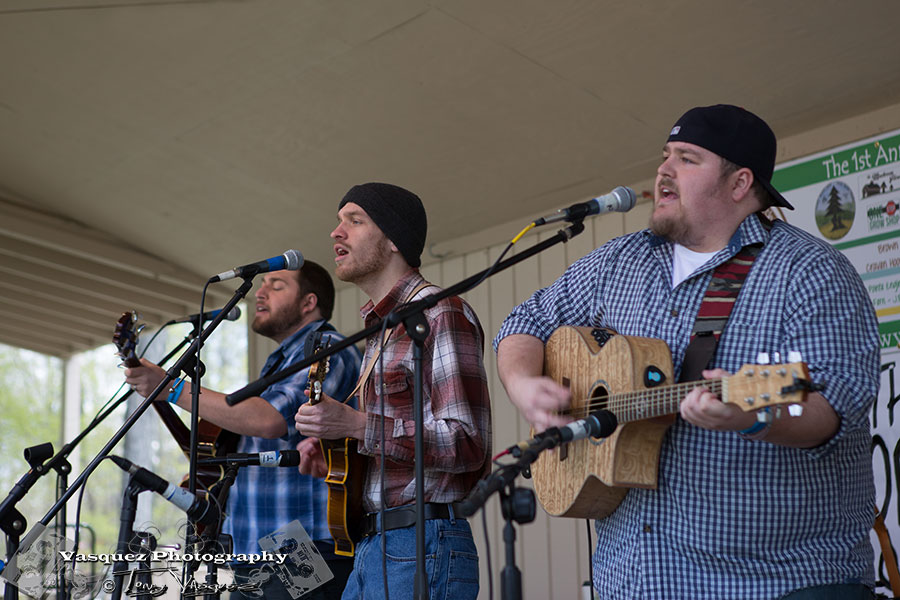 about coal mining. Another of their originals, "Kentuckiana Blues," called out some of the drawbacks of small town Southern Indiana living with lyrics like "stuck here in Crawfordsville." Old Truck Revival's style and talent reminded me of alt-country band Uncle Tupelo with their authentic rural American style. They topped off their set with a bluegrass cover of Stevie Wonder's "Superstition" and a cheerful tune by their friend Adam Carol called "Screen Door." These guys are definitely worth a listen.
The Indiana Boys played a set of covers and original songs. This band of five played everything from banjo, mandolin, guitar, and harmonica with great unity and stage presence. Lead singer, Kenan Rainwater, performed with stand-out vocals in a low somber tone the likes of Jay Farrar. The band played both Friday and Saturday and seemed to be a crowd favorite. During their Saturday set, they had Dave Simpson join them onstage for a song, speaking to the spirit of community among folk musicians. The Indiana Boys were a perfect fit in the festival lineup, and I will be seeing them again the next opportunity I have.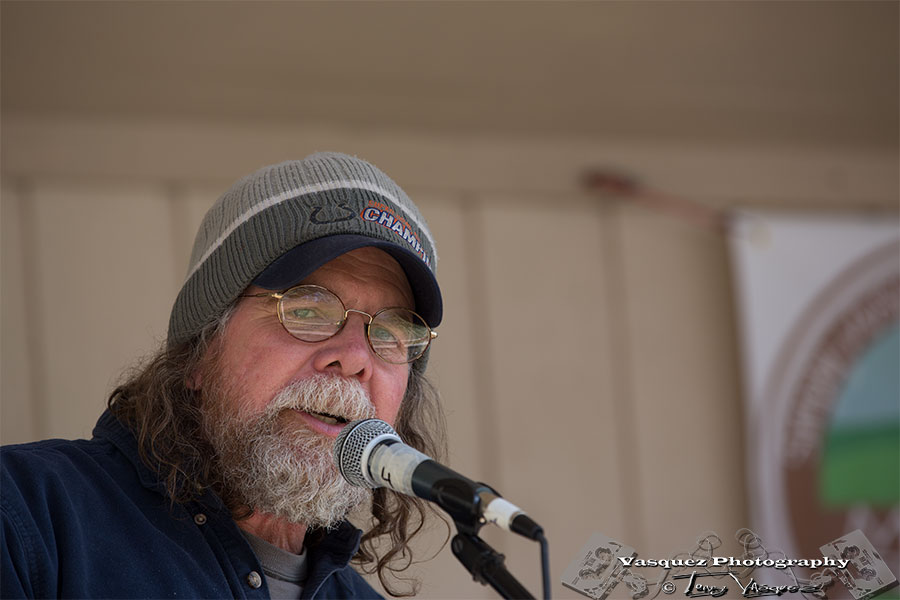 In an unplanned performance, Jeremy Vogt took the stage with his acoustic guitar and wowed the crowd with his gorgeous voice and beautiful strumming. He played a quick set of original songs in a standard folk style, but his performance was anything but standard. His voice had a "gravel and honey" quality similar to Ray LaMontagne, a sweet, low resonance. The crowd got a great treat with this impromptu performance.
The New Old Cavalry played a kickin' set of bluegrass rock. The four guys in the band were a perfect blend of hippies and hillbillies. They had the crowd dancing in the dark by the fire pits and really got the party started. These guys played with tons of energy, and they are a blast to watch on stage. Frankly, any opportunity to see dreadlocks and banjos on the same stage should not be missed, but one would be missing out if it isn't the New Old Cavalry.
The Cox Brothers (and friends) headlined Saturday night. After a poignant introduction by festival organizer, Randy LaVere, and a few kind words spoken about the late Neil Cox, Ricky Cox and the band took the stage. It became clear that the Cox Brothers hold a special place in the hearts of Brown County natives as the crowd gathered around close to the stage dancing, drinking,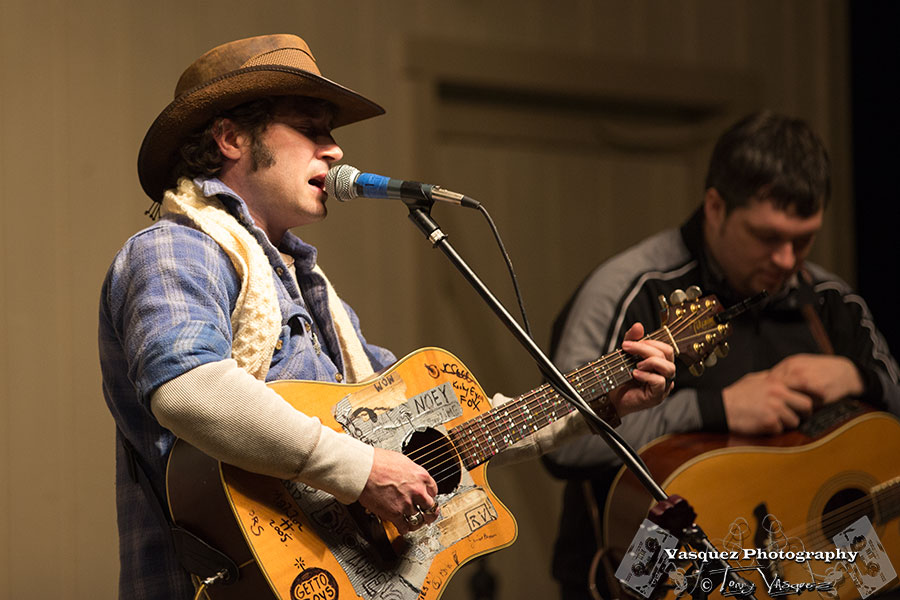 reminiscing, and singing along. Ricky Cox began the set with a popular cover medley including Bob Marley's "No Woman No Cry," Bob Segar's "Turn the Page," and John Mellencamp's "Pink Houses." The band then began to play a series of Cox Brothers originals in a classic country style. It was a chilly evening, but one could still feel the warmth from the connection the band had with the crowd.
Written by: Brittany Vasquez
Photos by: Tony Vasquez - FULL PHOTO GALLERY HERE
Edited by: Rosemary A.W. Roberts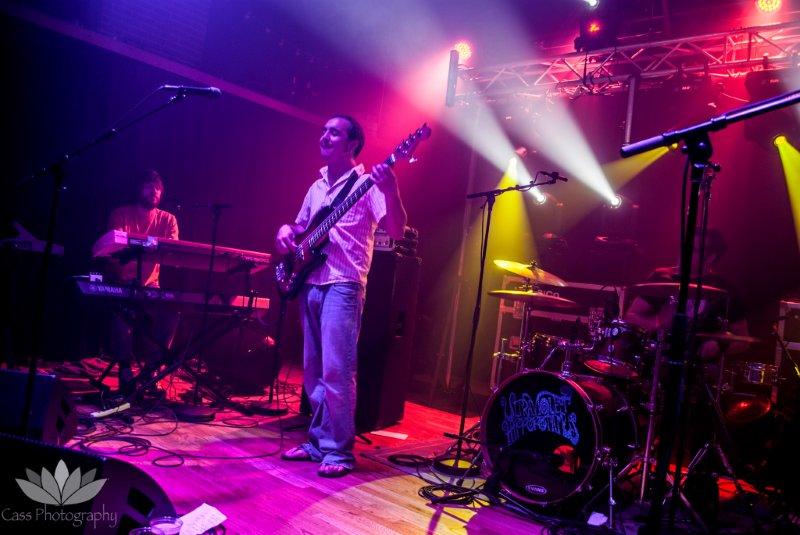 Ultraviolet Hippopotamus—Bell's Brewery and Eccentric Café—Kalamazoo, MI—04/27/2013
On Saturday, April 27th Ultraviolet Hippopotamus played perhaps one of the best and most memorable shows I have ever seen by this band. They played at Bell's Brewery and Eccentric Café in their hometown of Kalamazoo, Michigan. You could tell how grateful the boys were to be home again and to be around all of their family and friends.
Bell's Brewery was a great location for this show. It has a great atmosphere that is very welcoming to people young and old, and it was my very first time to this brewery and in the city of Kalamazoo. I feel like the wonderful people in this town welcomed me with open arms and glasses full of dank beers. While taking photos, I was welcomed to the front of the crowd, not elbowed away in the usual fashion. Every face had a beautiful smile, and no one was shy to say hello. It was a refreshing thing to be in a town where I knew no one, but felt so at home and comfortable at the same time.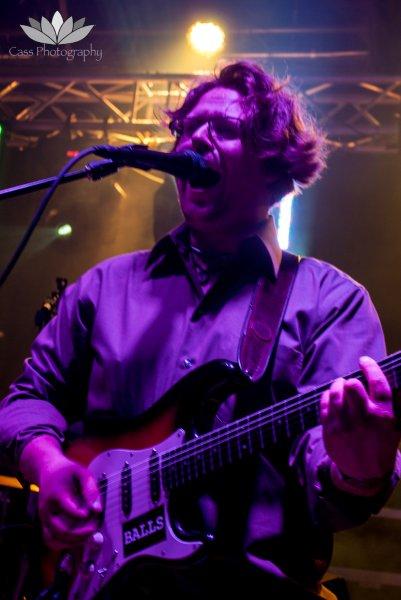 UV Hippo took the stage in their usual fashion, starting with a high energy tune called "Avalon" that got the crowd moving. They had a few issues with the light set up, but no one seemed to notice or care. The upbeat and forward moving melody kept everyone in step with each other and the band, making the light show seem unimportant. As I looked behind me, I could see nothing but smiling faces, sloshing beers, and dancing friends. The family vibe could be felt in the air as the crowd welcomed home one of their favorite local bands.
The highlight of the set for me was when UV Hippo invited the lead singer of the opening band The Diggity up to play one of the best Talking Heads covers I've heard in a long time. They played "Slippery People," a well-known talking heads tune. Singer and guitarist Jake Lashenik from The Diggity has a voice that perfectly embodies the Talking Heads sound.
UV Hippo encored with a lengthy tune called "Colonel Sanders Breakdown" that left the crowd begging for more. As I walked to the exit it was irresistible to snap photos of the groups of friends hugging and smiling ear to ear. Bell's Brewery was the perfect setting for a homecoming show. It was a great night in a great town, filled with good people, good beer, and good vibes.
Written by: Cassidy Maley
Edited by: Rosemary A.W. Roberts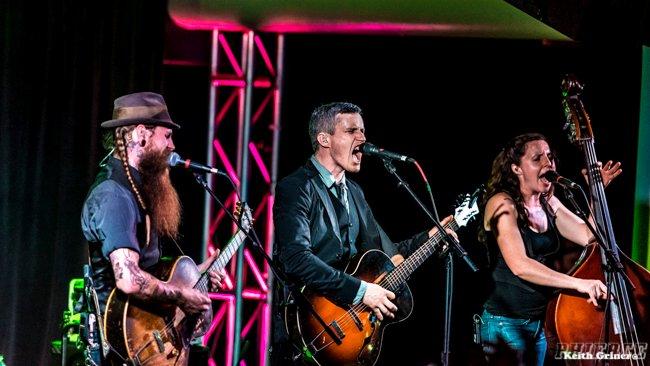 The Devil Makes Three—The Deluxe in the Old National Centre—Indianapolis, IN—04/25/2013
A devilish night was had by all in attendance April 25th at The Deluxe in The Old National Centre. The Devil Makes Three (DMT) brought their traveling old-time bluegrass roadshow to Indianapolis, Indiana and they did not disappoint. I have never witnessed so much ball room, salsa, and swing dancing amongst those in the crowd at a bluegrass show as I did during DMT. After selling out their last appearance in Indianapolis, DMT made sure this time around not only would there be enough room for everyone, but everyone would have enough room to dance.
Pete Bernhard, Lucia Turino, and Cooper McBean make up the fiendish trio, but if you're a guy like myself, it will be hard to take your eyes off Lucia Turino to pay attention to the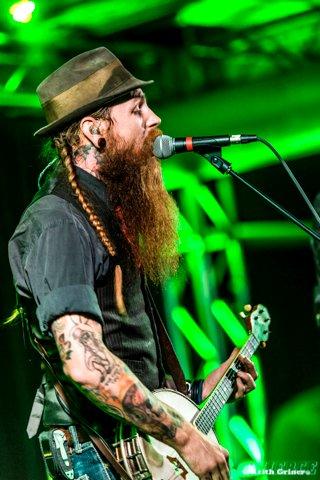 other two. I have never seen a musician make love to their instrument while playing it on stage as Lucia does her stand-up bass. From her facial expressions to her no-look hip thrusts, just watching her masterfully play her instrument is worth the price of admission. Throw in Cooper leading with banjo and Pete on guitar and they have something for everyone.
DMT brings out one of the most diverse crowds in any scene today. Gays, lesbians, hipsters, tricksters, hippies, straight-edgers, punk rockers, senior citizens, and lumberjacks were just some of the stereotypes I found walking by, while the wife and I sat on a big red comfy couch out in the beautiful lobby of The Deluxe. That, folks, is how you know the band is great, because they are reaching all types of people! "The times they are a changing" is a famous Dylan album, but after attending the DMT show Thursday I believe in Dylan's idea.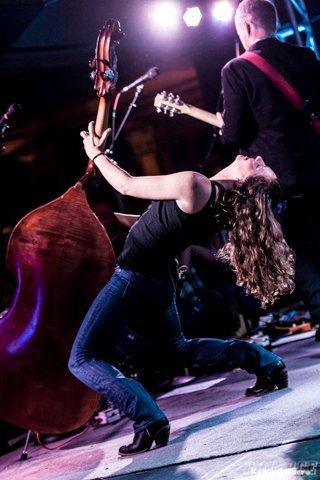 The DMT library is full of instant classics and their depth keeps growing with each song they create. "Old Number 7" is a drinking classic of theirs that got the house praising their favorite liquor while "Black Irish" let those in audience know what DMT is all about if they did not already. Download a DMT album today if you do not have one yet; they are bringing back that old Vaudeville style music and everyone should support music that leads. If you are in the Midwest and can catch a show in The Theater, Egyptian Room, or the Deluxe at the Old National Centre please do so; any one of these three rooms in the Centre is a great place to see a show.
Written by: Tyler Muir
Photos by: Keith Griner - More Photos Here
Edited by: Rosemary A.W. Roberts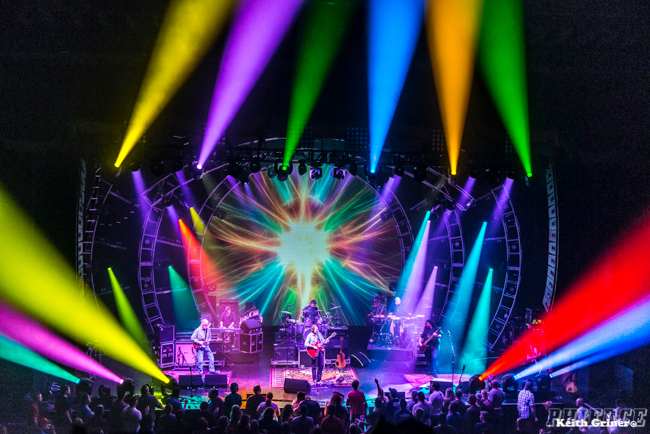 Widespread Panic—The Palace Theatre—Louisville, KY—04/16-17/2013
Panic filled the streets of Louisville, Kentucky for the nights of April 16th and 17th. Widespread Panic graced the stage of The Palace Theater the only way they know how, bringing the heat and showing no mercy. Each night highlighted different aspects of the band and showed that after all these years they still dominate the scene we all love. They were even nice enough to bust out some old tunes; who doesn't like a bustout?!
There are very few theaters left in the Midwest that hold the old charm that once was as American as apple pie, and The Palace Theater still holds every ounce of that Americana. Though it is a venue in downtown Louisville, it still allows hippies to be hippies and Shakedown Street to thrive. Everyone could be seen each night before and after the show getting their share of everything from collector pins to grilled cheese. At The Palace Theater there is not one bad seat in the place.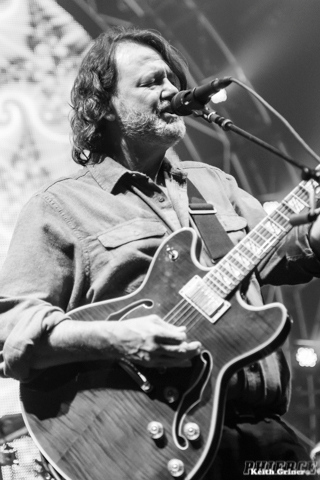 Night one for me represented the old Widespread Panic everyone knows and loves. They started the night with "Papa Legba" the old Talking Heads favorite. First set was chalk full of the solid Panic standards with "Barstools and Dreamers" checking to make sure your heart was still in it. Intermission was much needed since first set start to finish did not let you catch a breath.
Second set continued the Widespread Panic classics as if the band were a DJ on a radio station having an all request hour. "One Arm Steve" had everyone happy to be back in their seats and "Christmas Katie" gave everyone the "Pinch me so I know I am not dreaming" moment. The audience gave back every bit of energy that the band gave them. The Chuck Berry favorite "Let it Rock" solidified that old school rock feel of the night and closed out second set. A communal cosmic hug could be felt when the band closed the encore with "Can't find my way home" the Blind Faith cover.
I knew second night was going to be infamous when they came out first set playing my favorite song of theirs, "Pigeons", and they did not slow down from there until set break. "Shut up and Drive" followed by "Stop-Go" and just to make sure you were not napping a "Cream Puff War" that got down to the nitty gritty; and that, folks, only made up the first half of first set. Only Panic can make a Cat Stevens song such as "Trouble" sound so jamtastic! That was followed by "Cotton was King" and by the set ender "Junior" the Junior Kimbrough cover; not only was the hair on my ears standing up but I needed some fresh air to let my arm pits breathe.
Second set of second night continued where first set left off, more of the classy Panic stuff. After "Proving Ground" everyone was wondering what favorite was up on deck and then out strolled members of Bloodkin. Bloodkin is a band like Widespread Panic that represents the peachy state of Georgia everywhere they go. Bloodkin played the after party following the first night in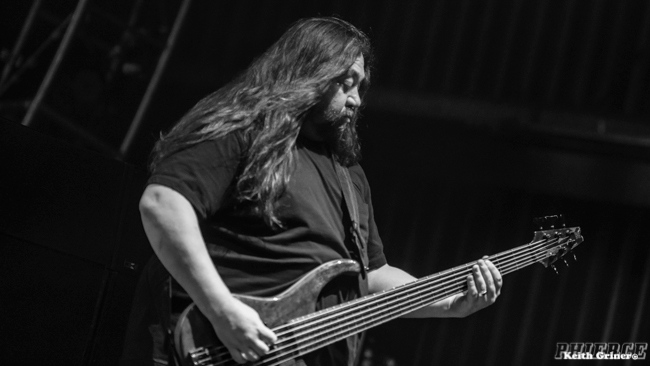 Louisville and they had everyone talking about them in the lot before night two. When Danny Hutchins and Eric Carter of Bloodkin joined Panic on stage everyone instantly began to try and guess what Panic song was about to be played; to everyone's surprise two Bloodkin songs followed, "Wet Trombone Blues" and "Success Yourself". I do not think there could have been a better way to be introduced to the band Bloodkin; they will definitely be on my shuffle on my favorite listening device from now on. Just to make sure to sew up a tight second set, Panic closed with "C. Brown" into "Driving Song" followed by second set closer "Chainsaw City"; I do not say OMG that often but OMG was second set money!
As if that was not enough, the band came out for the encore with "May your glass be filled". I thought they were gonna end second night as they started first night with a Talking Heads cover, but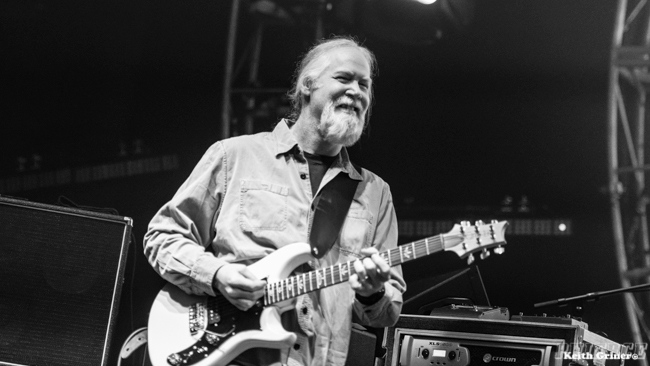 "Heaven" did not end the night; they saved the last song for everyone's favorite, "Tall Boy". It was an honor to have Widespread Panic be my first two night run review and it was a pleasure to be introduced to The Palace Theater and the city of Louisville by doing so. Both The Palace Theater and Louisville are gems to the Midwest and should be visited by all.
Written By: Tyler Muir
Photos By: Keith Griner
Edited By: Rosemary A.W. Roberts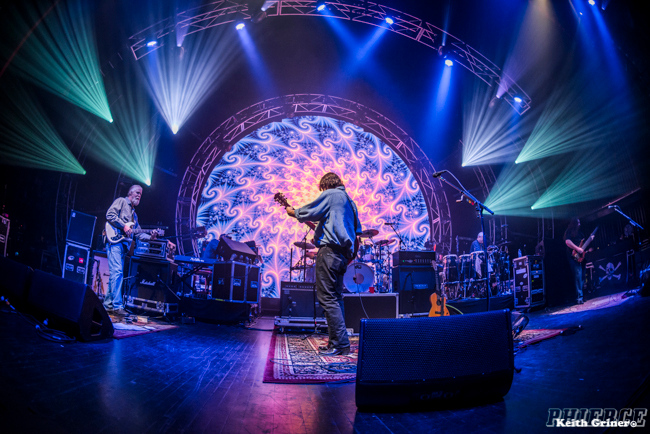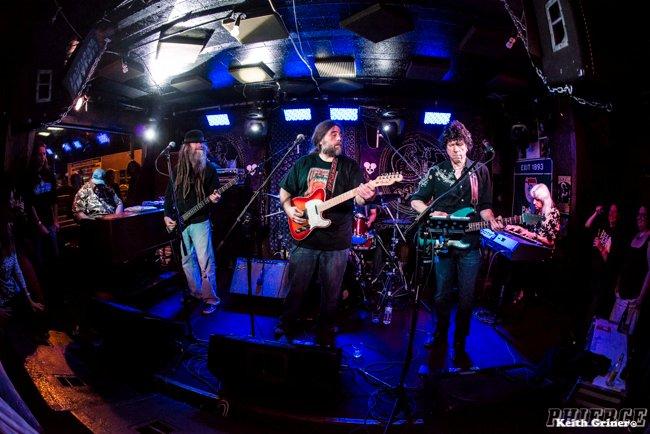 Terrapin Flyer—The Mousetrap Bar and Grill—Indianapolis, IN—04/14/2013
The Mousetrap Bar and Grill was packed full of Deadheads on the Sunday April 14th evening that will be in everyone who was in attendance's memory banks for many years to come. The Mousetrap does not hide the fact they cater to fans of the Grateful Dead; the Indianapolis, Indiana bar has countless Dead memorabilia inside the bar and out. The car on top of the bar is painted red, white, and blue, with a dead lightning bolt in the center. Even each bar stool has the red, white, and blue stitched in the back along with a lightning bolt. No one can ever say Indianapolis ain't got no heart.
Terrapin Flyer has played the Trap numerous times bringing one of Mark Karan, Melvin Seals, or Tom Constanten with them. This time around Terrapin Flyer wanted to show the Mousetrap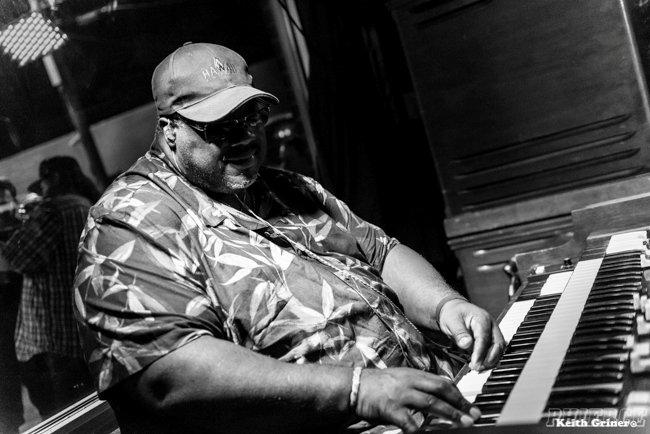 all the love they have been given by having Mark, Melvin, and Tom all be on stage playing the entire night with Terrapin Flyer. Before the show Terrapin Flyer, Mark, Melvin, and Tom could be seen just walking around chatting with everyone. Some fans had things they wanted signed by the celebrated musicians and nobody was told no. The whole night had that family feel.
The band eased into the first set with "The Harder They Come" which helped everyone get their space together for what was going to be an incredible night. Mark Karan owned the stage for his electric version of "Friend of the Devil" that could not have grooved into "Loser" any better. Those that didn't have their dancing shoes on did so by "Cumberland Blues" and I cannot describe the greatness that is created by the great Melvin Seals on his Hammond B3 belting out such gorgeous sounds with Tom Constanten on the other side of the stage on his keys, matching brilliantly key by key. "Sugaree" could not have come at a better time; the couples were taking advantage of the change of pace and others could be seen catching their breath. With "Jack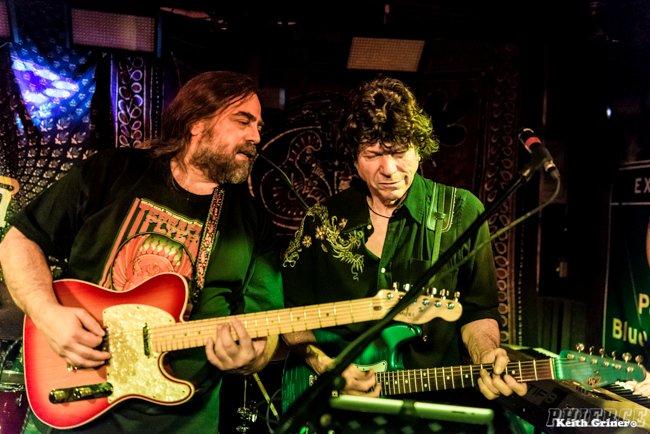 Straw" and "Franklin's Tower" that followed to close the set, many people could be heard at intermission saying they could not see how it could get any better.
During intermission all who were on stage first set were now mingled thoughout the crowd joking, laughing, reminiscing days of old. It was really neat to see everyone talking as if they have known each other for twenty years. It is hard, though, not to feel this way while you are at the Mousetrap, where everyone is treated like family. Doug Hagman from Terrapin Flyer actually made it a point to give a shout out to the owner of the MouseTrap Michael Quarto for always making the band feel so at home and for being so kind to them every time they play his bar. Doug also thanked the fans for always making it a packed house and always being so welcoming. With all the good vibes that were created during intermission everyone was in front of the stage before the band was even on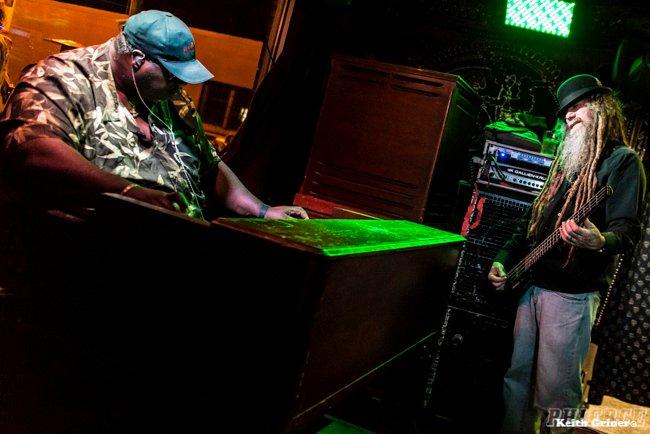 because they wanted a great spot for what they knew was going to be a tremendous second set.
Right out the gate for second set they were still bringing the good stuff; "Viola Lee Blues" let us know that we all had a friend somewhere. Then came a "Scarlet Begonias" that we knew was going to bring the fire. The Scarlet had so much going on from each person on stage you could not help but get lost in all the beauty being created, and as if that wasn't enough Scarlet was followed by "Fire on the Mountain". After Fire we all thought it was towards the end of the second set; we were wrong. "Don't Let Go" calmed us down for what was ahead, a "Dark Star" that was led by one of the founders himself. Tom Constanten is a master of his field and nothing proves this more than watching him lead the masterpiece that is Dark Star. There were so many jaws hanging in disbelief that they were witnessing such a masterpiece being played right in front of them. Just to get everyone to come back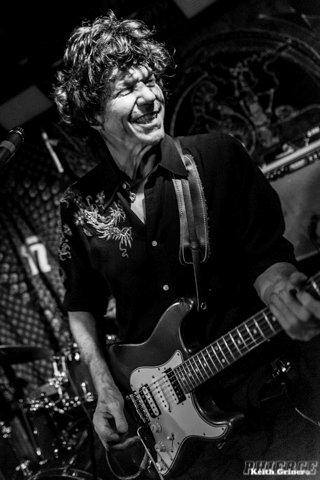 to earth Terrapin Flyer ended the second set with "Good Lovin".
After the awesome two sets, many left the Trap thinking the band couldn't have any more in them; and they were wrong. Not even five minutes went by and all the boys were back on stage busting into a legendary version of "New Speedway Boogie" that was coming from deep inside their chests. As if that was not good enough right in the middle of the boogie they threw in "The Other One" which may have been one of the best versions I have ever heard live; and when they were tired of melting our faces they went back into "New Speedway Boogie", and the crowd went absolutely bonkers. To make sure they did not leave anyone up in outer space from their performance they closed their encore with "Dear Prudence" into "Johnny B. Goode".
SET ONE

1. The Harder They Come 2. Little Red Rooster 3. Friend of the Devil 4. Loser 5.Cumberland Blues 6. Sugaree 7. Jack Straw 8. Franklin's Tower

SET TWO

9. Viola Lee Blues 10. Memphis Blues 11. Scarlet Begonias 12. Fire on the Mountain 13. Don't Let Go 14. Dark Star 15. Good Lovin'

ENCORE

16. New Speedway Boogie 17. The Other One 18. New Speedway Boogie 19. Dear Prudence 20. Johnny B. Goode
Review By Tyler Muir
Photos By: Keith Griner
Edited By: Rosemary A.W. Roberts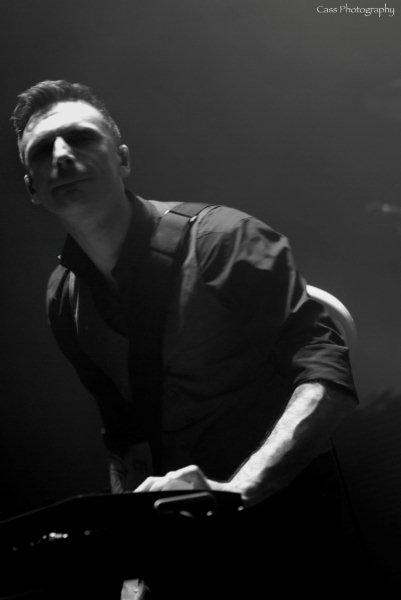 Sound Tribe Sector Nine—Fillmore Theatre—Detroit, MI—04/13/2013
On Saturday I had the pleasure of seeing Sound Tribe Sector Nine (STS9) grace the historic Fillmore Theater in Detroit, Michigan for the first time in seven years. The Fillmore has a long history in Detroit starting in 1925. I could feel the energy of the place as soon as I walked in. The high ceilings and intricate facades on the walls seemed to hold memories of the many famous musicians and shows to pass through the hall as well as providing almost perfect acoustics. There are two balconies set over a large dance floor, and in my opinion the first balcony is the best place to be.
The opener, Russ Liquid, was a great fusion of electronic, bass heavy beats with live, improvised wind instruments played over the beat. His great stage presence got the crowd in just the right mood for the headliner, STS9.
STS9 opened their set with "SpottieOttieDopaliscious," a cover of a very recognizable Outkast song featuring a strong horn line melody that the Russ Liquid and Friends played alongside STS9. It was a great opening statement for the evening. Russ Liquid played with Sound Tribe for three more power packed, up-tempo songs, keeping the crowd on their feet and adding an extra depth to Sound Tribe's unique style.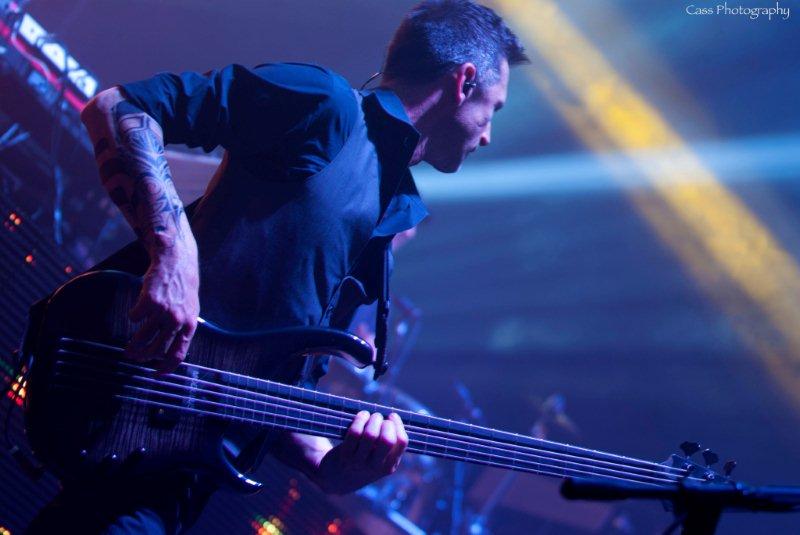 After set break STS9 took the crowd on a journey. STS9 always amazes me with the way they transition from song to song never missing a beat. They are always on the same page and always responding to the crowd. They opened the second set with a duo of songs "Vapors>Simulator." The music was so beautifully orchestrated that you could barely tell the difference between the two songs as they braided the melodies together ever so carefully.
The night closed with a double encore of "When the Dust Settles" and "Be Nice." Russ Liquid and Friends joined the band in the last song where Russ Liquid played a powerful trumpet solo. The crowd was reluctant to leave. It seemed like a huge family here with groups of friends celebrating birthdays and special occasions. I heard story after story about past shows and the show to come the next night in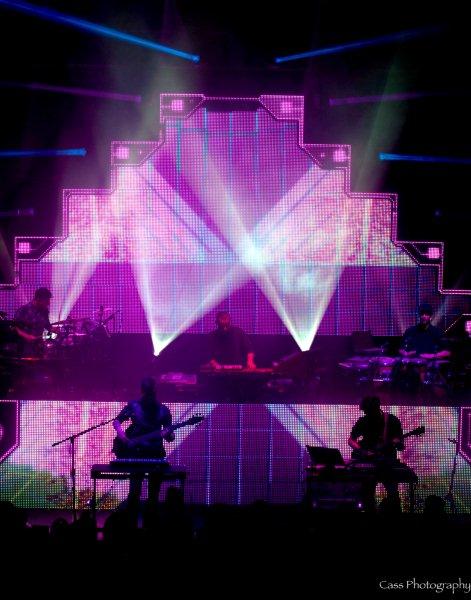 Pittsburgh. I was surprised to meet so many people making the trek from Detroit all the way to Pennsylvania. This band has a great circle of supporters and during the show they thanked them and showed them gratitude several times. Seeing amazing bands like this and meeting all of the amazing people that love them will never get old, and it is perhaps one of the only times I feel truly like I am home.
Set List:

Set 1: SpottieOttieDopaliscious*, Shock D*, ABCees*, Tap-In#, Metameme, Tooth, March, Kamuy, Scheme

Set 2: Vapors>Simulator, Kabuki, F. Word*, Arigato*, Vibyl, Bigs, Inspire Strikes Back

Encore: When The Dust Settles, Be Nice*
Written By: Cassidy Maley
Edited By: Rosemary A.W. Roberts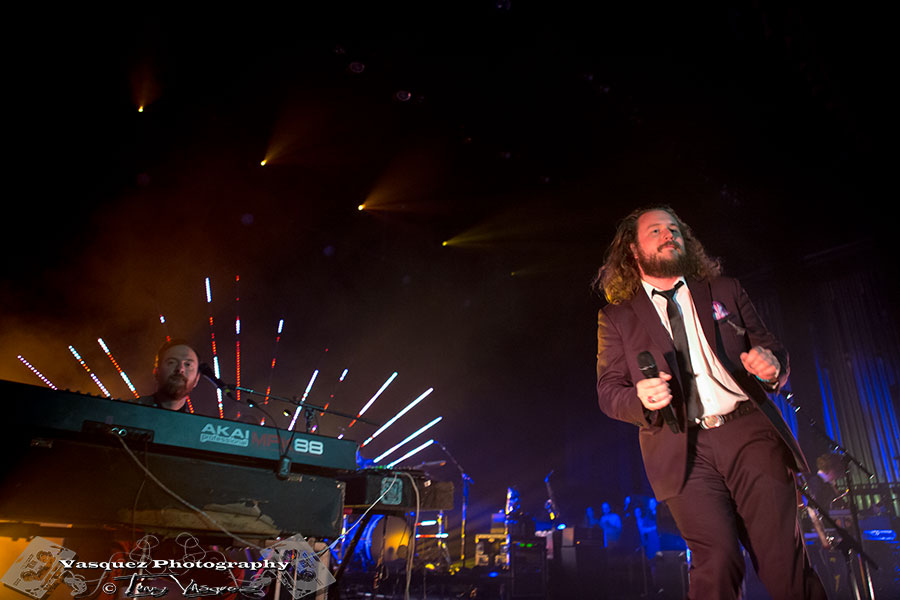 Jim James/ Cold Sparks ~ The Brown Theatre- Louisville, KY ~ 04/17/2013
The historic Brown Theatre in Downtown Louisville, Kentucky provided the perfect setting Wednesday night for Jim James' sold-out hometown concert. Though James is typically associated with his widely popular band My Morning Jacket, this show kicked off the tour for his new solo venture. Despite the theatre being filled to capacity there was not a bad seat in the stadium-style venue. This lavishly restored theatre features modern updates, ornate beauty, and perfect acoustics for enjoying live performances.
James performed the entire new album Regions of Light and Sound of God with a backing band of four members, including Louisville musicians Kevin Ratterman and Dave Givan. Ratterman (keyboards and guitar) has worked with My Morning Jacket in the past, helping with the engineering on the Circuital record. Givan, an old childhood friend, was featured on percussion and executed a solo that excited the crowd and drew an explosive response.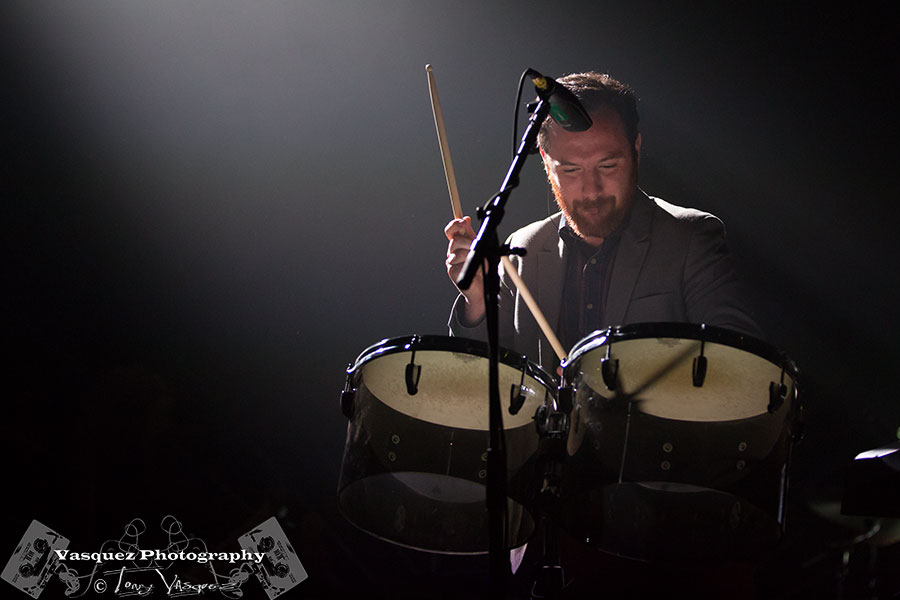 The set primarily showcased Jim's powerful vocals and rhythmic movements on stage. James used the flying-V guitar displayed prominently on stage sparingly, yet powerfully for solos, though he favored his acoustic guitar for the encore. James also stepped out of his standard stage presence to include a couple saxophone solos. The energy of the set was a mesmerizing groove laced with psychedelic R&B. The emerging lyrical theme had James exploring spirituality, love, and a call for change toward a more positive outlook on life.
After the band had played the new album in its entirety, James played a few solo acoustic songs including My Morning Jacket's "Bermuda Highway" and "Wonderful (The Way I Feel)." The band followed with several songs by the collaborative band Monsters of Folk, including "Dear God," "The Right Place," "Losin Yo Head," and "His Master's Voice." They also included a New Multitudes cover of the Woody Guthrie song "Changing World".
James spoke sparingly to the crowd to give props to the University of Louisville men's basketball championship and to observe a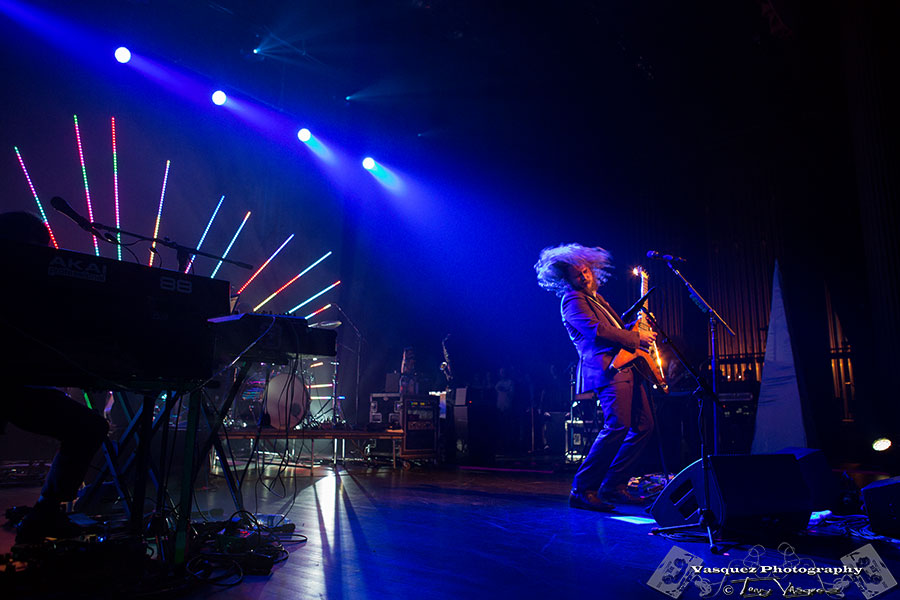 powerful moment of silence to remember the victims of the Boston Marathon bombing. James referenced comedian Patton Oswalt's social media post and asked the crowd to remember that despite the tragic bombings, "most of humanity is good."
Providing the opening set was Cold Specks, a moniker used by the London-based, Canadian singer/songwriter Al Spx. The band performed their set with a stripped-down, Deep-South, gospel feel that set the tone for James' soulful performance.
Written by: Tony Vasquez
Edited by: Rosemary A.W. Roberts, www.jamsplus.com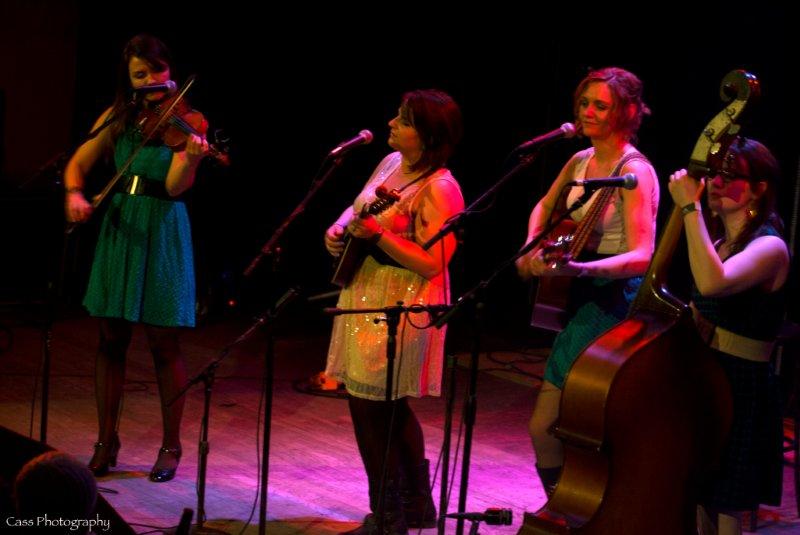 The Whipstitch Sallies / The Stampede String Band / James and the Drifters—The Vogue Theater—Indianapolis, IN—04/05/2013
Folk, Bluegrass and Americana music filled the Vogue Theater Friday night April 5th. The three bands who would take the stage are all bands with their roots in the area and they are bands who represent their genres respectfully well. It was a treat to chat with members of the bands throughout the night to get a grasp on their passion not only for the music they create, but also for the styles they grew to love. These young bands are filled with so much all around talent that the future will be whatever they choose it to be.
James and the Drifters were first to take the stage. The Huntington, Indiana band is an all-around powerhouse bringing strong lyrics, stage presence, and likeability with them; making this band's future look very bright. Their song "Buffalo" is a song that shows they have a place not only in the folk scene but also on radio stations and in homes across this country. I totally could see myself with the car windows down during a beautiful day cruising while on a road trip singing along to James and the Drifters. They just have that sound that though it is indescribable, when you hear it you know they are doing something right. I really felt lucky being introduced to this band Friday night.
T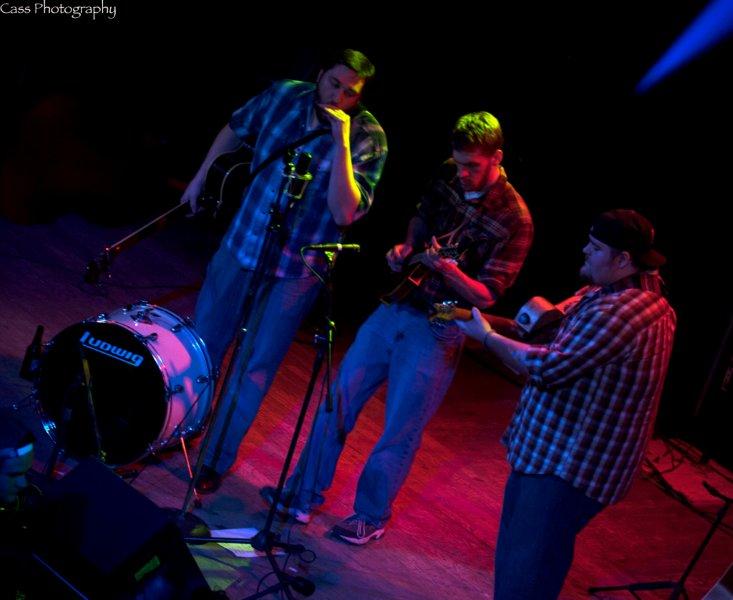 he second band to take the stage was The Stampede String Band. This three-man folk/bluegrass band showed off their skills by only using one mic. The Moonsville, Indiana band displayed their passion and heart for the music they love with their song "Just a man", showing the growth this young band has already had. The boys celebrated their two year anniversary at the Vogue Friday night and were delighted to be able to tell how fun the past two years have been with the audience. It's always nice to see young musicians pay homage to the classics they grew up listening to. Keep an eye out for The Stampede String Band, it really will be fun seeing what the future holds for this band.
It is a pleasure to see four women make up a band. Then to have these four women be incredibly trained not only in the instruments they play but also in the genres of music they love, I have died and gone to heaven. Allie Burbrink, Katie Burk, Kat Erickson, and Sam Roberts all have their own personality and style on stage, but when their powers combine in The Whipstitch Sallies they are one well-oiled machine. These girls can pair up against any guy groups in their field and hang alongside the best of them. You will definitely want to follow the career of this great band and I encourage you to snag a copy of their work as soon as you can.
From their signature originals to old standard classics, The Whipstitch Sallies put their own unique spin on everything they do. In the few short years The Whipstitch Sallies have been in existence they are building a strong fan base by creating loyal fans everywhere they go. It is like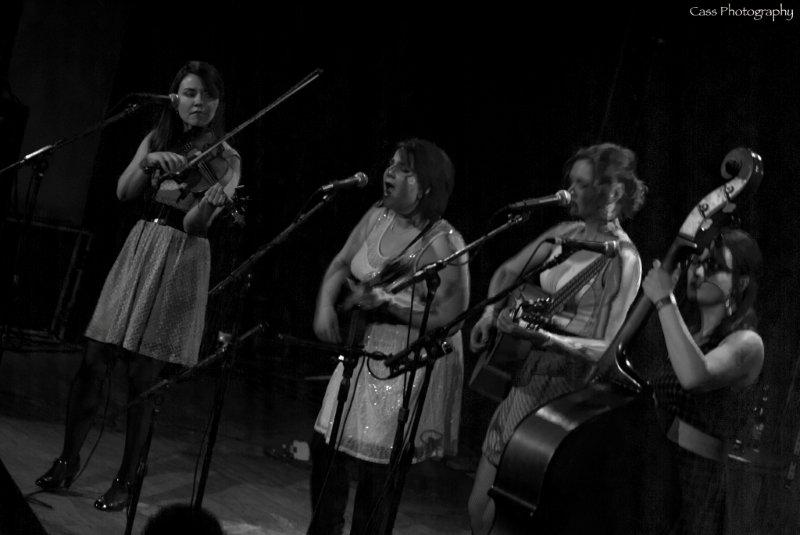 enjoying a warm piece of apple pie listening to them play, and listening to them share their knowledge of the music they love in between songs while they are on stage is a delight. "Got Me a Letter" is a song by The Whipstitch Sallies that I feel sums up their wit and spirit well. I want to thank The Whipstitch Sallies for taking time out of their night to give me an interview; you can check out the interview at www.jamsplus.com/interviews.
Written By: Tyler Muir
Photos By: Cassidy Maley
Edited By: Rosemary A.W. Roberts,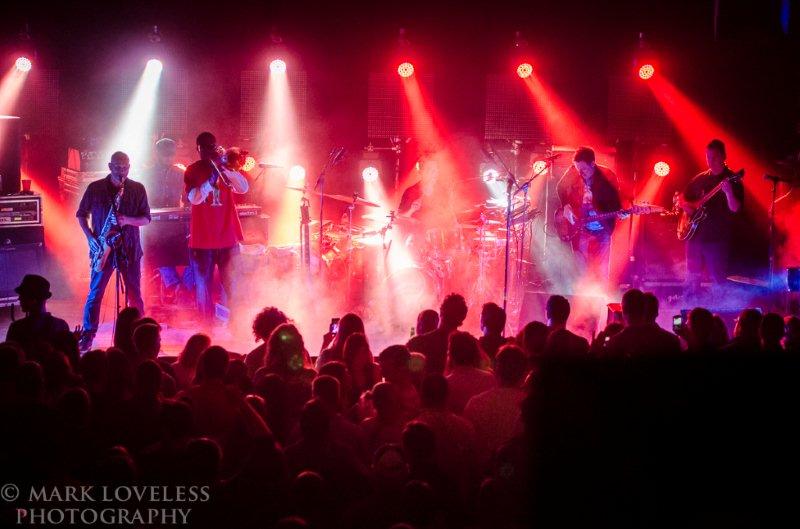 Galactic with special guest David Shaw; Opener: The Nigel Hall Band—The Vogue—Indianapolis, IN—04/04/2013
Funk and Soul was the theme at the Vogue Theater Thursday April 4th, and New Orleans was well represented. From start of the night to the end, funk was beating off everyone's chest and intensity was surpassed only by the talent. Crowd participation was encouraged and all in attendance could be heard doing their part to help out with back up vocals. It was as if the Vogue was celebrating Mardi Gras on this special night.
Opening the night of funk and soul was a band that you must take notice of. If you have not heard of the Nigel Hall Band, immediately visit www.nigelhallmusic.com before you finish this article. The band was made up of members of Lettuce and Dirty Dozen Brass Band. Nigel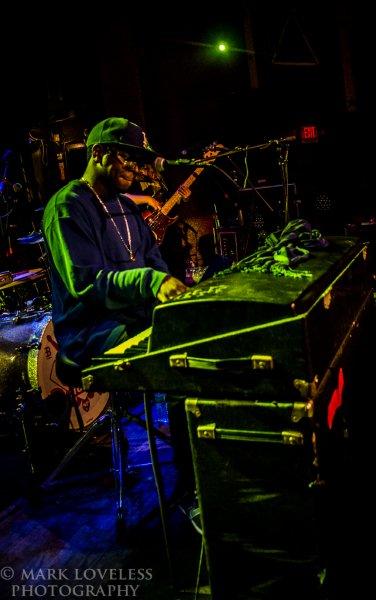 Hall honestly had an all-star cast behind him and it was obvious they meant business from the start while all in the name of fun. As soon as the Nigel Hall Band started, everyone was on their feet dancing. Nigel puts heart and soul into his lyrics with his timeless voice and beautiful style. You could not help but feel their strong rhythmic groove of electric bass and drums to Nigel's jamming of the keys. The band especially showed their fun side covering Missy Misdemeanor Elliott's "The Rain (Supa Dupa Fly)". The Nigel Hall Band is definitely a band that could tour the country successfully on their very own talent and should not be overlooked.
Damn, was Indianapolis lucky to have Galactic back in the area Thursday evening! Straight out of the gate it was obvious they were bringing the love and soul of New Orleans with them as they opened with two back-to-back songs of nothing but groovy horn blowing in "Karate" and "Balkan Wedding." By song three, "Hey Na Na" Indy was in for a special treat as David Shaw from the band The Revivalists took over vocals. Shaw is like a man possessed, running around the stage, standing on the guardrails, leaning out to the crowd with the microphone; and it sure did not take him long to get the crowd roaring. I cannot stress how incredible it was to have Shaw on vocals for such hits as "You Don't Know "and everyone in the Vogue was in awe when the band busted out their own version of a Beatles classic "I am the Walrus" with a twist of funkadelic straight into their very own classic "Heart of Steel." They were bringing so much funk straight to everyone's core that it was a nice relief when they let their hair down and belted out the iconic Old Dirty Bastard's classic "Got Your Money". The only way the night could have gotten any better is if the Vogue passed out free bourbon whiskey all night. Just to make sure the fans got their money's worth Galactic closed their set with an extra strong version of Led Zeppelin's "When the Levee Breaks."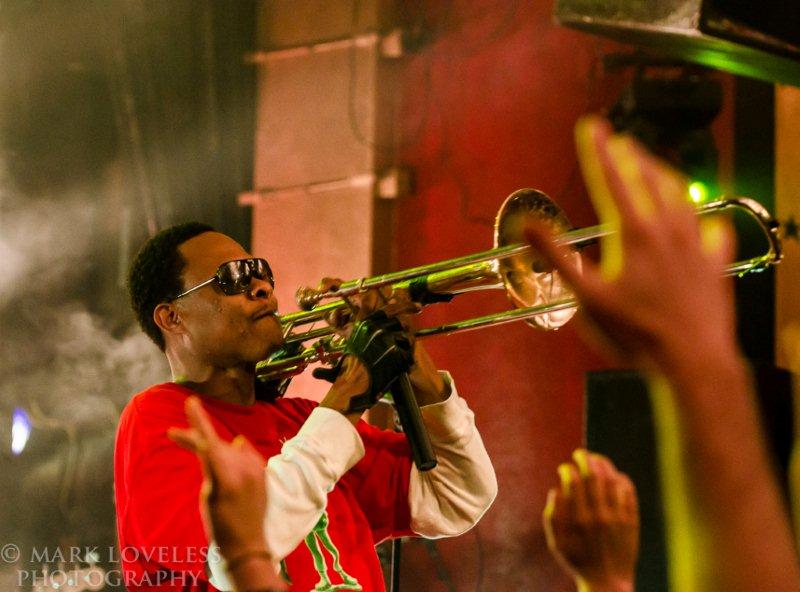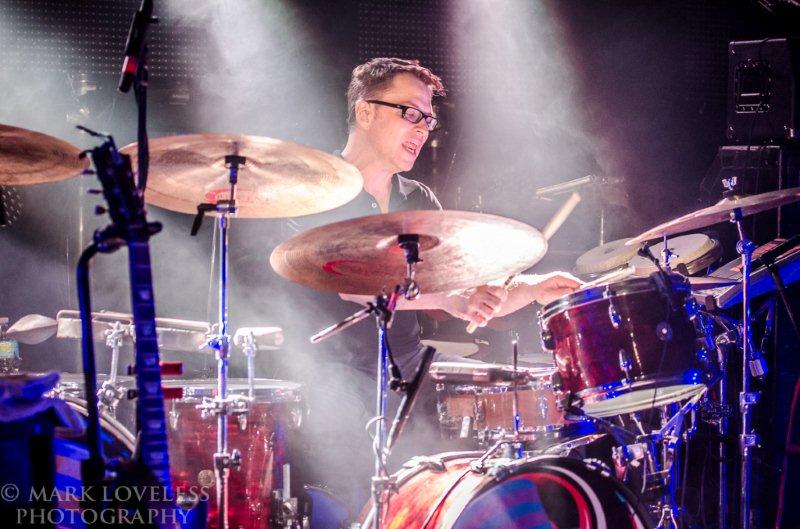 I cannot thank 92.3 WTTS & Indy Mojo enough for bringing Galactic back to the Vogue. It was also a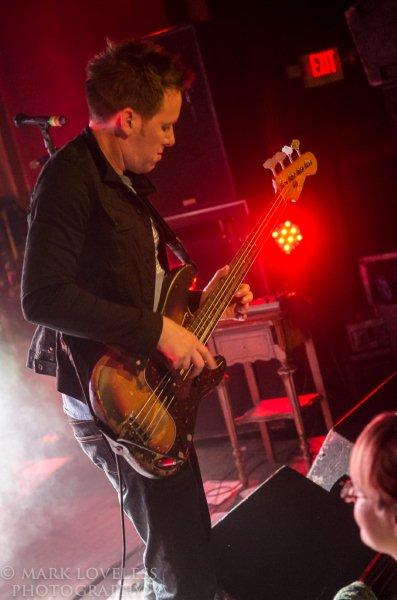 special treat having David Shaw do vocals for Galactic, and having the soulful Nigel Hall lead such an awesome all-star cast was pure bliss. Personally I have been waiting for Thursday night to reemphasize if I should go ahead and book plane tickets to attend next year's Mardi Gras in New Orleans. The next time that Galactic, The Nigel Hall Band or The Revivalists come to a town near you, please do not hesitate twice, purchase tickets and GO!
MORE PHOTOS HERE
Written by: Tyler McGee
Edited by: Rosemary A.W. Roberts, www.jamsplus.com
Photos by: Mark Loveless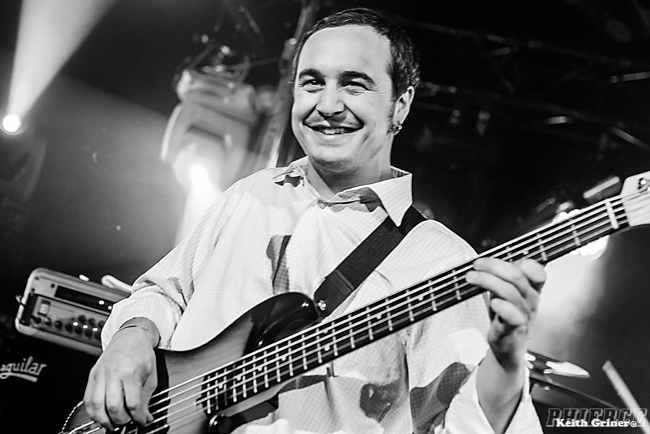 Ultraviolet Hippopotamus—The Vogue—Indianapolis, IN—03/08/2013
Ultraviolet Hippopotamus ran through the Vogue in Indianapolis, IN on March 8th just as you would expect a Hippopotamus to do. This band has a great family in the Midwest, and every time they come to town it is sure to be awesome.
The opening band Dopapod was a perfect band to start the night. They have a great electronic fusion sound that mixes perfectly with UV Hippo's sound. They came equipped with a "snow" machine that brought smiles to every face in the room.
As Ultraviolet Hippopotamus took the stage the crowd tightened and the energy in the Vogue came to a boil. The crowd was highly anticipating a great show, and the excitement in the air was almost tangible. The band opened with the high energy song "Verlander," featuring Russell James on guitar and Dave Sanders on keys and vocals. This high-flying song got everyone in the crowd moving and raised the temperature about ten degrees in the room.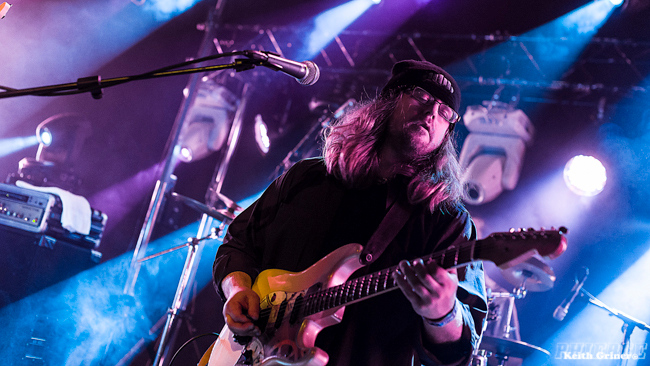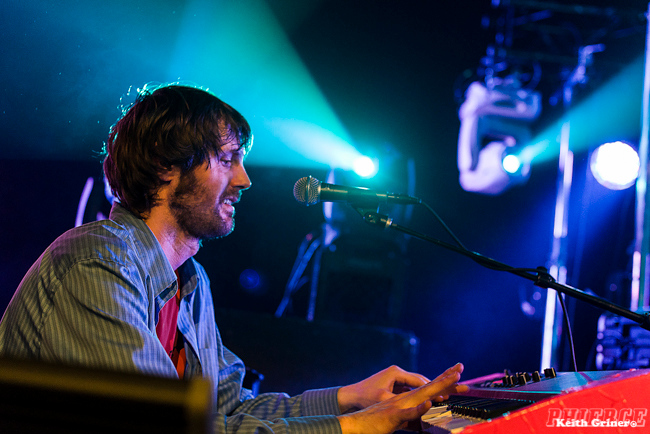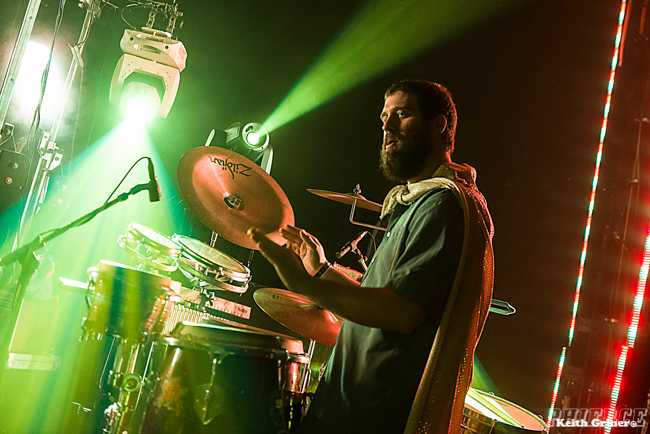 Although UV Hippo only played one set, it was jam packed with some of their best songs. They showed their true colors and ability to change from genre to genre, the whole time being led by their amazing keyboard player. They took advantage of Dopapod's snow machine and halfway through the set, launched 'snow flakes' into the air, bringing an extra level of energy to the venue.
The encore "North Coast," a high energy tune, once again led by keyboardist Dave Sanders, left the crowd begging for more and in disbelief that the show was over. I walked out of the vogue through a sea of hugging friends and smiling faces. It was definitely a show to go down in the history books.
SETLIST:

Verlander>Don't break a Leg Jam>Georgie, Indiana Theme, Spirits>Tugboat>Swamp, Medicine> T1J, DNT

Encore: North Coast
Written By: Cassidy Maley
Photos By: Keith Griner MORE PHOTOS HERE
Edited By: Rosemary A.W. Roberts, www.jamsplus.com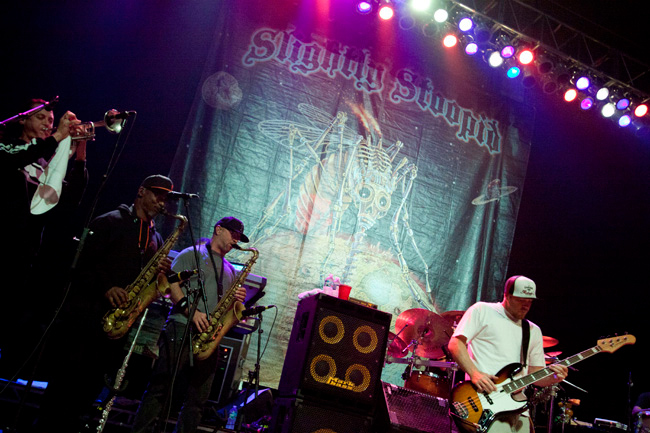 Slightly Stoopid—The Congress Theatre—Chicago, IL—03/09/2013
Chicago is obviously no stranger to various types of music acts, and Saturday, March 9th, 2013 was no different when the California based Reggae-rock band Slightly Stoopid came to the city. Yes, Slightly Stoopid once again rocked it in the Midwest when their fan-pleasing, seven piece group made way on stage.
The glassy-eyed Chicago crowd was warmed up with Stoopid's opening act, Tribal Seeds. They played a fun, "smoking" hot kind of pre-show. Tribal Seeds was happy to welcome Stoopid's guitar, bass and vocal man, Miles Doughty to their set a few songs before Stoopid was fully welcomed to the Congress Theater. Doughty prepped the crowd for the upcoming Stoopid set, singing and moving from the stage to tops of speakers and back to the stage, making Chicago fans go crazy.
The pumped crowd stuffed into the main floor of the Congress Theater and was restricted to the main floor, on account of the balcony being closed for renovation. Assuming one could fight the parking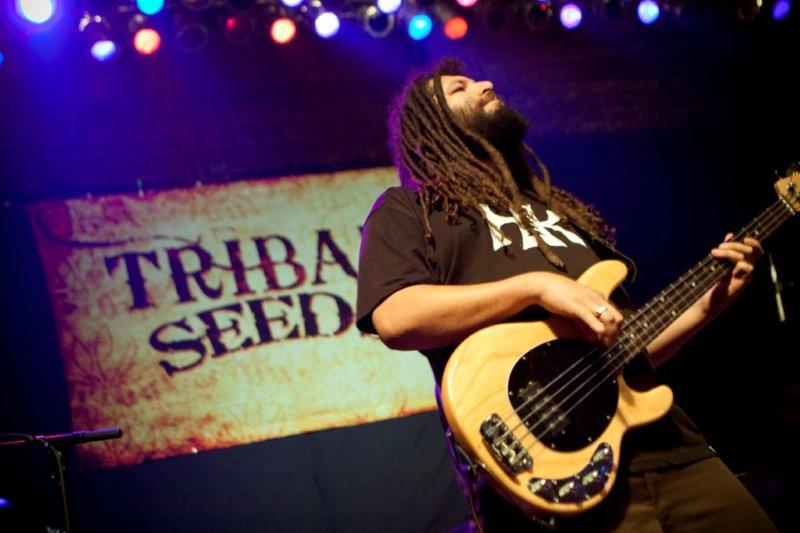 crowd in the neighborhoods surrounding the theater, the typical Congress Theater security didn't seem to bother the Stoopidheads packing the floor. As expected, security hurried to relieve any crowd surfer making his or her way to the front quickly; exit to your right please. Being crammed into the crowd was worth it, especially since set up times in between the groups was speedy and fans didn't have to wait long for Stoopid's full arrival. The cozy bunch was ready and Slightly Stoopid brought it to the Midwest. Having their own studio space must have paid off for the band since from older to newer hits, the lively group was well rehearsed and ready to keep this night moving smooth. The band worked from the crowd's energy, giving everything they seemed to desire. Stoopid pulled the Stoopidheads into the music and gave a coaster of twists and turns from newer music and back to punk-rock style. During the evening, there were a few lighters waving gently in support as well.
Stoopid's sound was crisp and clear, not overly loud but the crowd definitely knew this wasn't grandma's car speakers. The rock, reggae, blues, hip-hop, punk rock sound all came together without any stress. Sounds from the latest 21 track album, Top of the World filled the night and the crowd was in love. The saxophone and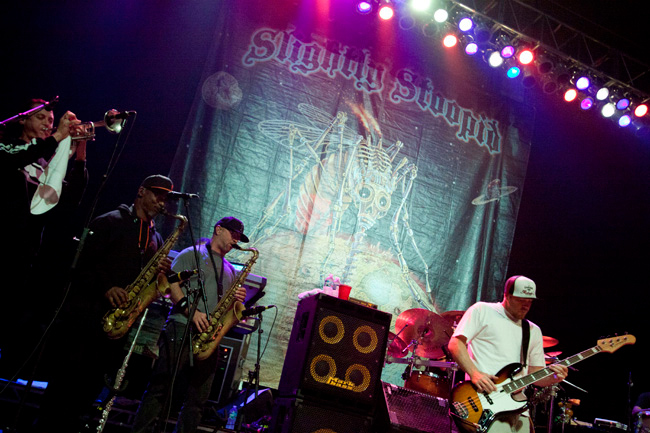 trumpet sounds brought the crowd in and pleased the ear.
If you weren't lucky enough to make it to Chicago for Slightly Stoopid's appearance or just need more Stoopidness in your life, be sure to catch them again soon. Their schedule is nearly full of nightly shows all around the U.S. Playing locations vary anywhere from Pittsburgh to Oklahoma City to Texas and back to the Midwest; and don't forget their homecoming in California. With all the dates available, one certainly can find a show close to home. Stay Stoopid.
Written by: Tory Marks
Edited by: Rosemary A.W. Roberts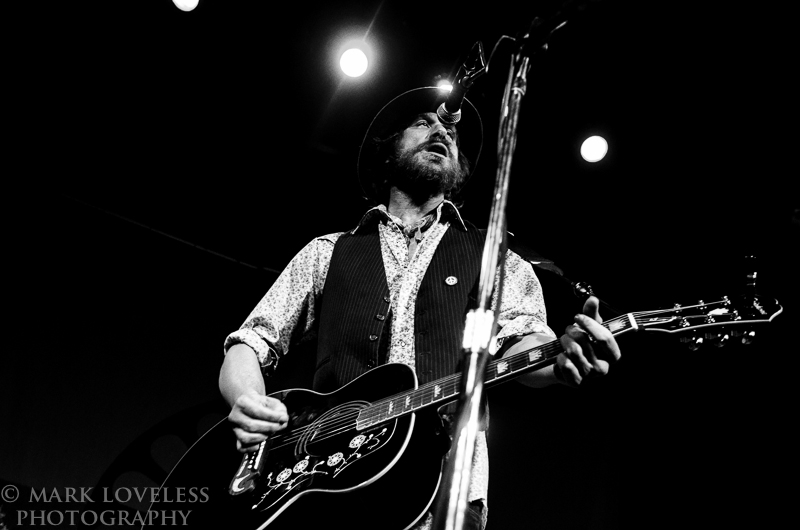 Todd Snider Live at The Vogue--Indianapolis, IN--March 14, 2013
Todd Snider, stoner fable storyteller, singer and songwriter who claims he knows nothing, had no problem packing The Vogue Thursday evening for folk music about recreational drugs, the evils of organized religion and government. The Vogue was setup like a traditional folk performance with seating towards the front of stage and room in the back to dance till your little heart was content.
As hippy Todd walked out on stage barefoot like he was in his own living room, he got a standing ovation from the crowd. It did not take Snider long to warm up to fans of Indiana as he opened his set with "Greencastle Blues," a song about him being locked up in a prison in Greencastle, IN for possession of marijuana. Snider went straight into a song off his newest album, Agnostic Hymns and Stoner Fables called "Too Soon To Tell," a song about feeling betrayed and heartbroken. As some may recall Todd struggled for years admitting that he had a bipolar disorder. Although Snider is a brilliant songwriter and no one can deny that, he communicates his struggles with life openly in his lyrics. Snider also likes to make the crowd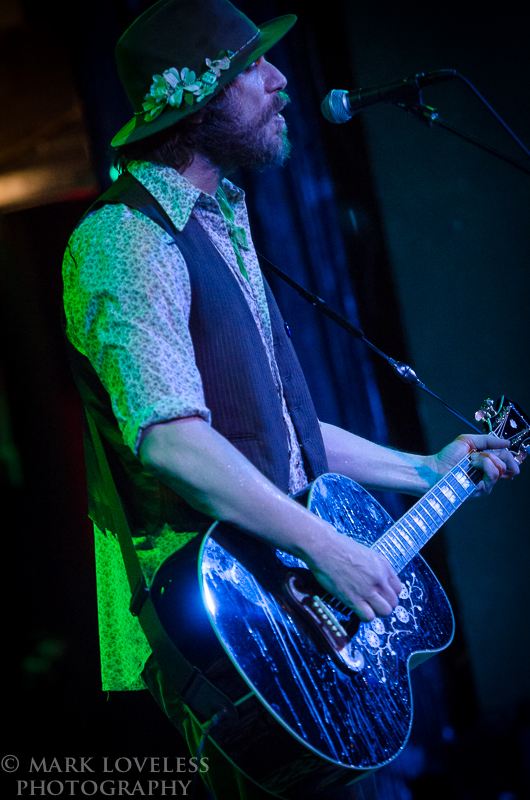 feel like they are a huge part of the show and so will take time to chat it up with the crowd and tell humorous stories about his music career. He would conclude the first set by playing some crowd favorites like "Looking for a Job" and "Just Like Old Times."
Again, Snider likes to make the crowd feel like they are part of performance. So after his first set concluded he asked the crowd to write songs down on a napkin and he would write a second set from those songs. Set two is when the crowd let loose and started to dance and sing along with the lyrics. Snider would open the second set with "The Devil You Know," a reference to knowing what's right and wrong but continuing to do bad things because one can't help it. Snider would really get the crowd going when he pulled out of the hat "Beer Run/Age Like Wine." Snider would conclude the night by playing more crowd favorites such as "All My Life," "Alright Guy," and "Conservative Christian, Right Wing, Republican, White, American Males." Although Snider has had some personal issues over the longevity of his career, he is a brilliant songwriter but most importantly has heart and passion for folk music. Todd Snider could and should be placed in the same class as Bob Dylan or Woody Guthrie for his superior song writing skills!
More Photos HERE
Written/Photos By: Mark Loveless
Edited By: Rosemary A.W. Roberts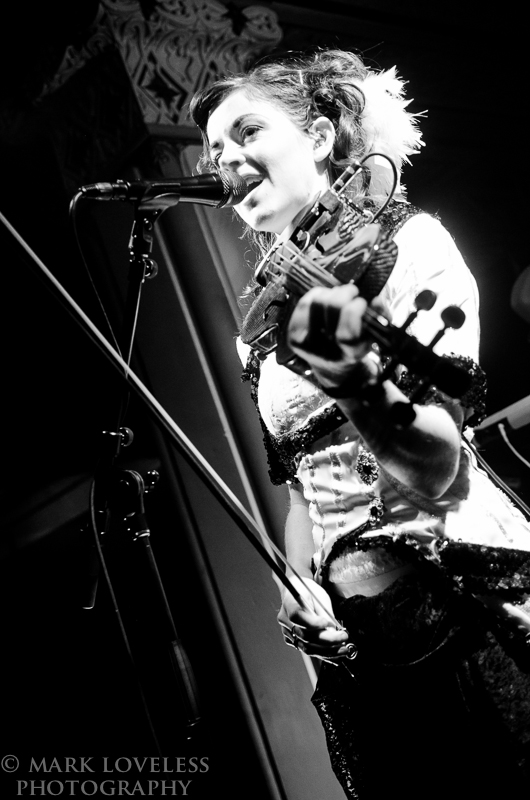 Lindsey Stirling--Deluxe Old National Theatre--Indianapolis, IN—03/12/2013
On a Tuesday evening in March, Indianapolis witnessed a genre of music that I was not even sure how to classify at the time. Remember back in the ancient times those string-like puppets that you pull on the string real fast, and suddenly the puppet would make a quick jolt with it legs or arms? Well Lindsey Stirling reminds you of a marionette with balancing yoga poses that would suddenly leap in the air, skip across the stage, spin like a Texas tornado and bend frontwards and backwards, all while playing a theatrical piece of classical violin music backed by a thundering drummer and keyboardist. The crowd at the Deluxe was completely different than anyone would expect for a dub step violinist. The crowd ranged from kids of all ages to 60-plus aged folks.
Before Stirling would transform herself into a leaping leprechaun she would open the night with a taste of classical violin music. Another great theatrical piece was her third song of the night, "Spontaneous Me." "Spontaneous Me" is a perfect example of Stirling showing off her astonishing dancing skills while not missing a note on the violin. By the fourth song of the night Stirling was showing that she is more than just a violinist in an original song, "Electric Daisy." Huge thanks should also go to Stirling's cinematographer Devin Graham, who contacted her shortly after her performance on America's Got Talent. Graham's cinematography helps set the mood for each song that Stirling performs; "Electric Daisy" made you feel as if you were in the mountains of Colorado, while "Crystalize" made you feel as if you were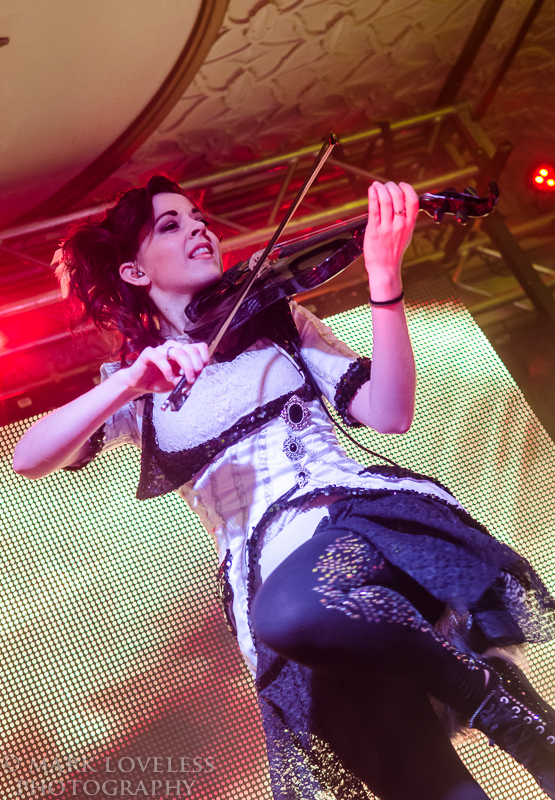 surrounded by ice sculptures. Midway through her performance Tuesday night she pulled out of the hat a classic video game theme song for all the gamers in the crowd as she went into "Zelda." Again Stirling has an astonishing and unique stage performance as she includes something for all age groups like Just Dance or Dance Party for children on the big screen. Stirling would also grab the dub step fans' attention as she played her favorite song off her new album Lindsey Stirling, called "Zi-Zi's Journey". Lindsey would close the night off with "Crystalize" an extremely popular selection in Stirling's list of music. "Crystalize" is what helped make her dream come true with the power of the Internet and YouTube in which she has received over 50 million visitors for this one song.
Although Stirling's set was approximately 80-minutes long she provided something for all groups. If someone would have said I was going to photograph a Mormon dub step, hip-hop classical violinist, I probably would've turned my back and walked away. However, after seeing this up and coming star a few years ago on America's Got Talent, I just knew someday this "cartoon figure" was going to make a name for herself. Lindsey Stirling made the comment to the crowd mid way through her epic and mind blowing set that she was told her type of music was not marketable. In fact she was told she would not make it with this type of music.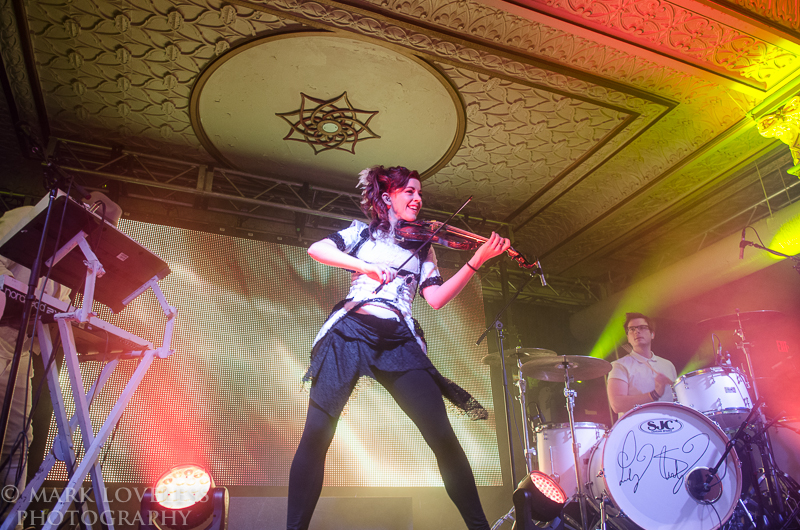 Well, Stirling was not a fictional character then and definitely is not one now. Just in the last 5 months alone she has made an album without the help or endorsements of a large record label and has sold out every show thus far. Now, who was it that said Stirling would not make it with this type of music?!
Written/Photos By: Mark Loveless
Edited By: Rosemary A.W. Roberts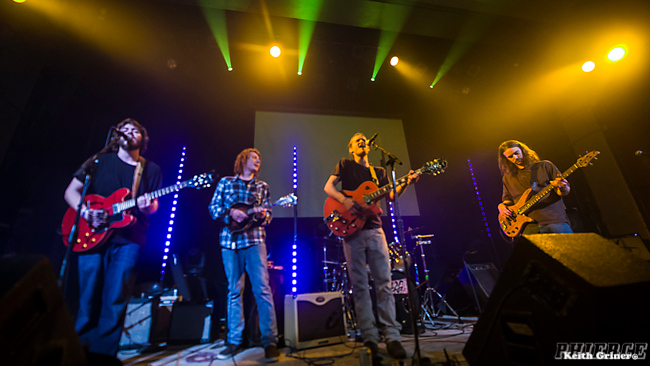 Funky Junk, Glostik Willy, and The New Old Cavalry—The Vogue Theatre—Indianapolis, IN—03/01/2013
The three bands whose names filled the marquee out front only had a week to stir up publicity for their show at The Vogue Theater Friday night. The band that was originally billed to perform on March 1st backed out one week prior, so the manager of the theater put out a distress signal on Facebook asking for local talent to step up and fill the void. Instead of just one band trying to round up support for their chance to play the Vogue, three local acts joined forces to try create an electric night for all in attendance.
Once Funky Junk, Glostik Willy, and The New Old Cavalry asked their fans to demand that they get to fill the open spot, it seemed like just a few hours passed before The Vogue was making it official that they were giving the night to the three bands. Herm Productions was even nice enough to sign on for the light show in such a short notice. Throughout the crowd, family members of each band could be seen dancing and interacting with those who came to support their favorite local acts.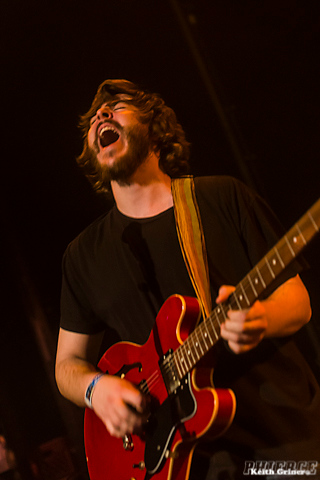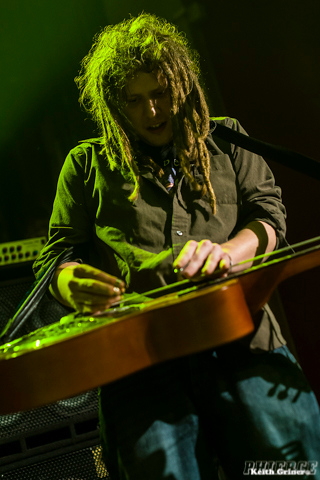 The band with closest roots, Indianapolis' own Funky Junk was first to take the stage and the crowd was ready for what was going to be an epic night for all. They came out with a space jam that set the tone for what was a stellar set. This band has grown on stage quite a bit since last time I have seen them and I definitely recommend following this band and catching them next time they are playing near you. They closed their set with "I Know You Rider" (traditional, made famous by Grateful Dead), with everyone helping on vocals before it was done. Funky Junk is made up of some of the nicest group of guys I have come across yet.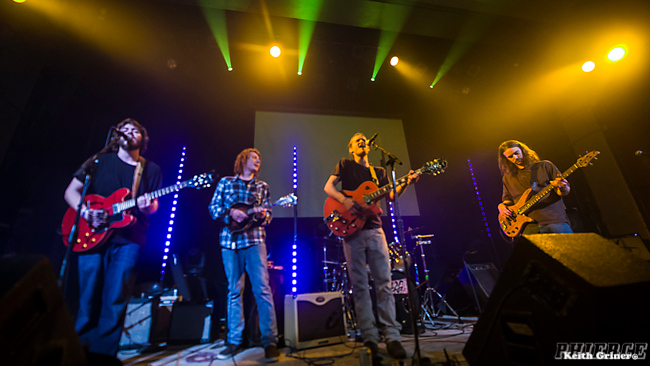 Glostik Willy took the stage second and it didn't take long for them to show the crowd it was time to rage. "Highs and Lows" is a song that never gets old, and allowed the band to show everyone their craft. Like Funky Junk, Willy is a local act that has shown enormous growth in such a short time; the Muncie, Indiana area band can be found playing shows in the Ohio area as well. If you have an opportunity to see Glostik Willy make sure to do so, and music festivals are currently the best place to see them get their one time shine. May Daze Music Festival is Glostik Willy's festival they are having May 3-4, 2013 in Franklin, Ohio; check it out!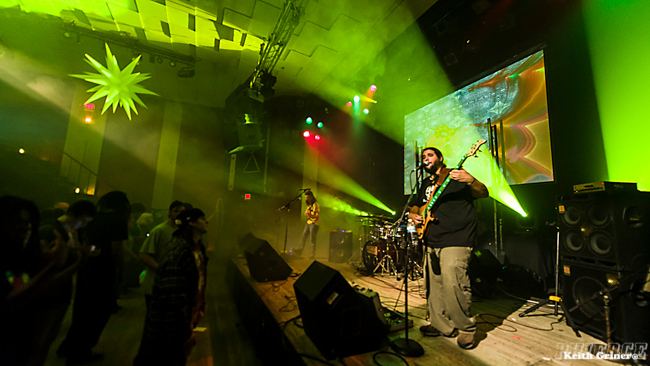 Last to take the stage was The New Old Cavalry, and they took the stage as if they owned it. They know how to get everyone stomping their feet, and their feel-good music has you feeling that sense of home. The New Old Cavalry may have some of the most diehard fans in the State. Talking to some of them who were in attendance Friday I find that "Cavalries" as I call them, seemed to be some of the most unique individuals I have ever met. The New Old Cavalry can be found playing almost weekly in their home base of Bloomington, Indiana. This is another band that relishes participating in Music Festivals, and they will be playing the May Daze Music Festival this year; if you are lucky enough to have a chance to hear them play at a festival this summer, please do not miss them.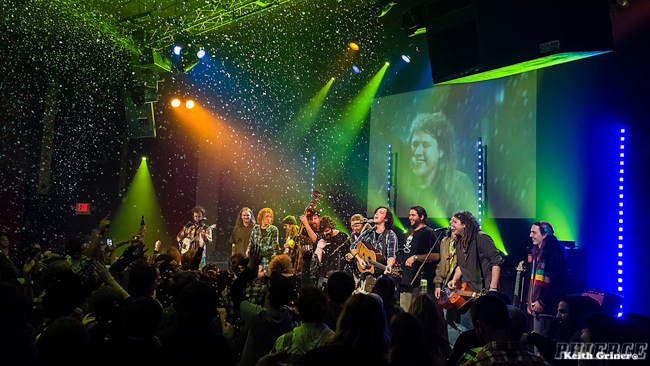 The next day, The Vogue Theatre posted encouragement and gratitude to each of the bands for such a good turnout on such a short notice. Any music fan that missed this opportunity should hope for the chance to see them play The Vogue together again. These bands pick up new fans every place they play and because the bands are not only talented, but nice guys, you cannot help but want to see them all reach their potential.
Written By: Tyler Muir
Pcitures By: Keith Griner
Edited By: Rosemary A.W. Roberts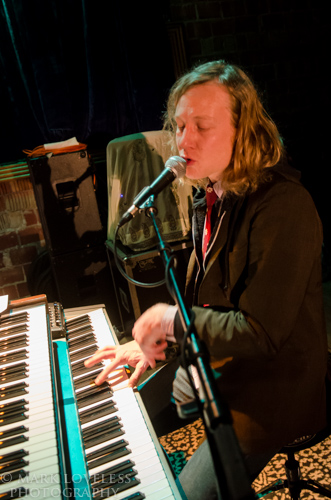 Tea Leaf Green Live at 20th Century Theatre ~ Cincinnati, OH ~ February 15, 2013
Tea Leaf Green stormed into the small vibrant 20th Century Theatre Friday night for an onslaught of jam band music. It did not take the band long to warm up as they started the evening with an 8 minute jam in "Ride Together" straight into yet another crowd favorite "Vote on Tuesday." Tea Leaf Green, a small quiet San Francisco band that does not seem to get a lot of publicity, sure can get loud real quick and make a name for themselves that fans will not forget. Tea Leaf did not hesitate long to get the crowd involved as they played an unforgettable psychedelic tune with Reed Mathis on a thumping bass mixed with mind-blowing guitar rifts from Josh Clark and Trevor Garrod tearing up the keys in "Franz Hanzerbeak." This song is a life changer when heard live! I promise you will go home the same night and YouTube it! Garrod would play another crowd favorite keyboarding jam in "Jezebel" from the album Rock 'n Roll Band. Tea Leaf Green is the perfect example of a rock 'n roll band that once they get on a jamming frenzy, they will take your mind with it to another world and back all within matter of minutes. Clark shows this quality in a rock 'n roll acoustic jam with a hint of soul in "Ocean View," a classic from late 90's. The band would play one straight set with an epic encore. The first set would conclude with another astonishing shredding guitar rift from Clark with "Zoom Zoom" straight into "Ride Together." The band would return to stage so the crowd could really get their moves on with "Truck Stop Salley" with Trevor jamming on the keys, harmonica and jumping up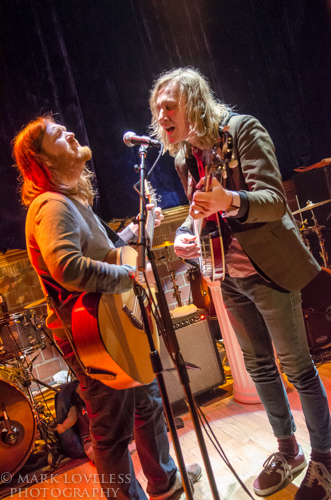 on his stool. In all reality there is nothing quiet about this band. Yeah, they may not be part of the so-called mainstream but these fellas are loud, proud and produce some of the best catchy jam band tunes out there. Please take a moment and listen to Live at State Bridge, which you can download from Tea Leaf Green's website or iTunes.
Set List:

Ride Together >Vote on Tuesday, Cottonwood Tree, Barnicle Betty, Franz Hanzerbeak, Broom >, Dreaming Sleeping, Gemanating, Jezebel, Nothing Changes, Papa's in the Back Room, Oklahoma Home, Ocean View, Sleep Paralysis > Relax, Zoom Zoom >Ride Together

Encore: Truck Stop Salley
Written & Photos By: Mark Loveless - More Photos HERE
Edited By: Rosemary A.W. Roberts

The Avett Brothers – The Embassy Theatre—Fort Wayne, IN—02/14/2013
The Embassy Theater was the place to be on Valentine's Day this year. The place was packed and love filled the air. Everyone's heart was beating a little heavier and it wasn't just because of the kick drum. If you have not seen a show in Fort Wayne, Indiana at The Embassy, I highly recommend it. It is a shame The Avett Brothers cannot bottle up their energy and sell it.
Jill Andrews started the night off right with her genuine stage presence. Her stage banter in between songs is something that is lacking in today's singer songwriters. She had the audience eating out of her hands by the end; and when she had to stop in the midst of a song she had just written because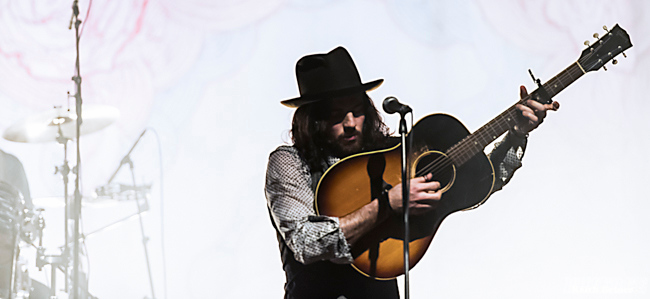 she forgot how it went, the audience cheered as if she had just played their favorite song. It will be really fun to watch Jill grow and I recommend you all find her on the internet until she comes to a town near you.
The Avett Brothers bring so much energy to the stage, you cannot help but get caught up in the emotions they shell out . The packed house that was the Embassy Theater gave back every gram of energy the band gave off. Roses may wilt but the memories made by the band will be talked about every Valentine's Day, for those in attendance. There was no better public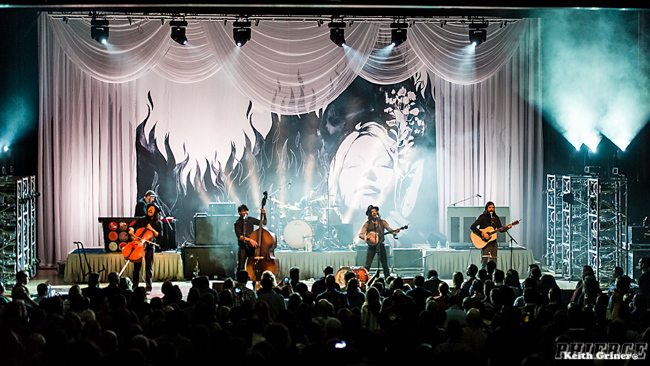 place you could have shared February 14th in Indiana with your loved one than the Embassy Theater.
The setlist could not have been put together more masterfully. When the crowd needed a moment to hug up tight with their significant other because they had been bouncing to and fro for song after song, in came a beautifully written slow jam to bring everyone's feet back on the ground. The encouragement from the band to the crowd for their participation was not needed, from the lyric reciting to the energy matching, the crowd was as ready as the band to bring what was needed to be brought. The special treat of the night came at the end when the stage hand brought out the single mic; the band huddled together with their instruments and played one of the best versions of "Shady Grove" I have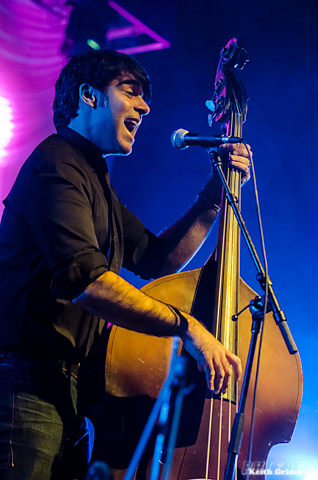 ever had the pleasure of hearing live.
Just as much as the performances from the two musical acts blew me away, so did the venue. The Embassy Theater has been around for 84 years and appears inside and out as if it has not aged a day in its life. The Embassy truly is a gem in Indiana and it kind of makes me sad I just found out about it in 2013; better late than never, though. They constantly are bringing big named acts and I highly recommend "liking" the venue on your favorite social media outlet, along with Jill Andrews and The Avett Brothers; the Cosmos is the limit with these three things.
Written By: Tyler Muir
Photos By: Keith Griner - More photos HERE
Edited By: Rosemary A.W. Roberts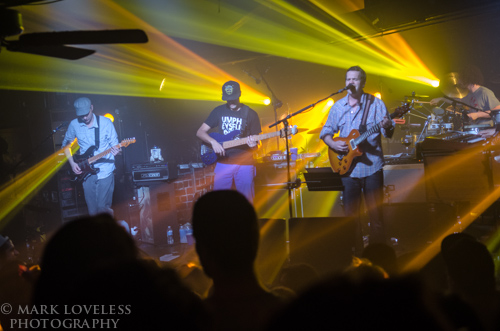 Umphrey's McGee—The Blue Bird—Bloomington, IN—02/10/2013
On Sunday February 10th, 2013 Umphrey's McGee made their first return home since the early summer months of last year. They sold out the Blue Bird in Bloomington Indiana days in advance. The Blue Bird is a very small venue for a band like Umphrey's Mcgee, but a few years ago this place was their stomping ground. I can remember seeing shows at the Blue Bird that weren't even sold out. It's safe to say that in the recent years the name Umphrey's Mcgee and their signature rock n' roll jam style has exploded. A crowd where I once knew every face has turned into a nationwide movement.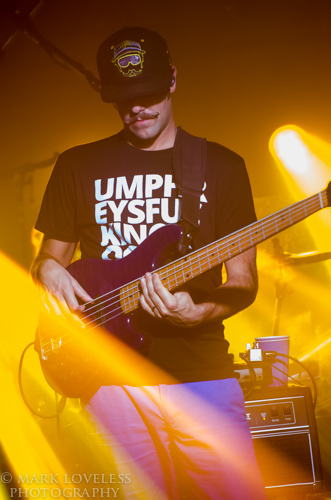 Umphrey's took the stage in classic style with "Cummins Lies," a song with no lyrics and no explanation for such a title. Their lights, run by the coveted Jefferson Waful, were very impressive for the limited space. This was one of the best lighting set ups I have seen in the Blue Bird. It would have been even better if I could have seen the stage. The venue was packed to the brim and only those with the privilege to be near the stage could really see and appreciate what was happening. Immediately the temperature in the Blue Bird started rising as the crowd began to dance to the rock n' roll. Their first set had some great rarely played jams where they left "Nothing too Fancy" unfinished and closed with "Conduit."
The second set felt even more crowded than the first. Everyone pushed forward towards the stage as the opening chords of "The National Anthem," (originally played by Radiohead) rang through the tiny venue. Umphrey's took the crowd on a journey in this second set that could only really be described as face melting. They played "1348>Higgins>1348," which is a classic Umphrey's combination that weaves the two rock tunes together in an almost elegant manner. They then played what I consider to be the gem of the show "Come as Your Kids." Umphrey's is very well known for their 'mash-ups.' This song is a combination of Nirvana, MGMT, and the well known 80's hit "You Spin Me Right Round" by Dead or Alive. The band has only played this song five times according to their website www.allthingsumphreys.com, a site where every imaginable statistic is kept for their fans to enjoy.
This show was truly a treat, and it was great to have my favorite rock stars back home. They closed out the set by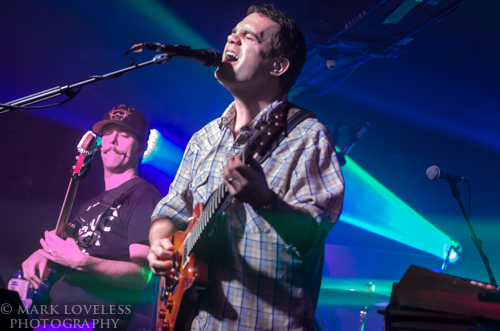 finishing "Nothing Too Fancy" featuring Jake Cinninger's quick fingers and forward moving rock rifts; the show ended with the crowd begging for more. This band never fails to impress. From the light show to the rock anthems, perfectly composed melodies, and silly stage antics, I don't think I will ever get tired of seeing this band around. Needless to say, I will be following them as they travel across the Midwest and provide more epic rock shows for their original fan base, because for some reason I feel like I've yet to see their best.
Written By: Cassidy Maley
Photos By: Mark Loveless - More Photos HERE
Edited By: Rosemary A.W. Roberts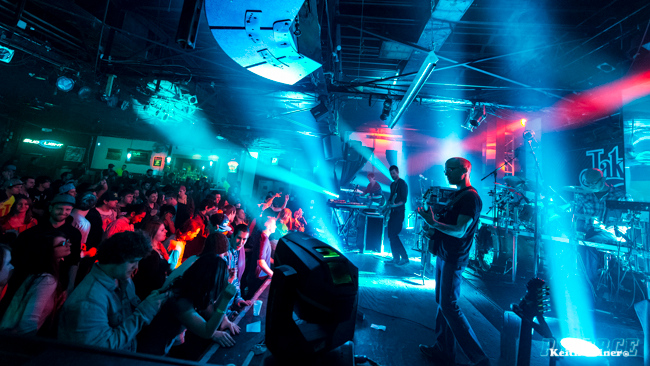 Lotus—Jake's—Bloomington, IN—02/06/2013
A busy night of music continued as I ventured toward Jake's, a venue I had not previously seen a show at and the setting for Lotus to play on a frigid Wednesday evening. The evening started off seeing Dark Star Orchestra, but I hastily made my way over to the unfamiliar venue to see one of my favorite bands. I was quite excited to be treated to two sets of music by the group and once the music started my excitement built even more. Initially, the amazingly created and well-executed new light show quickly caught my eye and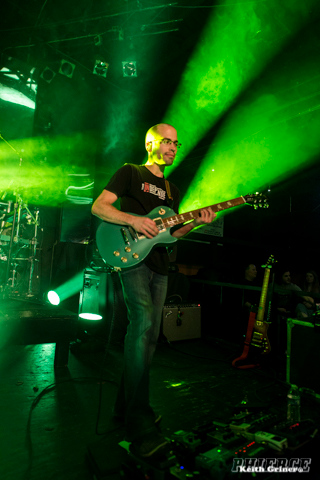 definitely added to the magic of the evening. Another special component of the evening was being treated with one of the most intimate Lotus shows I've seen thus far. It was truly a special treat.
Lotus started the first set with "Massif", a track off of their recent studio release Build, and one which proved to supercharge the crowd from the get go. "Golden Ghost", a track off of their self-titled album and one of my favorites from that release, proved to further energize the dance hungry crowd. Both tracks featured the booty-popping bass and dance inspiring synth melodic dance grooves with heavy rock sounds I've grown to love Lotus delivering. The heart of the first set featured the non-stop relentlessly hard-hitting dance latent rock grooves of the jam "Intro to a Cell>Triplet>Sunrain". This concoction of melodically funky yet dark electronic dance music sent the crowd into a frenzy, leaving me bonkers, while setting the tone for the rest of the evening. The first set ended with a bang, featuring "Jump Off", a fun and furious track further testing the limits of both the music and the dancing crowd. Euphoria had definitely settled in, leaving me and the rest of the patrons hungry for the second set to begin.
After a brief intermission, the second set began, and boy did it begin with a doozy. "Bellwether" was chosen to start and surpassed anything the band had delivered in the first set, which was surprising given the quality of music delivered thus far. Just when I thought my night had already been completed, Lotus blasted me with what was by far the best series of music I've seen them play in the six years following the group. This insane concoction of non-stop playing featured: "Did Fatt>Am>Lucid Awakening>Zelda Theme>Lucid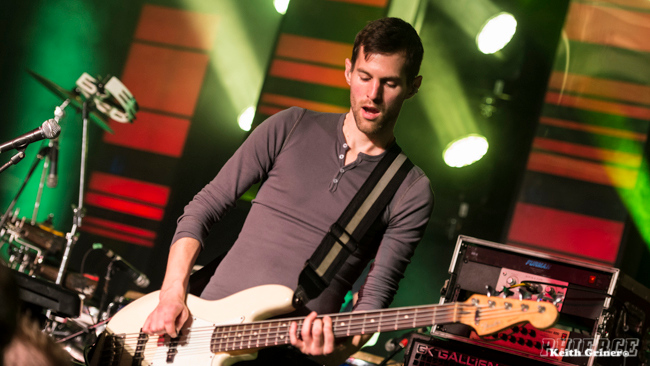 Awakening". They definitely tested the limits of the crowd with this dark and heavy dance rock jam. This was a very special treat for any true Lotus fan with "Zelda Theme" thrown into the mix. Also, I was personally bestowed with something special, this being my first time hearing the Zelda Theme played live. As a big fan of both Lotus and the classic video game, this was merely icing on the cake for the evening.
The second set neared an end and Lotus delivered one last hurray, playing the fun and funky dance track "Tip of the Tongue". I felt euphoric as the track tested my dancing limits and made me go wild. The band thanked the crowd and left the stage, leaving me for the first time joining in with the crowd roaring for an encore. After a brief moment, Lotus reentered the stage and began to play an encore which perfectly ended an already magical night of music. The encore featured "The Surf" and "Scrapple", with the two track encore proving to be another added bonus to the evening. I must note, I have a soft spot for "The Surf", given the notion that it is one of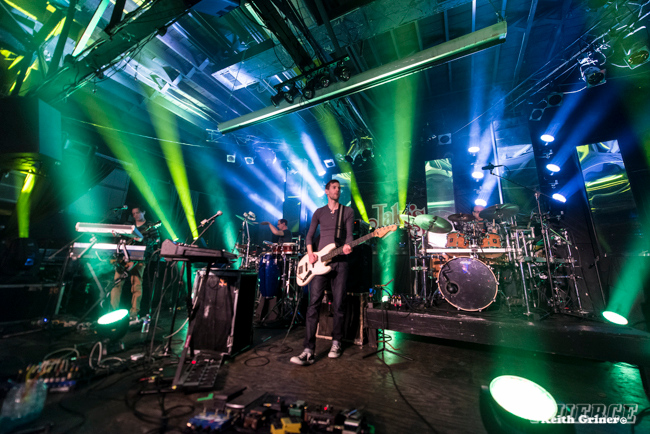 the few tracks featuring vocals by Lotus. It was a perfect end to a perfect two sets of music. Lotus is one of those bands that reaches deep within my soul and invokes a hungry fire from within. I truly love and respect everything they produce. If you are not familiar with the group, I highly suggest you find a show within traveling distance and go there immediately.
MORE PHOTOS HERE
Written By: Alex Toy
Photos By: Keith Griner
Edited By: Rosemary A.W. Roberts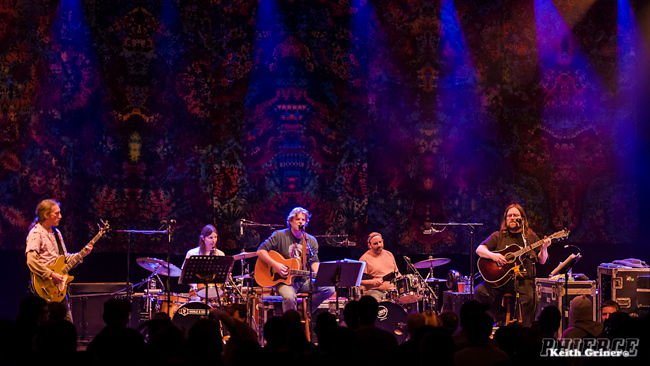 Dark Star Orchestra—Buskirk-Chumley Theatre—Bloomington, IN—02/06/2013
Bloomington, Indiana was a busy town on Wednesday, with two major names playing at the same time. The Lotus Experience played right around the corner from Dark Star Orchestra. Of the two headliners, I chose to go see the special all acoustic Dark Star Orchestra show at the Buskirk-Chumley Theater.
This was my first show at the historic venue. Walking in the front lobby I was greeted by a warm room that smelled of popcorn and guided by a friendly, helpful staff that contrasted many of the pushy, overbearing staff at some venues. The theater was seated with a small pit area near the stage. The crowd was mostly older, with some younger faces peppering the crowd. I felt very comfortable in the cream colored room. Everyone was friendly and excited to see this special show.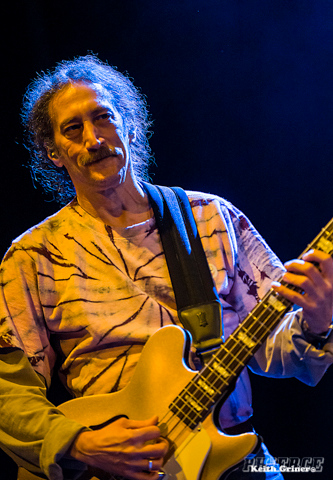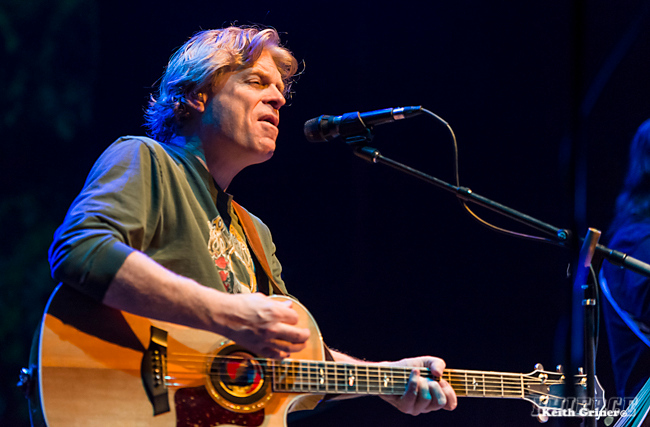 Once again Dark Star took the stage with no opening band and little introduction. They explained the special nature of this show, being all acoustic and a completely original set list. They invited the crowd to come dance, as many people seemed unsure if it was meant to be a seated show. The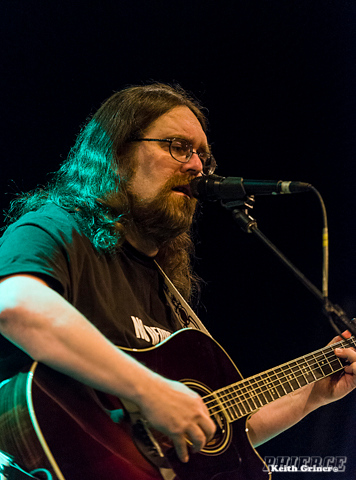 opening song "Dire Wolf" set the tone for a night of mellow deep Grateful Dead tracks, of course with Dark Star's own twists and turns. This tight-knit crowd seemed to know every word of every song, even the earliest of Grateful Dead hits like "Operator" or Bob Dylan's "It Takes a Lot to Laugh and a Train to Cry." About midway through first set, DSO threw in an original tune called "Run Mary" featuring dynamite lead singer Lisa Mackey's strong and soulful voice. It was truly a treat to see the band perform one of their own songs. They ended the first set with a great upbeat trio of songs, "Tell it to Me"> "Wake up Little Susie" and closing with "Rubin and Cherise."
For me, the first set was definitely the highlight of the show. They really mellowed things out in the second set, opening with a Bob Dylan tune called "Mountains of the Moon" and then "Box of Rain." They showed a softer side of the Grateful Dead keeping things low key and soulful as they let their light crew highlight the beautiful tapestry they feature at every show. They put a spell over the crowd for the first half of the second set. They ended on a special combination of some of my favorite songs "Birdsong">"Throwing Stones"> "Ripple."
Overall, it was an honor to see such a special and rare show. It felt intimate and comfortable. I almost feel as though I know Dark Star Orchestra on a better level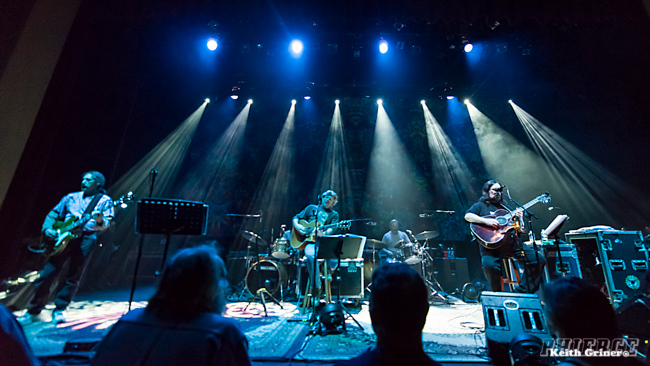 because they were able to show a bit of their personality as a band due to the smaller crowd and acoustic instruments. They closed announcing that the setlist was an original, and everyone agreed it had been quite a magical night.
MORE PHOTOS HERE
Written By: Cassidy Maley
Photos By: Keith Griner
Edited By: Rosemary A.W. Roberts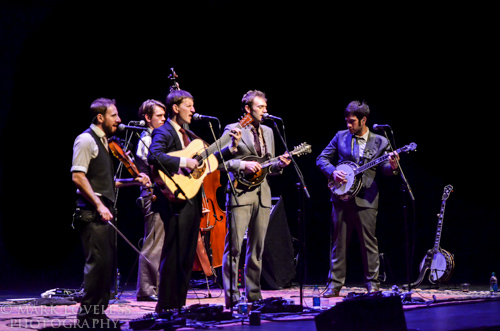 The Punch Brothers Live at The Brown Theatre ~ Louisville, KY ~ February 5, 2013
The Punch Brothers, a classy group of guys that play sell out theatres across the country, is turning a lot of heads these days. Chris Thile (formerly from Nickel Creek) and Chris Eldridge (from the early days of The Infamous Stringdusters) formed a band a few years ago that has been taking this country by storm. However do not underestimate the talent in banjo player, Noam Pikelny and violinist, Gabe Witcher. This intriguing string band has been known to play a Gillian Welch, Josh Ritter, John Hartford and perhaps even a Radiohead cover. In fact the band plays Radiohead's "Kid A" on their most recent studio album, Who's Feeling Young Now?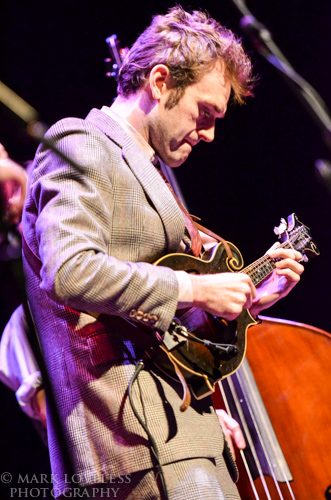 As I approached The Brown Theatre Tuesday evening, I was eagerly waiting for this mind-blowing performance. I've had the utmost respect for Thile since the Nickel Creek and his solo album days, How to Grow a Woman? Thile is to mandolin as Bela Fleck is to the banjo. Both have respect for their instruments and play them flawlessly with great charisma. Thile would open the first set with a flawless smooth mandolin jam in "Movement and Location" off their most recent studio album. From there the band would get the night roaring with a thumping bass from Paul Kowert followed by what seemed to be a never ending jam with Thile, Eldridge and Witcher in "Flippin," another release off the new album. Although the band seemed to play a lot from the new studio album, they did however play some great crowd favorites such as "Rye Whiskey" and "The Blind Leaving The Blind Third Movement." The set was so intense with great mandolin pickin' and beautiful violin pieces, it was difficult not to jump out of your seat and dance.
Thile would rejoin the crowd for an encore performance as he stood at the edge of the stage and played a Bach piece that completely silenced the crowd and brought goose bumps to the body. The band would rejoin Thile at the edge of the stage for a string picking in a Kentucky historical song, "Moonshiner." Although their stage setup may be simple, they play string music in it true nature. This is a group of guys who play for the love of string music, not for fancy stage setups.
Setlist:

Movement and Loacation, Next to The Trash, Flippin, Who's Feeling Young Now?, Two Hearted, Song for a Young Queen, New York City, Missy, Piney Woods, Patchwork Girlfriend, Hundred Dollars, Dixie Line, The Blind Leaving The Blind Third Movement, This Girl, Another New World*, Watch' at Breakdown, Rye Whiskey

Encore: Bach piece?, ?, Moonshiner

*Josh Ritter cover
MORE PHOTOS HERE
Written/Photos By: Mark Loveless
Edited By: Rosemary A.W. Roberts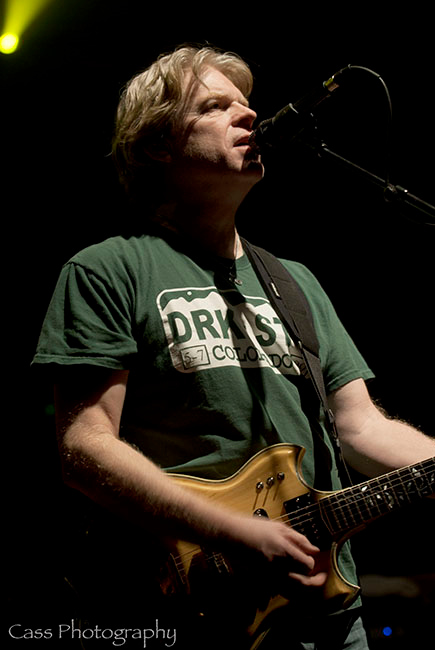 Dark Star Orchestra—The Vic—Chicago, IL—02/02/2013
Dark Star Orchestra kicked off their mid-west tour with a sold out show in their home-town, Chicago, at the historic Vic. The line was around the block and the Vic was packed to the brim. It was an interesting crowd of weathered, graying Deadheads and young, fresh faces all rushing towards the double doors to get out of the snowy February night.
Dark Star Orchestra (DSO) took the stage right away with no need for introduction or opening band. I felt honored to be able to see the show up front and personal out of the elbow to elbow crowd. With two guitar players and two drummers, this band is a force to be reckoned with, and is perhaps one of the most well known Grateful Dead cover bands. They opened the marathon set list with "Promised Land." The crowd was excited to hear the well known guitar rift played by talented Rob Eaton and almost immediately the temperature in the room raised ten degrees as everyone started dancing. By far the highlight of the first set was the closer, a 20 minute long "Dancing in the Streets." Lisa Mackey channeled Donna Jean, spinning in circles, leading the crowd through the ups and downs, bringing the first set to an exciting close.
In my opinion, the best was yet to come. After an extended set break, DSO took the stage with the same level of energy they ended the first set with. Starting with "Bertha" and transitioning to "Good Lovin'," they then slowed things down a notch to what seemed like a Grateful Dead ballad, but turned out to be a slow, sultry "Friend of the Devil" unlike any version of the song I've ever heard. After putting a spell over the crowd, they kicked up the tempo with the well known "Shakedown Street" and transitioned into DSO's trademark rhythmic drum breakdown which transcends into a space jam with guitarist Jeff Matson channeling Jerry Garcia's vision. They captured the interest of the crowd and took them on a transcendent journey finally resolving into "I Need a Miracle."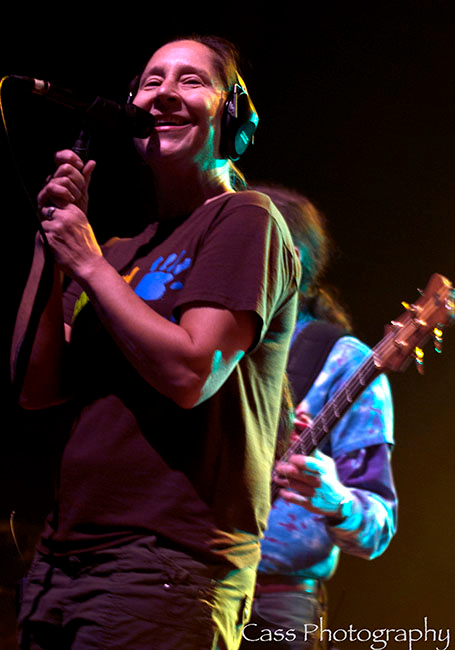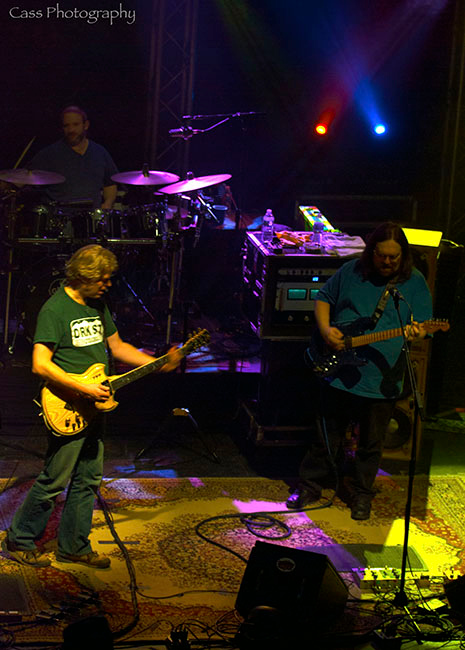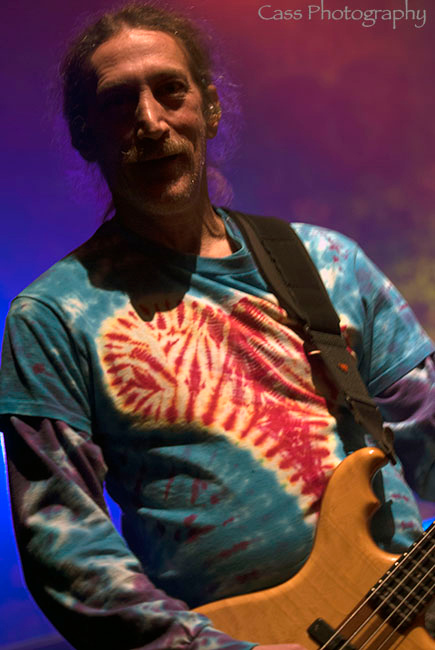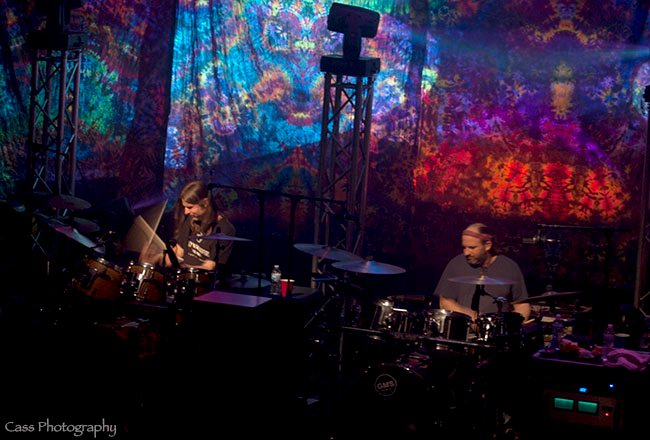 Dark Star Orchestra was excited and honored to be in their old stomping grounds. They encored with "Werewolves of London." As every voice in the crowed howled along with the band, I was reminded of why I come to see this wonderful group of people again and again. The music, the love, the crowd, everything was spot on Saturday night. Dark Star closed the night saying that this set list could have been played November 25th 1968, although it is listed on the website as an original set list.
More Photos HERE
Written and Photos By: Cassidy Maley
Edited By: Rosemary A.W. Roberts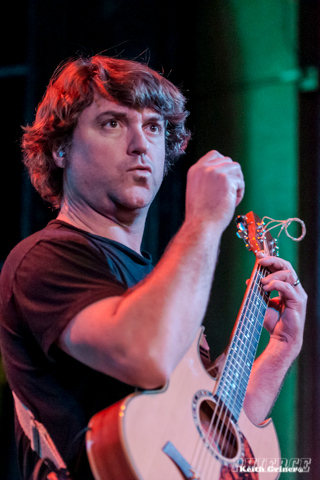 Keller Williams—The Vogue—Indianapolis, IN—02/01/2013
The temperature in Indianapolis was frigid on the evening of Friday, February 1st, but that didn't stop a long line of fans from waiting outside in order to enter the Vogue. Only a truly unique artist like Keller Williams could bring out the kind of loyal fanbase that didn't mind confronting the cold. After a swift entry (thanks to Indymojo) I enjoyed one of my favorite aspects of the venue: the coat check. One cannot truly groove in a bulky winter coat. I then headed upstairs and enjoyed the second bar stocked with imported beer. The balcony had not yet begun to fill, so I took a seat towards the right side and had a great view of the stage. I did some people watching from my post and enjoyed seeing the anticipation and delight on everyone's face.
A barefoot Keller strolled onto the stage right on time and warmed the crowd up with "Breathe," the title song off the album he recorded with the String Cheese Incident. The jovial "Jack Black of the Jam scene" twirled about the stage, gracefully on the air of the melody he provided. Afterwards Keller played two crowd favorites, "Cookies" and "Cadillac" off of his ninth solo album Dream. My only criticism of the evening was the next cover tune he played, "Mary Jane's Last Dance." Although this is a classic song (especially from an Indiana girl), it reminded me of how similar some of Keller's sets can tend to be. It would be interesting to see Keller change up some of his cover tunes and really surprise some of us repeat show goers. However, with that being said, I have never seen a bad show from the one man band and the second set just got even better.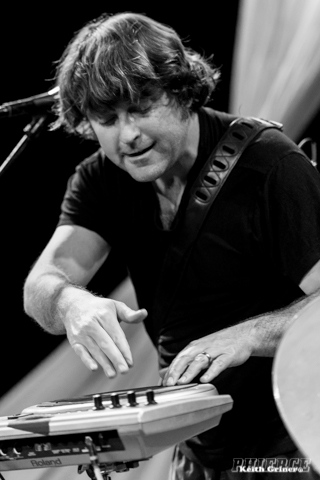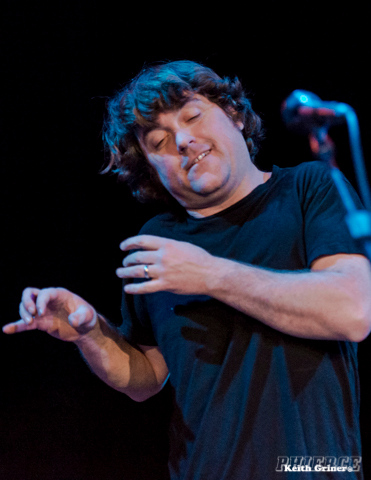 After a short setbreak he took the stage again and played the Indiana staple, "Gate Crashers Suck." The entire crowd joined in to sing every word, enthusiastically shouting the expletives the song is famous for. Hoosier fans have accepted this tune as their own anthem due to an unfortunate incident at a Noblesville Grateful Dead show that some witnessed but all remember. No matter how many times he plays it for us, it's still almost expected to be on the setlist. My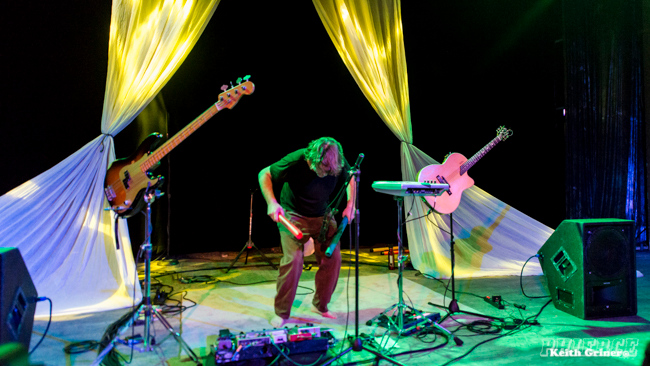 favorite moment of the whole evening was the encore. Keller played my favorite song, "Celebrate Your Youth", again from the album Dream. This mellow, yet upbeat song was the perfect ending to another great experience from Keller Williams.
MORE PHOTOS HERE
Written By: Megan Maudlin
Photos By: Keith Griner
Edited By: Rosemary A.W. Roberts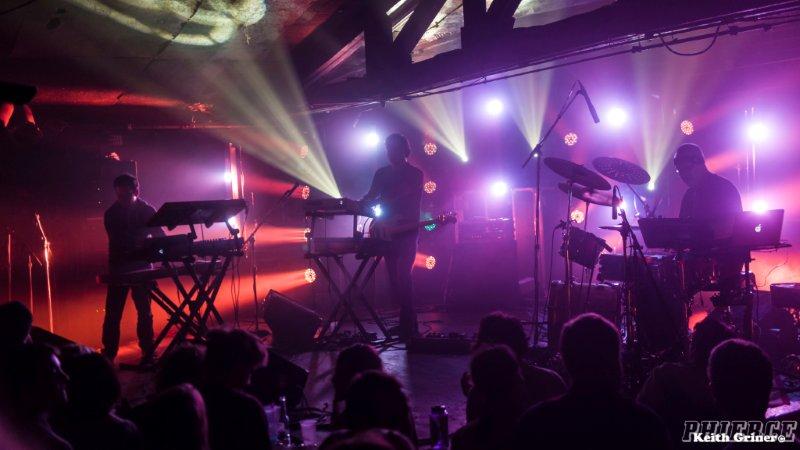 Future Rock--The Bluebird—Bloomington, IN—01/17/2013
The Bluebird started to fill up as the time passed until Future Rock would take the stage. The wait was fun with Manic Focus providing some awesome grooves slowly taking shape and gaining energy over the course of his set. The headliner, Future Rock is made up of three men: Felix Moreno (bass), Mickey Kellerman (keyboards & synthesizers), and Darren Heitz (drums).
The show was one long set as opposed to two sets in length. They got the ball rolling through the first couple tunes, "Tranzmission>Jam>FM1000", weaving them seamlessly together. Felix really let loose on the bass while keyboards and drums kept a good pace. "Nights" and "Midnight Madness", from their latest albums Nights and One Day (2011), kept the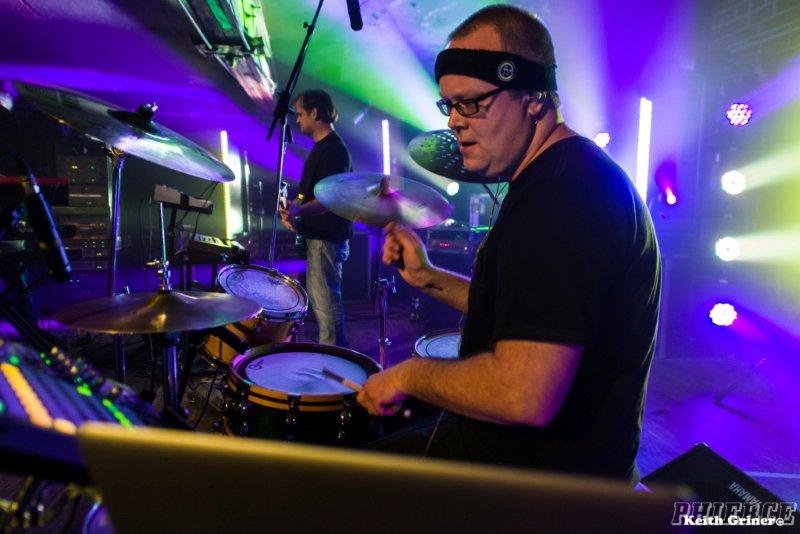 beat alive with subtle changes creating a flow which at times soared into the unknown and beyond. "Pathfinder" gave the dance party a breather with ambience while the focus was kept on keyboards and drums. It eventually drifted into "Ode to a Droid", which immediately brought the energy of the show back with a driving bass and drum beat. Synthesizers ruled this song with peaks and valleys while still keeping with the fast pace beat. "Spark" then created a robotic feel throughout most of its slot with its simple bass and drum beat with a slowly changing keyboards/synthesizers line, also simplistic in nature. Out of the shadows of "Spark" came a bass line pulling the jam back into a tight knit groove, "Pyramid". Every piece of the band was playing off each other phenomenally, migrating the beat from drum to bass to keyboards almost effortlessly. "Airplane Train Tracks" began with a repeating synthesizer line swelling and decreasing before bass took over and took it to a level not reached previously in the show. "Airplane" then turned into "One Day" which ended the show in a nice, chill fashion. Subtle changes in the music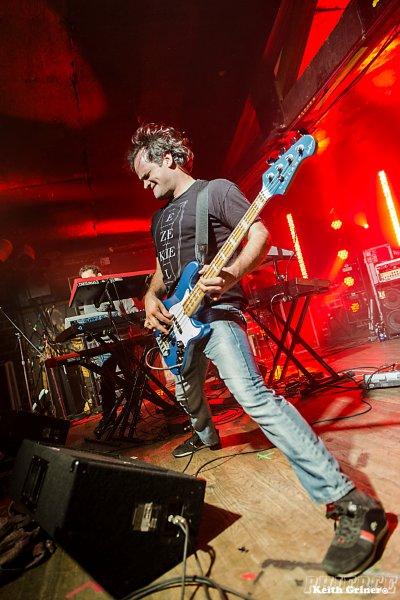 controlled this tune and sent everyone home with a smile.
The lighting for the show was very cool. Blue, red, and green lights were used to capture the rising and falling of each song. The color changes corresponding to sounds coming off stage were spot on, staying right with tempo of the music as well as changing when a keyboard line, bass line, or drum beat would take over its part in the song.
Set: Tranzmission>Jam>FM1000, Nights>Midnight Madness, Pathfinder>Ode to a Droid>Spark>Pyramid, Airplane Train Tracks>One Day.
Written By: Champe Behrman
Photos By: Keith Griner
Edited By: Rosemary A.W. Roberts, www.jamsplus.com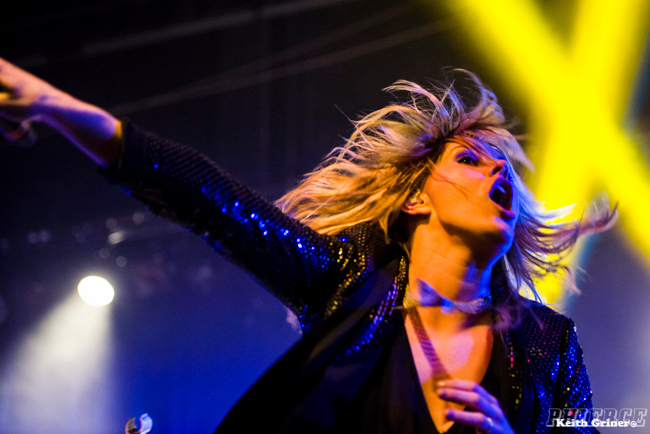 Grace Potter and The Nocturnals--The Egyptian Room--Indianapolis, IN-- 1/12/2013
Saturday January 12th a large, diverse crowd of twenty-somethings up to mid 50's gathered at the Egyptian Room in Indianapolis, Indiana to see headliner, Grace Potter and The Nocturnals and opener, Langhorne Slim & The Law.
The headliner, Grace Potter and The Nocturnals is a band originally from Vermont. The headlining band features a strong and talented female vocalist and musician, Grace Potter. Grace is known for her energetic stage presence as well as her bold and bluesy voice. Her band, the Nocturnals, has a distinct sound that is a great fusion of indie and rock n' roll.
Langhorne Slim & The Law set the tone for the night with their Indie and rock fusion sound lead by banjo melodies and bluesy singer Langhorn Slim. Langhorn's rough and weathered voice complimented his experienced based lyrics and enthusiastic stage presence. The four piece band got the crowd on their feet and moving with their up-beat feel good music. Langhorn Slim & The Law set the perfect atmosphere for the high-energy rock band to follow.
Grace Potter took the stage and began, boldly, by showing off her strong voice, opening with "Nothing but the Water." As her voice filled the Egyptian Room, I was reminded of one of my favorite female singers, Janis Joplin. Her powerful voice accompanied only by her tambourine playing, rang through the theater and brought a feeling of nostalgia. Grace held nothing back in this first song as she belted out the somber lyrics and made every head in the room turn her way. She then switched to something a little bit more up tempo called "Hot Summer Night," only to mention that this show was an all request show. Grace Potter made it clear Saturday night that she was very excited to be in Indianapolis and very proud to be playing exactly the set list that all of her fans wanted to hear. She took the crowd through ups and downs, switching from bluesy songs featuring mainly Grace's voice to more instrumental tunes, closing the set with their latest single "The Lion The Beast The Beat" and the single from their earlier album "Paris (Ohh La La)." Grace Potter and the Nocturnals closed the show with a three song encore ending in the well-known Rolling Stone's song "Paint it Black," which was a perfect way to end the night.
Set List:

Nothing But the Water I

Nothing But the Water II

Hot Summer Night

Never Go Back

Ah Mary

Apologies

Parachute Heart

Here's to the Meantime

Stop the Bus

Colors

2:22

Tiny Light

The Lion The Beast The Beat

Paris (Ohh La La)

Encore:

Stars

The Divide

Paint it Black (Rolling Stones)
MORE PHOTOS HERE and EVEN MORE HERE
Written By: Cassidy Maley
Photos By: Mark Loveless & Keith Griner
Edited By: Rosemary A.W. Roberts