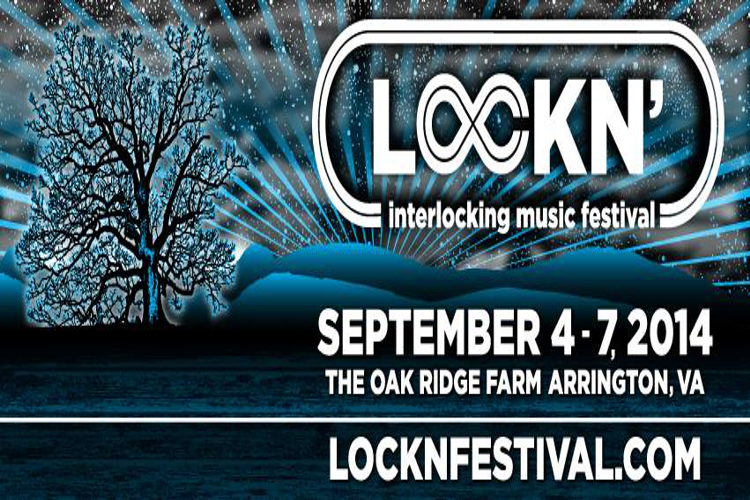 Lockn' Festival ~ The Oak Ridge Farm ~ Sept 4-7, 2014 ~ Arrington, VA
Top 10 reasons to return to LOCKN' 2015
Here is a list of my 10 favorite things about 2014's LOCKN' Festival that would make you want to head to LOCKN' in 2015. The list is in descending order and will inspire first timers and LOCKN' veterans alike.
10) Traffic-
As with everything else that may have not have gone perfect last year, they fixed it 100% and maybe more. There was zero wait. I heard not one complaint from anyone and can only imagine they will get better at managing the traffic as time goes on.
9) Allman Bros Band performs Live at The Filmore East album in its entirety-
This was definitely one of the highlight moments and was comparable to last year's Furthur set in which they played Workingman's Dead the same way. I'm not sure when I will get to see the Bros. again and/or who will be playing with them. But I can say that the last one I went to was with Warren, Derek, Oteil and the rest of the guys, in which they all wore Brian Farmer T-shirts and played the Filmore album front to back; and frankly, I'm pretty satisfied with that.
8) Sit ins/covers-
The promoters model the festival in order for incredible potential for an "interlocking" artist atmosphere. These guys certainly know how to provide the foundation, and the bands sure know how to deliver. Some standout moments include the members of String Cheese Incident teaming up with members of Kool and The Gang and doing their take on popular Kool and the Gang songs. Phil Lesh had 2 sets with Warren Haynes, Joe Russo, John Medeski and Billy Martin. Bill Kreutzmann also had a jam inspired set with the likes of Jason Hann, Keller Williams, Michael Travis, Taj Mahal, Sam Bush, Oteil Burbridge, Steve Kimock and more. Hearing the infused version of "Dear Mr. Fantasy" and "Low Spark of the High Heeled Boys" was great, as the man, Steve Winwood, sat in with Widespread Panic and showed the crowd how those tunes sound with utmost perfection.
7) Vending-
This year at LOCKN' it seems they fixed every issue they had a problem with last year, and did it tenfold. One of the problems last year was the vending. You couldn't get anything outside of the venue other than a few food trucks and a joke of a shakedown street. This year, they had almost a whole block outside and multiple additions inside. They even had a place, Garcia's, that you could go and here Grateful Dead Dj sets, with air conditioning and a bar.
6) Artist/Stage Composition
LOCKN' has drawn quite a crowd due to its lineup. With headliners like Widespread Panic, Allman Bros Band, Willie Nelson, String Cheese Incident, Tom Petty, Umphrey's McGee,Taj Mahal, Phil Lesh & Friends, (and so many more), it has been the most appealing line up since Bonnaroo 2005. It is not without preparation and not coincidence this is possible. LOCKN' operates on the "2 stage model", in that they have the primary/majority of the acts alternating between 2 central stages with seamless changeovers. I am a big fan of this and haven't seen it since All Good in WV. This way you can get a comfortable spot, without having to worry about bouncing between places with all of your things and missing some good bands. This also clears the budget a bit and allows for the quality of the lineup to be enhanced, as we have learned from LOCKN'.
5) Waking up with Keller-
Keller Williams started everyday on one of the side stages, Triangle Stage, with a new set and roster for his popular "Grateful Grass" take. He did 2 "grass" sets and one "gospel" set on Sunday. The 2 grass sets were comprised of Keith Moseley, Jason Carter, Jeff Austin, Jay Starling and Keller Williams. The gospel set included John Kadlecik and members of Preservation Hall Jazz Band and Kool and The Gang. It was very hard not to include this in the top 5 and I wish I could wake up every day and start with a little Grateful Grass.
4) Experience
The festival has a bit of an advantage, even with such a prestigious expectation and budget. Promoters Peter Shapiro and Dave Frey have been around the block a few times and are key in the festival's success. Peter Shapiro, owner of the Brooklyn Bowl, is teamed up with Relix Magazine and with the help of Dave Frey, mentored by Bill Graham and 30 years of promoting experience, have teamed up with the ultimate business model allowing for the proper pieces to fall into place. They are masters of throwing successful events and dealing with problems like a pro. Festivals take years to get the prestige and trust in order to book that quality lineup, and often fail. My hat's off to these gentlemen for their ability to get things done the right way!
3) Taj Mahal–
The dude is just out of control. I heard a few people say,and I would have to agree, that Taj Mahal was the best set of the weekend. He lives, breathes, plays and prays blues music. I kid you not, at one point in his show he started to cough or "gruff" and stopped playing only to tune his "gruff" into the songs and transition into this "Blues Gruff Reprise". I've never seen anyone command a stage and audience like that outside of Buddy Guy or Del McCoury.
2) Camping
For anyone that attended last year, I am sure I can speak for everyone about how much the camping situation improved! When I tell you that the majority of people were so far away from the festival last year, I can't even put into words an accurate depiction as you wouldn't believe it. Turns out that some of the properties, spread out across the venue/park, were only recently purchased. That is why the whole experience was as intimate as it was, including the extra stages that played early and after the 2 main stages. That was my biggest concern and like everything else, they crushed it ten times over.
1) Steve Winwood
Winwood for the win! Oh yes, I may be a bit biased in that of all these kingpin jamband acts that played, I tend to gravitate to Widespread Panic, but I truly enjoy them all. I also happen to be a fan of Spencer Davis Group and Traffic, so Steve Winwood was icing on the cake. One could say the same about John Fogerty, who performed with Panic last year, but if you were there for both then you must agree, Winwood for the win. At the very least, I can assure you he knew the band's name.
There you have it, 10 high points from the 2014 LOCKN' Festival, enough to make any music fan want to attend the festival in 2015.
All images by Joey Pye (Staged Right Photography and Design)