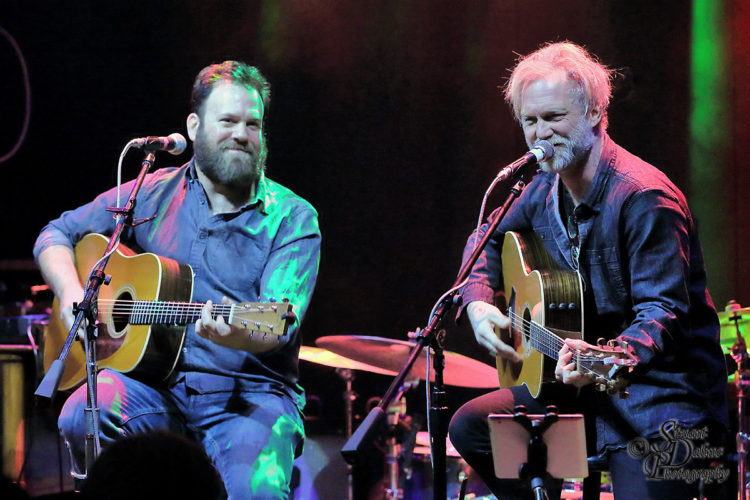 Cris Jacobs and Anders Osborne @ The 8×10
01/06/2017 Cris Jacobs and Anders Osborne ~ The 8×10, Baltimore, Md.
Review and Photos by Stuart Dahne
For people in Baltimore, Cris Jacobs is quickly becoming "The Hometown Hero"! With the latest release of his incredibly strong album "Dust to Gold", it appears that Cris is headed straight to the top!
Cris's sound is one that you will have trouble getting out of your head! He has surrounded himself with some of the finest musicians in the country. Bassist Todd Herrington, drummer Dusty Ray Simmons, guitarist Jonathan Sloane and John Ginty on keyboards compliment Cris's style perfectly. These guys are unstoppable!
Cris is blessed to not only be a great singer/songwriter and guitarist, but to also have a captivating voice that allows him to span many different types of music with ease. Anders Osborne, a nationally touring New Orleans based musician joined Cris for this evening. These two together were just on fire!
The night started off with an acoustic set with Cris and Anders. From the moment that they hit the stage, the audience was captivated by the duo's musical interactions and lively vibe.
As they played, their obvious connection to each other, as well as the crowd around them, was contagious. As I looked around the room, the smiles throughout were infectious! What fun, to not only hear some great tunes but to feel the effect that the music's energy had on the crowd. It was almost as if there was some force on stage guiding these two that even they were impressed by. Each time that they finished a song and there was a high-five, a fist bump, or even a hug… you knew that something special was going on. The fluid way that the songs flowed from an Anders song to a Cris song felt like it was just meant to be!
If you ever have the opportunity to see these awesome musicians play together, you need to not think twice! Also, if you have not heard Cris Jacobs album "Dust to Gold" I suggest that you get online right now and buy it, you will definitely not be disappointed! I think it's GOLD!
SETLIST
Set 1 (duo acoustic) Cris Jacobs and Anders Osborne
I'm Comin Down (AO), Back in Domaine (AO), Lasting Hymm (CJ), Louisiana Gold (AO), Summertime in New Orleans (AO), Be My Star (CJ)
Set 2 Cris Jacobs Band (Electric)
Good To You, Jack the Whistle and the Hammer, Kind Woman, Dragonfly, Delivery Man, (Anders joins) Going Back To Lafayette, My Old Heart, When I'm Back On My Feet, Back To Mississippi (Anders leaves stage), Bone Digger, Turn Into Gold, Going To The Country, Devil And Jessie James, Jealous Guy, The Stakes, Cleaning Windows, Cold Carolina, Shine Your Weary Light
Encore: A Political Blues> Northeast Texas Women> Justified
Soundboard Mix By Tim Stiegler
Here is what the fans have to say:
"The best way for a music lover to start off the New Year right is to go see some live music. Beyond thrilled and elated to have seen Cris Jacobs, his band, and Anders last night. Great musical fun and a nice endorphin rush that has me feeling great this morning." – Ben
"What happened last night was on another level! Cris and Anders have a special kind of collaborative genius and their energy together with the band was electric. Cris and his band can take anyone through feelings of sentiment to euphoria, forcing an immersive experience that leaves your face melted on the dance floor. " – Cait
"Cris and his band seemed to enjoy playing with Anders as much as Anders enjoyed playing with them. Great Chemistry!" – Pete
"Muses Grit and Soul were present last night…and Sister Nola was groovin' in the house. Cris and Anders played songs that took me on a journey and insisted that I dance… The music gave me a magical glimpse into their lives, showed their struggles, and let me celebrate, with them, their triumphs. Together, they sang the Truths of Everyman." – Hope
"No words … amazing energy. Amazing show, these two really have a connection. Watching them collaborate was such an experience. I danced the whole time" – Edith