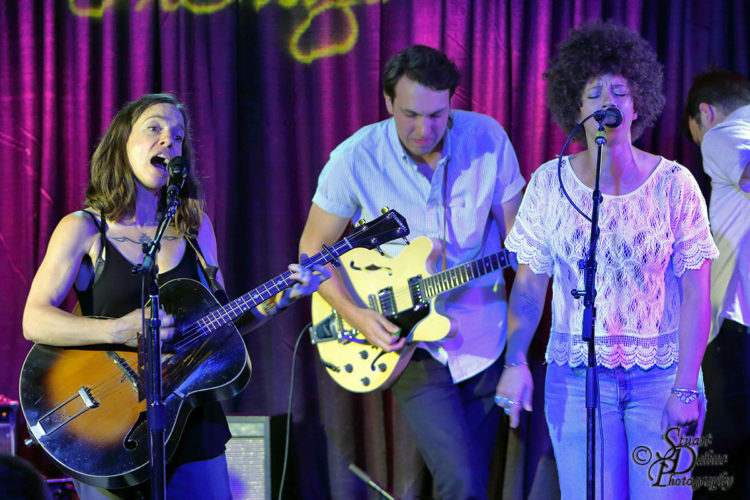 Ani DiFranco ~ 06-23-2016, The Rams Head on Stage, Annapolis, Md.
Ani DiFranco ~ 06-23-2016, The Rams Head on Stage, Annapolis, Md.
The lights go dim as the show is about to begin. Opening the show for Ani DiFranco is Chastity Brown accompanied by Luke Enyeart, and what an amazing choice it was to have this opener! Chastity's deep, soulful, and harmonious songs seemed to reach in to that place deep within you and say "Hey, is anybody in there?"! Chastity not only opened the show but also opened our hearts to prepare us for what was about to come.
The Band: Ani DiFranco along with bassist Todd Sickafoose and drummer Terence Higgins.
Ani comes out on stage; her physical stature is petite however her presence is magnificent! Her exterior beauty is only magnified by her soulful beauty and the passion for life and purpose that is immediately present as she opens the set with an all-time favorite, "Not A Pretty Girl"! "Not A Pretty Girl" is a song that may have been written to speak to the stereotypes of feminist as well as the cultural window of what beauty looks like in society's eyes, yet I believe that "Not A Pretty Girl" transcends time and speaks in many ways to our nation's struggles that are present right here and right now! With our country in turmoil in so many ways, this song speaks to our immense need for Love, Acceptance, and Equality, and what a way to start off the 1st night of the "Vote Dammit" tour!
The energy on stage just filled the room, Ani's smiling face and positive vibe was infectious and just invited you in to a place that you just didn't want to leave. This was a place that opened you up to hear and see things different and hopefully spark within you that courage needed to be different! Music with purpose, what a concept!
As I look back at this experience, I think about all that it takes to allow this magnificent energy to flow and be of value to all who are attracted to Ani's performance. Let's take a minute to honor what it takes to do this! Let's start with Ani's choice of supporting artist; Terence Higgins is not known as the "Groove Master" for nothing! His tasteful choices and ability to always be musically in the right place at the right time, floats the music through the journey of its design. On bass we have Todd Sickafoose. Heavily influenced by the amazingly talented Edgar Meyer, Todd's jazz undertones really intertwine well with all of the subtle nuances on stage. Now there is more than just this that goes into making this amazing performance possible.
As Ani takes us down this winding road of stories and music we are allowed in just a little more to what some of Ani's life is like. I loved when Ani introduced a song as an "A" song… The story goes something like this; Ani has 2 daughters and sometimes while driving, her daughter wants to hear some "mommy songs" and Ani's catalogue is in alphabetical order so they often hear the "A" songs! I Love That! Mixed with heartwarming humanity there is no shortage of pertinent political statements.
As we continued on this musical journey, song after song, guitar after guitar, the sound was just beautiful! The fact that Ani played 6 different guitars (and I don't think that any guitar was played for more than 2 songs in a row) was assisted by Ani's great choice of a guitar tech! The front of house sounded great thanks to Jay running the sound night after night, and we can't forget (I believe they called him "Scarecrow) the person running the monitors.
We meandered through songs such as Fire Door, Allergic To Water, Alla This, and Marrow, but what I loved was when someone in the audience called out a request for "32 Flavors" and, almost without missing a beat, Ani just made it happen, and what a crowd pleaser that was! The evening continued to include such songs as; Albacore, Zoo (a Z song, it must have been a long ride), Rainy Parade, Gravel, and then culminated with an encore with Chastity Brown and Luke Enyeart joining the band! What a beautiful night of beautiful music at a beautiful venue!
Thank You to everyone that was a part of the support that makes music like this happen!  And last but not least…. "VOTE DAMMIT"!